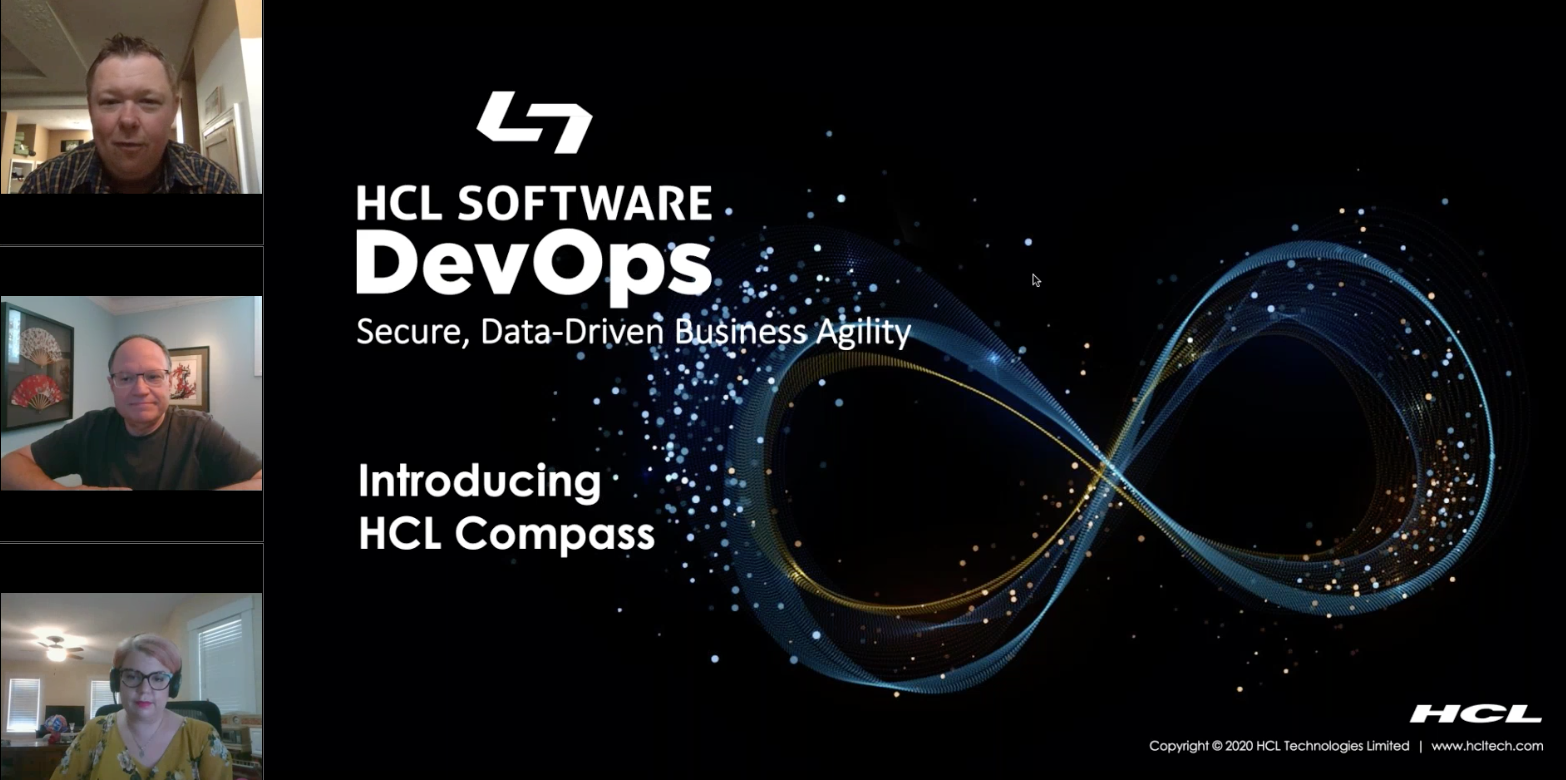 Similar to my last post on the HCL DevOps webinar series, I will cover their presentation of HCL Compass in a webinar that was recorded on July 29 about how HCL Compass delivers defect tracking and more.
This webinar was presented by Steve Boone, head of product management at HCL Software DevOps, Howie Bernstein, product manager for HCL Compass and HCL VersionVault and Leah Nassar, technical lead for HCL Compass.
As before, Steve began by providing on overview of the DevOps portfolio from HCL Software.  This portfolio was launched on June 16, 2020, so these are new capabilities. Steve stressed that all capabilities can be managed on the cloud or on prem, or whatever combination makes sense for your organization. That level of flexibility is refreshing.
Similar to the previous webinar, Howie and Leah discussed the product in an informal style, with a new addition. More on that in a moment. The current Compass product has been on the market for 23 years, starting as ClearQuest from Rational Software.
Howie explained that the product began as a flexible and customizable issue and defect management tool. He went on to explain that HCL Compass delivers defect tracking and more. This includes  lifecycle management  and the ability to customize that capability without coding for a particular organization's needs. If you're wondering how far this can go, Howie reported that a North American government is using the tool to manage their Social Security claims process. Now that's a departure from SoC development.
Howie described a sophisticated customization process for the product that includes a GUI to describe workflow in great detail and a web-based interface to deploy and manage the resultant application. Very flexible with no coding required. The power of the tool became clear as the discussion continued. You'll need to watch the webinar to get the full effect.
What followed was a unique online demo of HCL Compass presented by Leah. She went through an interactive creation of a defect tracking application. This included the definition of defects. attributes and assignment to employees. Leah went on to show how to deploy the tool in production and track the status and resolution of defects. Methods to communicate between users was also explained and demonstrated. The capability is quite flexible. She explained how to use the simple, out-of-the-box capability (good for small organizations) and how to customize communication with a lot of control if you're part of a large organization.
What followed was the development of complete defect tracking tool, built in real-time as you watched. There was interesting discussion between Howie and Leah as Howie requested Leah to add new capabilities. Leah was able to do that easily – Howie couldn't "stump" her. Leah's command of the product and its application scenarios was both impressive and built confidence in the tool.
As the end of the webinar approached, Steve provided an honest, "from the heart" view of what remote development looks and feels like in the current environment. There were some great observations offered about how tools like HCL Compass can change the game in this "new normal". To hear more, you'll need to watch the webinar.
You can learn more about Compass on the HCL website Compass page. The short description provided there is:
Low-Code/No-Code change management software for enterprise level scaling, process customization, and control to accelerate project delivery and increase developer productivity.
And finally, here is where you can watch the webinar on HCL Compass – I highly recommend it.
Share this post via: