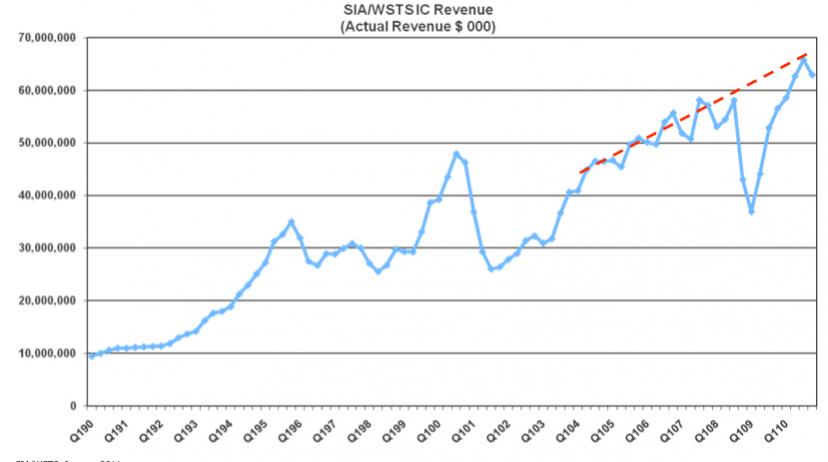 I was at Wally's u2u (Mentor user group) keynote yesterday. The other keynote was by Ivo Bolsens of Xilinx and is here. He started off by looking at how the semiconductor industry has recovered and silicon area shipments are now back on trend after a pronounced drop in 2009 and revenue has followed. Finally the semiconductor business broke through the $300B barrier that it has nudged up against a couple of times in the past.
The Japan's tsunami came along. With 22% of world semiconductor production Japan is the #1 area, slightly ahead of Taiwan (I was surprised by this, I assumed that Taiwan was #1, but Wally's numbers are always rock solid). But things seem to be recovering reasonably fast and the current forecast is that world GDP growth will be 3.6% versus 3.9% before the tsunami, a real drop but not a catastrophe.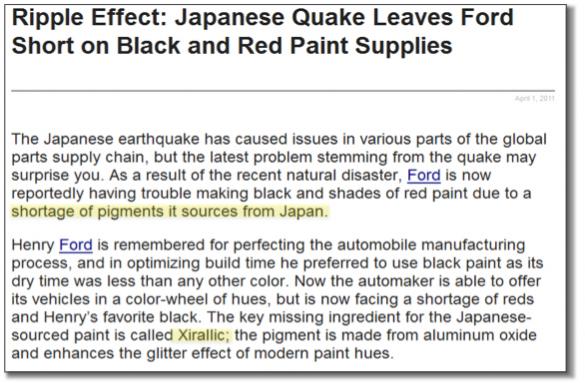 Over the last 20 years Japan has really specialized. Back then every company made VCRs, every company made TVs and so on. And there were (and still are) some odd combinations, Yamaha in musical instruments and motorbikes, for example. But now that Japanese companies have specialilzed, in many cases they have very large market shares of key ingredients to upstream processes. For example, one of the ingredients for black automotive paint was made in just one factory destroyed in the tsunami, leading to Ford being able to offer you a car in "any color you want as long as it is not black." This combination of specialization and sole-sourcing has had tremendous economic benefit, not wasting learning by spreading it across multiple companies, reduced inventory and WIP. There risks being a backlash against this as a result of the disaster in Japan, moving towards dual sources and geographic dispersion. But there are huge increased costs associated with this, along with a decrease in R&D efficiency, reduce rate of quality improvement, increased inventories and so on.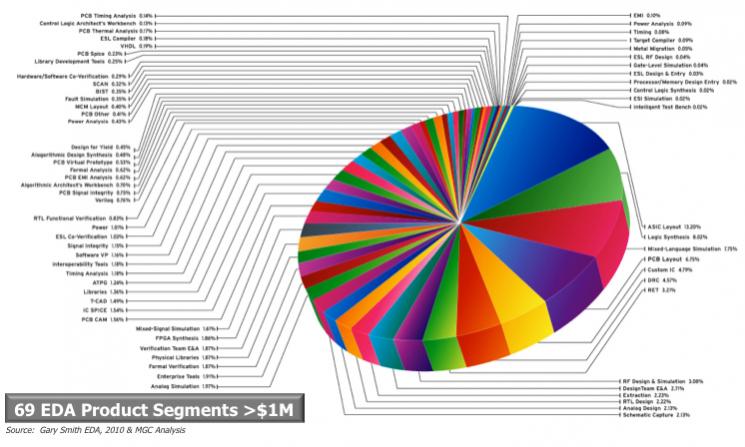 EDA also has tremendous specialization. There are 68 product categories with more than $1M in revenue, almost all of them dominated by a single company: big segments dominated by big EDA companies and small ones by small companies. In many cases the #1 has over 70% market share and never less than 40% (for the big categories).
EDA has consistently been about 2% of semiconductor revenue, although that has gradually been declining since 2001 to 1.5%. Unfortunately, EDA headcount has been increasing faster than EDA revenue leading to huge pressure on costs and on the need for each company to grow its market share to get back in balance.
As Wally pointed out in his 2006 DAC keynote, EDA grows from new segments that spring into existence, become large and then remain at that size almost indefinitely. In 2006 he predicted lots of growth in DFM, ESL and AMS/RF and, lo, so it came to pass.
Looking forward, where will the growth come from? Wally's predictions:
High level design: HLS, virtual platforms etc
Intelligent test-bench: automatic generation of tests scalable to multicore speedups, and integrated with emulation (including emulating the test harness too)
Physical verification and implementation. This is not a new area, of course, but the complexity of new design rules means that a completely new approach is needed to get a single pass flow that takes the real rules (including DFM, impact of metal fill on timing etc) into account early enough
Embedded software. The cost of designing the silicon of an SoC has been roughly constant for several years. But the cost of the embedded software for that SoC has exploded. There is an opportunity to take some of the re-use and automated verification from the silicon world into the software world.
Share this post via: