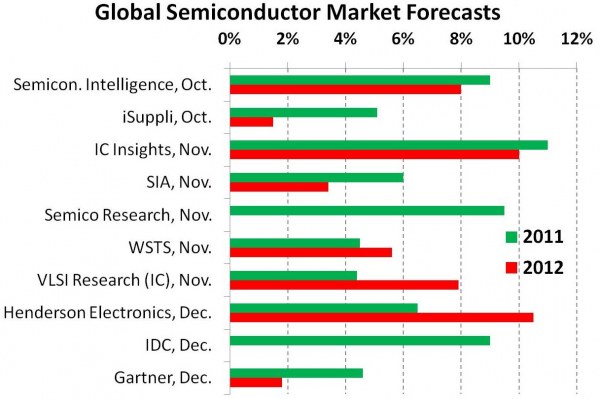 Of course these are rolling forecasts which means they change every month, until they get them right. The missing forecaster here is Mike Cowen, developer of the Cowan LRA Model which forecasts global semiconductor sales. Mike has 2011 at a hilarious 2.3%! Below are the mid year market forecasts which were revised significantly from the January 2010 forecasts.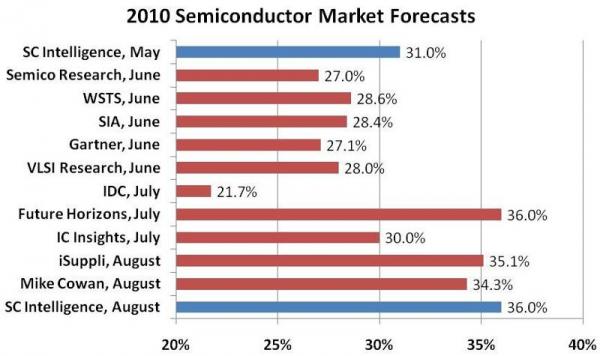 Creds to David Manners for digging up the January 2010 Forecasts:
[LIST=1]
Future Horizons 22%
iSupply 21.5%
Semico 20%
Semiconductor Intelligence 22%
Gartner 20%
VLSI Research 17%
IC Insights 15%
WSTS 12%
SIA 10.2%
It seems that the more "official" the forecasters the more "inaccurate" the forecasts, with Semiconductor Industry Association (SIA) and the World Semiconductor Trade Statistics (WSTS) coming in last.
Record high year-end revenue and the anticipated double-digit growth next year is pushing semiconductor and the surrounding ecosystem stocks to 52-week highs. Shares of TSMC (TSM) are at an eight-year high with Morris Chang's conservative 2011 prediction of growth @ 14%, I expect them to go even higher. In my somewhat expert opinion, TSMC will follow this year's record 45% revenue increase with an even more incredible 20% in 2011, believe it.
For those people who doubt the semiconductor market next year I truly wonder if they are living in the modern semiconductor society. Personally, my family and I are surrounded by silicon. Our appliances are now smarter than we are. It never ceases to amuse me when my refrigerator tells my kids to shut the door. My kids are counting the days on their two year contracts so they can get a new phone with more features and better battery life. How much silicon is under your Christmas tree? Who isn't getting a Tablet or Kindle for Christmas?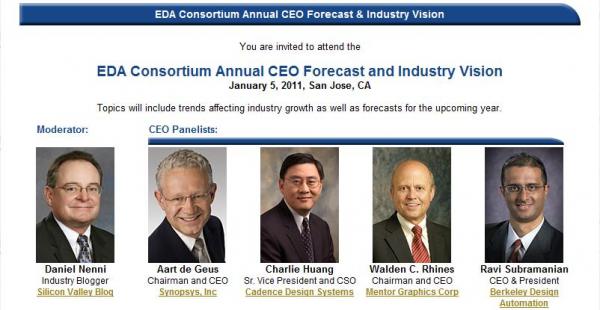 In regards to Electronic Design Automation, I see great things coming as well and am looking forward to the EDA Consortium Annual CEO Forecast and Industry Vision. Communication is a challenge in all aspects of our lives and communication between EDA vendors, customers, and the foundries is now the most dysfunctional I have seen in years. To improve communications, EDA Vendors are finally investing in Social Media, unfortunately they are failing at it. By definition, Social Media uses web-based technologies to turn communication into interactive dialogues. The standard EDA communications paradigm: "If you say something over and over it will be true" will not work with Social Media. It is also known as "drinking your own bath water" which promotes delusional behavior, believing one's own misconceptions.
Beginning in January REAL Social Media will come to the semiconductor design ecosystem (EDA, IP, Foundry) and it will start with the EDAC CEO event. If you have not registered I strongly suggest you do so today (here). You definitely will not want to miss it!
Share this post via: