Tuesday at DAC I had the pleasure of attending the Design on Cloud Theatre where experts from Siemens EDA gave an update on what they've been offering to IC and systems designers. I remember attending a cloud presentation from Craig Johnson in 2021, so I was keen to note what had changed in the past 12 months.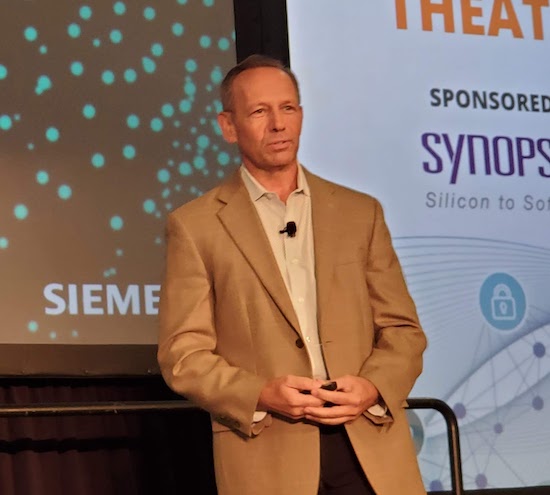 Industry Trends, Design on Cloud
Craig shared that there's been increased adoption over the past 5 years, abd more deployments of EDA design on cloud. Why? The improved throughput, cost, and security are all factors, and it depends on the goals of each team.
The EDA requirements have been unique per design team, due to the different size of projects, so no one cloud solution fits all EDA users. Siemens EDA has responded by offering a range of five cloud choices:
Cloud ready
Managed cloud
Cloud connected
Cloud native
Veloce cloud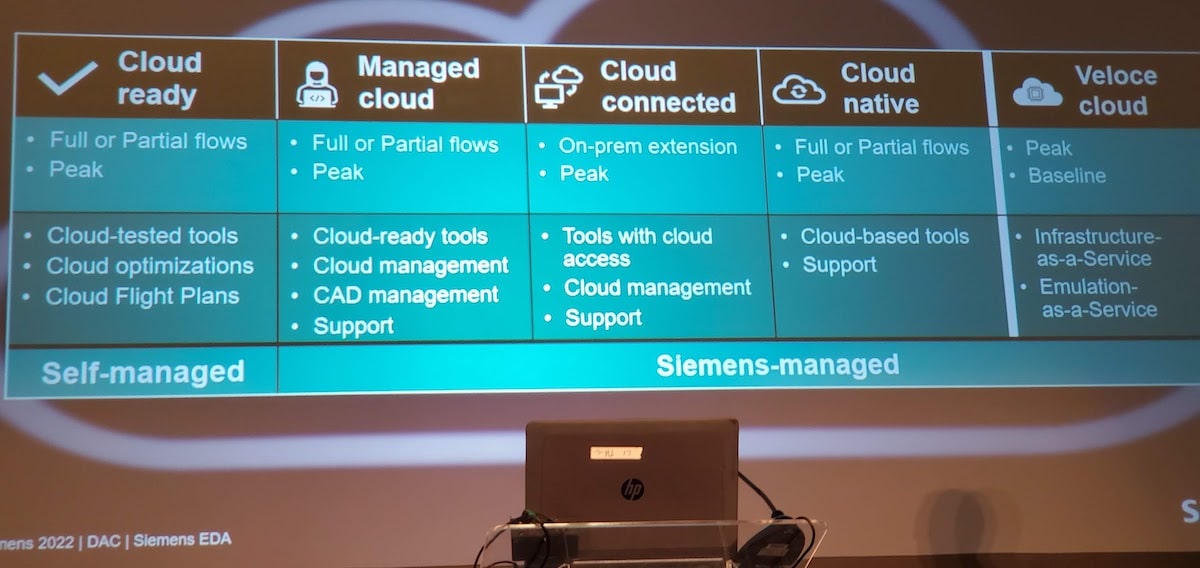 Craig had Brian Ramirez, from the Design Verification Technology group join him, then Brian shared some conclusions from the latest Wilson Research Group survey about biggest verification challenges:
1) Coverage closure
2) Isolate and fix bugs
3) Find the next bug
Verification, Design on Cloud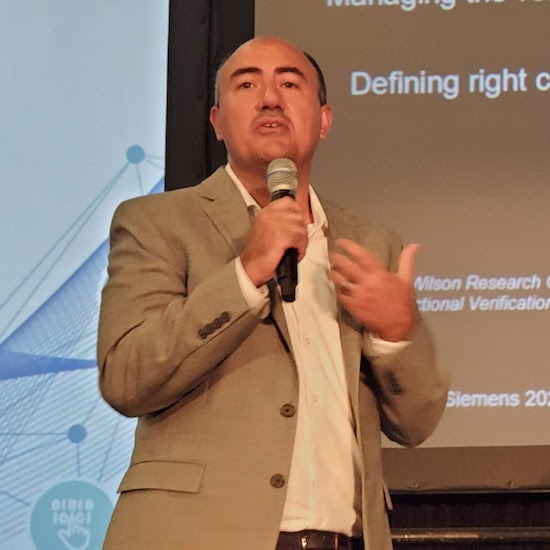 Reaching more verification requires more compute resources, and often that's only available in the cloud, where teams can get more verification cycles quicker. Engineers can find and fix these verification challenges quicker in the cloud. Or, run more cycles to uncover more bugs.
Brian said that cloud users are seeing extreme peaks and valleys in their workloads , and that capacity was greater than licenses owned. There are often just too many options with so many cloud configurations, so that knowing what is the right balance to achieve cost and turn around times is a challenge.
There's also some data overload, where too much time is spent to isolate and then resolve a bug. Verification engineers are spending most of their time just in debug, so how should we make the debug journey more efficient?
There are a lack of standards, as so many cloud suppliers create incompatible flows, so it's not easy to move from one cloud provider to another one. What will solve these four issues?
Questa in the cloud can help, at a high scale, reaching up to a million hours in a day. Verification teams can maintain their workflows, be flexible, and not shoe horn into just one flow. Hybrid flows are offered in the cloud, with optimized cost, and faster time to closure. Functional verification questions, talk to Brian.
AMS Verification, Design on Cloud
At DAC  2021 I heard a presentation from Nebabie Kebebew on process variability, and this year at DAC she addressed the topic of AMS verification in the cloud. AMS flows have moved to the cloud, as they are often quite compute intensive, while on-premise verification can simply run out of steam, because of time. AMS workflows on the could are now supported, like circuit simulation with Analog FastSPICE.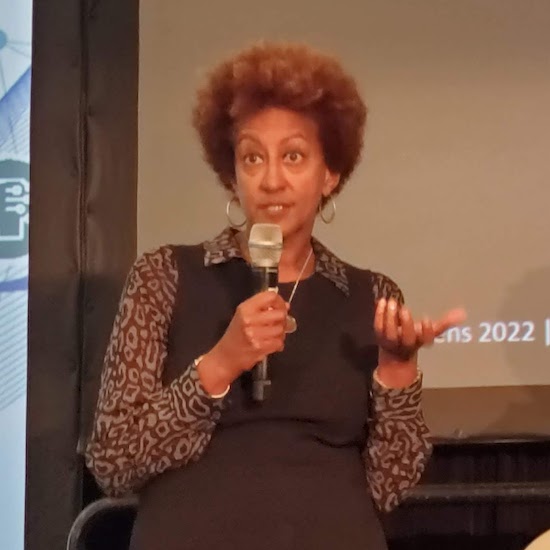 With cloud simulation you can explore more, and actually meet PPA requirements.  The cloud flight plans are provided by Siemens EDA, which are reference architectures for designers, and they have methodology white papers, and application notes to help AMS designers get started quickly. The flight plans are tuned per cloud provider. There are Analog FastSPICE papers for how to best use the cloud. There are many AMS tools from Siemens EDA, ready for cloud use, like: Eldo, Symphony, Solido Variation, Solido Characterization Suite.
Physical Verification
Michael White, from the Physical Verification Calibre team, noted that they have been using large-scale compute and cloud for about 15 years now. Internally they were using the cloud for EDA tool development, and now they are allowing customers to also use the cloud, so why consider using the cloud now for physical verification?
The compute requirement for DRC/LVS has exploded with smaller nodes – double patterning, multi patterning, EUV. EDA vendors have turned to the major cloud providers to enable EDA in the cloud: AWS, Google, MS Azure.
Examples of physical verification in the cloud include: Calibre PERC- reliability checking, Calibre DRC – design rule checking. Both of these EDA tools scale very well up to thousands of physical cores. The EDA technology must be cloud ready, optimized with foundry decks, and engineers must have the freedom to choose both their foundry and cloud vendors. There are reference architectures for each cloud vendor, so Siemens EDA is really taking a cloud vendor agnostic approach. Using cloud flight plans, with the best known methods, and even infrastructure as code for Calibre, you get a tailored experience for each cloud provider.
Systems, Design on Cloud
Craig introduced the next presenter, Paul Welch, from the Electronic Board Systems group. Paul sees that the typical boards and systems engineers are in industries, like: mil-aero, medical, automotive, IoT. These system flows are different than IC flows. For a systems design there is a BOM, the board is checked to be manufacturable, prototypes are built, and and engineer has to verify prototypes, finally they have to iterate the system and manufacture process again.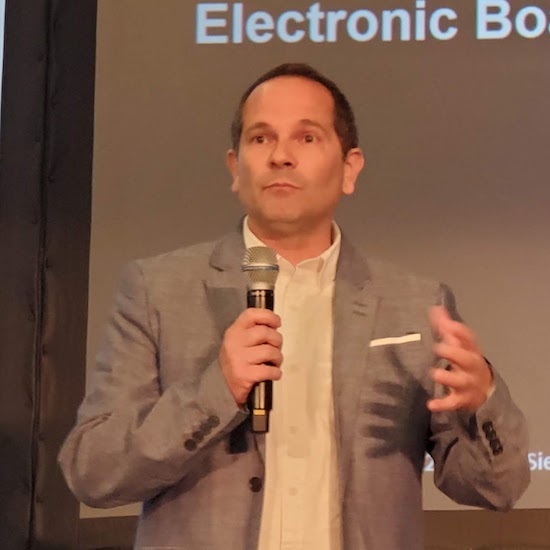 For systems design the lead time, and number of iterations is too long, causing an over run of the budget. So this digital transformation is a challenge, namely how to realize the digital twin.
Boards are being designed in the cloud with several tools: Xpedition, HyperLynx, PADS Pro Premium. A new board design may start on the designers desktop, and then the supply chain is a challenge, because how does an engineer find parts from the supply chain?
The cloud approach delivers real time component insight on the desktop, along with cost, lifecycle management, predictive risk factors, and the early feedback to reduce supply chain risks. Parts not selected that are on back ordered can be dealt with. For collaboration a team member can choose to work from home, or work from anywhere, and there's a cloud product called Connect for PADS Professional .
Cloud visualization using a web browser allows you to see the schematic, and layout, and BOM online, all without sending an email update to everyone else. Coming attractions: elastic compute around advanced packaging to solve challenges more quickly. Blockchain – trust and traceability in the supply chain, provenance of each part.
Consulting and Learning Services
The final presenter was Sam George, Consulting and Learning Services, and he started in the industry back in 2001 where they pioneered the hosted model. Yes, there were early doubts of feasibility for cloud design, but now it's much easier with 3rd party cloud vendors, plus the applications are ready and cloud friendly, the engineers are accustomed to using cloud apps.
The Managed Cloud is an approach where Siemens manages all of the IT aspects for a design team, and provides access to the cloud-based tools required. This is a  full-flow, where a thin client accesses the cloud for schematic, PCB layout, analysis, plus interactive and batch tool usages.
With the Hybrid cloud where there are both peak and batch usages, the engineering team has their day to day workload on premise, but then uses cloud just for the peak licenses. This is making it easier to use tools and services, in just the way you want to work. Security is on the top of people's mind, along with access to all the apps, and finally the cost of tools. Engineers want to get their job done, so cloud usage is a big deal, with both interactive and batch submissions being supported.
Smaller design teams may want all of their CAD tasks managed in the cloud to start with, and then learn how to manage cloud usage themself.
Emulation in the cloud enables faster and earlier SW development. HW-assisted verification allows a team to do concurrent SW development, using real power profiles. An emulation service allows lower costs to a team than ownership. Siemens configures the emulator to start out with, and then helps teams to be successful with emulation.
Other teams purchase or lease an emulator, but still want Siemens to host the cloud and perform any maintenance tasks. Prototyping is offered in the cloud too, just like emulation.
Summary
Siemens EDA has really started to build out a rather impressive suite of cloud flows for IC and systems . There are five levels of using the cloud now, so there's a size that fits the culture and budget of your engineering team.  The big picture goal of design on cloud is to speed up projects.
Related Blogs
Share this post via: