There's a one-person EDA start-up called iSchematics.com that offers schematic capture and cloud-based simulation for both web browsers and mobile devices like the iPhone and iPad that is being sued. I've blogged about their EDA tools before:
Today I discovered that Transim, a subsidiary of Arrow Electronics has filed a lawsuit against underdog iSchematics. The lawyers claim that US Patent no. 6,530,065 is being violated.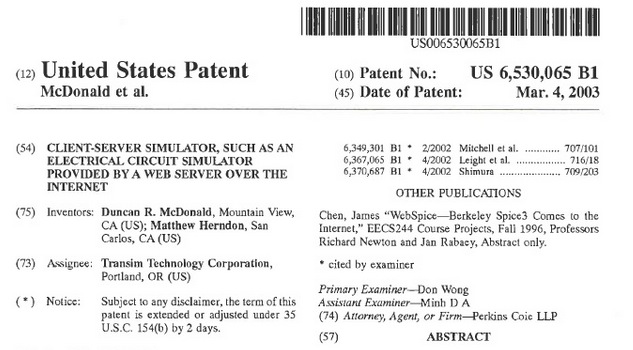 I'm amazed that the patent office issued such a broad patent to Transim, because there are so many EDA companies offering cloud-based simulation of electronic circuits like:
In fact, it's hard to find an EDA company that offers a simulator that isn't using the cloud in part of their product offerings.
Big Questions
1) Why would the high-priced lawyers for Arrow Electronics focus on a graduate student, working out of his dorm room on a cloud-based simulator that doesn't even compete with Transim?
2) Why not sue the big EDA players that also have cloud-based simulation?
I can only imagine that the lawyers from Arrow Electronics aimed at the weakest possible EDA supplier in hopes of creating a domino effect against the established EDA vendors, well good luck with that. I would love it if the larger EDA companies helped pay the legal fees for iSchematics.com and got the 6,530,065 patent thrown out on the grounds of prior-art.
lang: en_US
Share this post via: