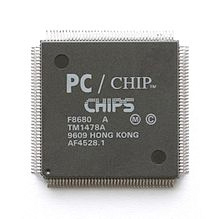 I talked to Dado Banatao today. He is managing partner at Tallwood Venture Capital today but back in the mid-1980s he was the founder of Chips and Technologies, the first fabless semiconductor company. The rumors that they had a hard time raising money because VCs couldn't comprehend a fabless semiconductor company are true. Even his friends told him it "wasn't a real semiconductor company." In fact the first $1M was raised from a real-estate investor! Only once they were further along were they able to raise another $3M from various Japanese investors including Mitsui.
Dado decided to use gate-arrays to get to market fast since the PC market was developing fast and the opportunity to build chipsets to serve it was there and then. They went with Toshiba, who they reckoned had the best gate-array technology at the time. But the design was too large for even the biggest gate-array so they partitioned it into a logic CMOS gate-array and all the drivers on a separate bipolar chip that Hitachi fabbed. Hitachi had a completely empty fab due to the semiconductor downturn at the time. C&T filled it completely. Since Hitachi were desperate for something in that fab they got unbelievably low prices.
The business took off fast. By the time they had their IPO, they still had $1M of their original $4M investment in the bank. The fact that Mitsui was an investor turned out to be fortuitous, since it meant that they could just order from Toshiba and Hitachi, without having to pay up-front with working capital that they didn't have. Mitsui financed $50M in inventory.
There was no really competitive product for 2 years until VLSI had its first chipset. The bipolar chip turned out to be an edge since at that time ESD protection on CMOS was in its infancy and was still at least a potential problem, which meant C&T could create FUD about reliability against VLSI's all-CMOS solution. 3 years later C&T had a solution that was all-CMOS too, but by then ESD protection was up to 20KV and those issues had gone away.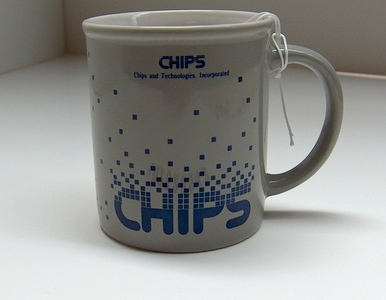 C&T got into Dell very early and they rode that rocket together. But in the meantime Compaq was king but they didn't believe in using chipsets at that point. But then Taiwan, Korea and Japan were suddenly all making PCs and Compaq couldn't compete so they had to switch too. Interestingly, at that point in the industry history, C&T were making more on each PC that Intel was. C&T was eventually acquired by Intel in 1997.
Dado went on to found S3 (graphics processors) again using gate-arrays initially to get to market fast once they decided what the market needed. They looked around for who had the biggest arrays at the time and found one at Seiko-Epson that they decided to use. In order to get data moved around fast enough they developed their own interconnect that they called Advanced Chip Interconnect, which, when Intel basically adopted it became PCI and PCIe.

Share this post via: