IC designers of passive devices often use empirical approaches to perform High Frequency Analysis (HFA), however there is at least one new approach being offered by Mentor Graphics using a tool flow of:
A recent White Paper was written by Georgios Manetas, Ph.D, Developer and Christen Decoin, Program Manager. I'll give you an overview from what I read.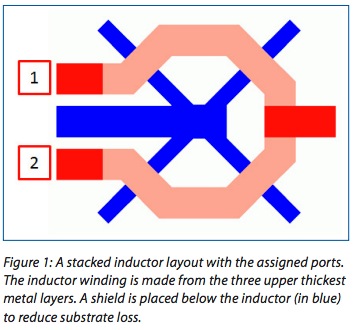 Empirical Approach
You could first design multiple silicon test structures for HF devices, create a compact model with TCAD tools and then calibrate the models. Some reasons that make the empirical approach less appealing:
Long development time for TCAD models
Measurement-based design takes too much time
Small changes to the passive device design require new models
Parasitic and neighboring device interactions are not accounted for
It's difficult to perform design explorations
Mentor's Approach
In the opening paragraph I listed all of the Mentor tools used to perform HFA of passives, and here are how the tools would be used:
Inductor devices are automatically recognized in the IC layout with either Calibre nmLVS-H or Calibre xRC.
Electro-Magnetic (EM) simulation with Calibre xACT-3D, producing S-parameters which are frequency dependent.
Accuracy versus Reference
New approaches must be compared against a reference, so the inductor layout from Figure 1 was used and the two approaches compared. The Mentor S-parameters are within 5% of the reference (TCAD-based) L values, and within 10% of Q values:


Benefits of New Approach
So the accuracy of the new approach looks acceptable, other benefits include:
Scalable tool flow, about 10X capacity and performance improvement over TCAD tools
Enables device exploration, quickly
Tools integrated with full-custom layout editors
Analyze with black-boxing to exclude areas
Extract and analyze in hours, not days
Characterize both HF components and the IC interconnect
At validation stage use highest accuracy with good turn around time
For design exploration use good accuracy and fast turn around time
Summary
HF designers now have another choice besides a traditional TCAD approach by using Mentor tools. The complete white paper can be found here.
Further Reading

Share this post via: