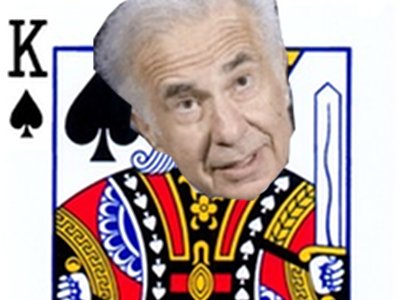 What is new with Mentor? Quite a bit actually. About this time last year Corporate Raider Carl Icahn stirred things up with a hostile takeover attempt that ended with three Raiderettes on the Mentor Board, out of eight board members total. This year however, two of the three Raiderettes are out so it looks like Mentor is firmly in control. Daniel Payne attends the board meetings and has put up some nice blogs:

Two New Board Members For Mentor
Carl Ichan Blinks in Bid for Mentor Graphics
Shakeup at Mentor Graphics
One of the new Mentor board members, Dan McCranie, I know personally. I worked for him at Virage Logic. One thing I can tell you about Dan is that he is a hard driving no nonsense guy so you may see more positive changes at Mentor. Dan McCranie is also good with mergers, acquisitions, and exit strategies, he certainly sold Virage Logic for a premium.
Mentor was one of the first SemiWiki subscribers so they have a very good landing pageHERE. As they say, you can tell a lot about an EDA company by their DAC plan. This year IC Design and Test is where the action is followed by ESL and Functional Verification, AMS/Custom IC Design, Embedded Software, and PCB Design and Manufacturing:
At this year's DAC, Mentor will share EDA techniques and technologies, developed in partnership with the world's largest design houses and foundries, that will help make you successful at the leading edge of IC development.REGISTER HERE for IC Design and Test events.
Technology and economics are driving the move up in abstraction from chip design to system design and from RTL to TLM. Abstraction, by itself, has limited value. Automation unlocks the full value in moving up in abstraction. Design creation and Verification automation capabilities are being adapted to the new level of design abstraction. Simultaneously, smarter verification automation improves productivity. The move up in design abstraction will push verification abstraction past TLM, opening new automation opportunities. REGISTER HERE for ESL and Functional Verification events.



Mentor Graphics provides advanced solutions for today's most challenging Custom IC design and verification projects. These solutions include the world's leading interactive custom IC routing technology and Mentor's Faster Spice – full SPICE accuracy – simulator, Eldo Premier. Attend the following sessions to learn what is new today and what is coming soon and hear how other design teams are cutting months off their tape out schedules. Join us in the Mentor booth at DAC.REGISTER HERE for AMS and Custom IC Design events.
No one knows embedded better than Mentor. Come hear how we are helping developers and silicon partners optimize their products for design and cost efficiency at the following DAC activities. REGISTER HERE for Embedded Software events.
As the worldwide leader in PCB design software, we are constantly innovating to help you manage the increasing complexities of today's systems design. Our sessions focus on the most pressing issues in systems design: global collaboration, accelerating time-to-market, increasing profits, and optimizing PCB design reliability.REGISTER HERE for PCB Design and Manufacturing events.

Share this post via: