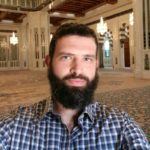 Eng. Islam Nashaat received his B.Sc. and M.Sc. degrees from Ain Shams University, Cairo, Egypt, in 2010 and 2017, respectively. He joined Si-Vision as an Analog Physical Design Engineer in 2010, where he initiated the company's CAD team in 2013, and became CAD and Physical Design Team Lead in 2016 after the company's flagship product got acquired by Synopsys. In 2020, he joined Goodix Egypt acting as Physical Design Manager. He co-founded Master Micro in 2020 and joined it as a full-time CEO in 2021. During his professional career he participated-in and managed the delivery of tens of silicon verified IC chips and IPs. In addition, he developed and managed the development of many automation scripts covering the analog front-end and back-end flows with several publications.
Tell us about your company
Master Micro is a disruptive EDA startup in the field of analog/mixed-signal design automation. Founded in 2020 by Eng. Islam Nashaat (CEO) and Dr. Hesham Omran (CTO), our mission is to revolutionize the full-custom chip design methodology to keep up with the rapid advancements in technology.
Despite being a relatively young company, we have made significant strides. We successfully launched our first product, the Analog Designer's Toolbox (ADT) in 2022, which is the culmination of several years of research. Since then, we have conducted product demonstrations for numerous companies worldwide. Many of these companies have become paying customers, while others are currently evaluating our offerings. Achieving this level of interest and adoption within such a short time frame is truly inspiring and motivates us to continue pushing boundaries in the EDA industry. In 2023, we launched our second product, the Sizing Assistant (SA), which is seamlessly integrated in the schematic editors to make the device sizing process fast, intuitive, and optimized.
What problems are you solving?
The rapid advancement of technology has led to increasingly complex and costly chip designs. This coincides with an expected shortage of talent in the semiconductor industry in the coming years, presenting a significant challenge. The existing analog design process, which is outdated and iterative, is struggling to keep up with the complexities of new technologies. Its lack of a systematic design approach results in ad-hoc methodologies that heavily rely on experts and lead to suboptimal designs.
That's where our role comes into play. We are dedicated to developing the next generation of analog design automation tools that address the challenges of full-custom design productivity and the scarcity of analog design expertise. By leveraging innovative circuit solving techniques and a designer-oriented user-friendly interface, we aim at making the analog design process fast, optimized, and intuitive.
What application areas are your strongest?
With a combined experience of over 50 years in front-end and back-end analog/mixed-signal design, software, and CAD engineering, our team possesses a deep understanding of the intricacies of the field. Currently, our primary focus lies in the analog design front-end flow, specifically emphasizing the crucial analog building blocks utilized in any analog subsystem.
We are proud to offer two innovative products that cater to the needs of analog designers. The first is the Analog Designer's Toolbox (ADT), a powerful tool that revolutionizes circuit-level design, visualization, and optimization. ADT enables users to paint the design space using millions of correct-by-construction design points generated within seconds, resulting in an up to 100x increase in design productivity.
Our second product, the Sizing Assistant, (SA) operates at the device level. SA gives designers the power to define the properties of transistors using their electrical parameters (e.g., gm/ID, fT, mismatch, Ron, etc.), and then receive the valid device sizing interactively. This tool streamlines the device-level sizing process and facilitates efficient decision-making. Both of our products are designed to seamlessly integrate within existing design environments, ensuring a smooth and hassle-free experience for analog designers.
What keeps your customers up at night?
Full-custom design is a bottleneck that dominates the time and cost of many chip design projects. In addition, the design quality is highly dependent on the designer's expertise, and there can be a large unseen room for improving power, performance, and area.
Our tools provide a significant productivity boost to analog design teams, resulting in 10x-100x time savings. The designers can quickly visualize the design space and pick global optimal design points in a systematic and intuitive way that is independent of the designer's level of expertise.
Our flagship product, ADT, has garnered tremendous excitement among visionary analog design leaders who are eager to explore and integrate our tools into their design flows. The feedback we got from our customers is that ADT is indeed taking analog circuit design to a new level, as it provides analog designers with profound insights into the analog design process and guides them to understand, optimize and improve their designs. The level of enthusiasm and ownership our visionary customers feel towards our tools is remarkable. Their passion for our tools is evident as they actively contribute suggestions for new features and functionalities that deepen their engagement and productivity with the tools.
What does the competitive landscape look like and how do you differentiate?
As you're aware, the EDA market is highly specialized, with only a handful of established players. It's a formidable challenge to stand out in this space. Traditional analog optimization tools have been around for many years, but they are not widely accepted in the analog design community. We differentiate ourselves by offering a designer-oriented design flow that leverages the powerful combination of the gm/ID methodology, precomputed lookup tables, and custom vectorized solvers. This provides distinct advantages to our tools in terms of speed, accuracy, and designer-oriented visualization.
Our approach not only empowers designers with unique capabilities but also ensures that their intuition remains intact through exceptional user interface and visualization features. This makes our tools a complementary and seamless integration within the familiar flow used by analog designers. We are proud to offer a solution that combines cutting-edge techniques with a user-friendly experience, addressing the specific needs of analog designers.
What new features/technology are you working on?
Before delving into our new features, it's crucial to emphasize that our team comprises experienced designers who possess a thorough understanding of the existing gaps in the design process. Moreover, we maintain regular communication with our customers, allowing us to gain valuable insights into their challenges and pain points. With that in mind, we are excited that we will soon introduce a cutting-edge tool specifically designed to address the cumbersome analog/mixed-signal design porting flow. This tool is particularly beneficial for companies that frequently port designs across different technologies. Furthermore, we are actively harnessing the power of emerging technologies such as Artificial Intelligence and Machine Learning to enhance our tools further. By leveraging these advancements, we aim to provide not only functional solutions but also an exceptional customer experience that leaves a lasting impression.
How do customers normally engage with your company?
Our customer engagement spans across multiple channels, allowing us to connect with a wide range of clients. We actively reach out to customers through our extensive network in the industry. In addition, we engage with analog designers at renowned conferences and trade shows that we attend, and we also collaborate with our trusted distributors. Another important avenue for us is our strong presence on LinkedIn, where we have amassed over 12,000 followers, making it a powerful channel for communication.
Furthermore, our website https://adt.master-micro.com, serves as a hub for customers to interact with us directly. Here, we offer a comprehensive range of services, starting with personalized demos for design teams, and a support portal for customers. We offer a free evaluation period for prospective customers, allowing design teams to fully explore and familiarize themselves with the capabilities of our tools.
On the other side, we also reach out to universities and IEEE societies to educate the next generations of designers about new analog design methodologies, and empower professors, researchers, and students to adopt our tools in their research projects and teaching activities.
Also Read:
CEO Interview: Sanjeev Kumar – Co-Founder & Mentor of Logic Fruit Technologies
CEO Interview: Stephen Rothrock of ATREG
CEO Interview: Dr. Tung-chieh Chen of Maxeda
Share this post via: