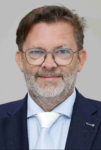 Koen Verhaege, CEO of Sofics ("Solutions for ICs"), has developed his career first as an engineer, later as a business leader and entrepreneur, working on IP development and valorisation. Koen's technical accomplishments, publications and patents are in the field of on-chip ESD protection design.
Today, Koen leverages his problem-solving skills in shaping corporate strategy, evolving business models, and forging strategic deals. His unwavering commitment revolves around delivering Distinct Recurring Value in every facet of Sofics' operations.
Tell us about your company?
We are and aspire to remain a premium physical design IP provider delivering device and circuit solutions to IC manufacturers and IC design companies by leveraging our extensive on-chip EOS/ESD/EMC IP portfolio.
Our motto is to consistently deliver Distinct Recurring Value in all our engagements, upholding the highest standards of excellence, quality, integrity, and social responsibility. Our strategy involves staying at the forefront of next-gen technologies and IC challenges, attracting high-value customers, and retaining top talent.
What problems are you solving?
We offer on-chip robustness solutions that outperform standard options or achieve normal robustness at lower costs or with less constraints, while ensuring first-time right silicon. Our library includes ESD cells and specialty I/Os and PHYs for all silicon processes from 0.18um down to 3nm today.
What application areas are your strongest?
We excel in addressing over-voltage and over-current hazards for a wide range of applications, as well as high-speed, high-frequency, and automotive designs. We cater to those who design their interfaces and those seeking circuit-ready solutions.
What keeps your customers up at night?
Customers worry about meeting conflicting reliability and normal operation specifications, the availability of foundry or 3rd party IP, and the risks of EOS/ESD/EMC failures or IP infringement causing them delays and impacting ROI and market share.
What does the competitive landscape look like and how do you differentiate?
We focus on providing Distinct Recurring Value and as such we will not engage in direct competition with low-cost service providers.
Our extensive patent portfolio in robust device solutions and interface circuits sets us apart. We lead in technology innovation, distinct recurring value solutions, and we support our solutions across a wide range of processes and foundries.
Half of our engineering time is reserved for and dedicated to research and development: constant innovation – also herein we are unique. This makes that our solutions are ready when the customer needs arise.
We are an IP and not a service company – but don't be mistaken: we deliver the best service to our customers.
What new features/technology are you working on?
We focus on leading edge high value opportunities. This requires access to technology and to challenges. Our strong relationships with leading foundries, like TSMC and Samsung, grant us early access to new technology. Our customer base, including more than 100 fabless, secures access to the engineering challenges in future products.
Today, we see opportunities in automotive integrated circuits and legacy compatible interfaces in advanced CMOS and FinFET technologies.
How do customers normally engage with your company?
Customers discover us through our personal business network and via our digital presence (LinkedIn, blog, web-site). We developed a structured onboarding process with fixed-price customization and proven solutions delivery via license agreements, reducing upfront risk for customers while ensuring Distinct Recurring Value for both parties.
How do you make a difference for engineers in this time of resource shortages?
We prioritize Distinct Recurring Value for our employees, offering opportunities to work with advanced technologies and challenges in the IC field. Our engineers are constantly gathering building blocks for a great career, and at Sofics we pave the path for that career.
Our flexible work arrangements and our energy-efficient, employee-designed office provides an ideal hybrid working environment.
Also Read:
CEO Interview: Harry Peterson of Siloxit
Breker's Maheen Hamid Believes Shared Vision Unifying Factor for Business Success
CEO Interview: Rob Gwynne of QPT
Share this post via: