Most of us continue to drive cars and for me there's always been a fascination with all things electrical that go into the actual design of a car. I've done typical maintenance tasks on my cars over the years like changing the battery, installing a new radio, replacing bulbs, changing a fuse, swapping out dashboard lights, and even putting in new power window assemblies. The automotive engineers that get to do the actual design work face a lot of unique challenges because of the rapid changes in the electrification of modern cars by providing passengers with GPS, WiFi and Bluetooth connectivity. Would you believe that we could soon see 50% of our car cost coming from the vehicle electrical systems?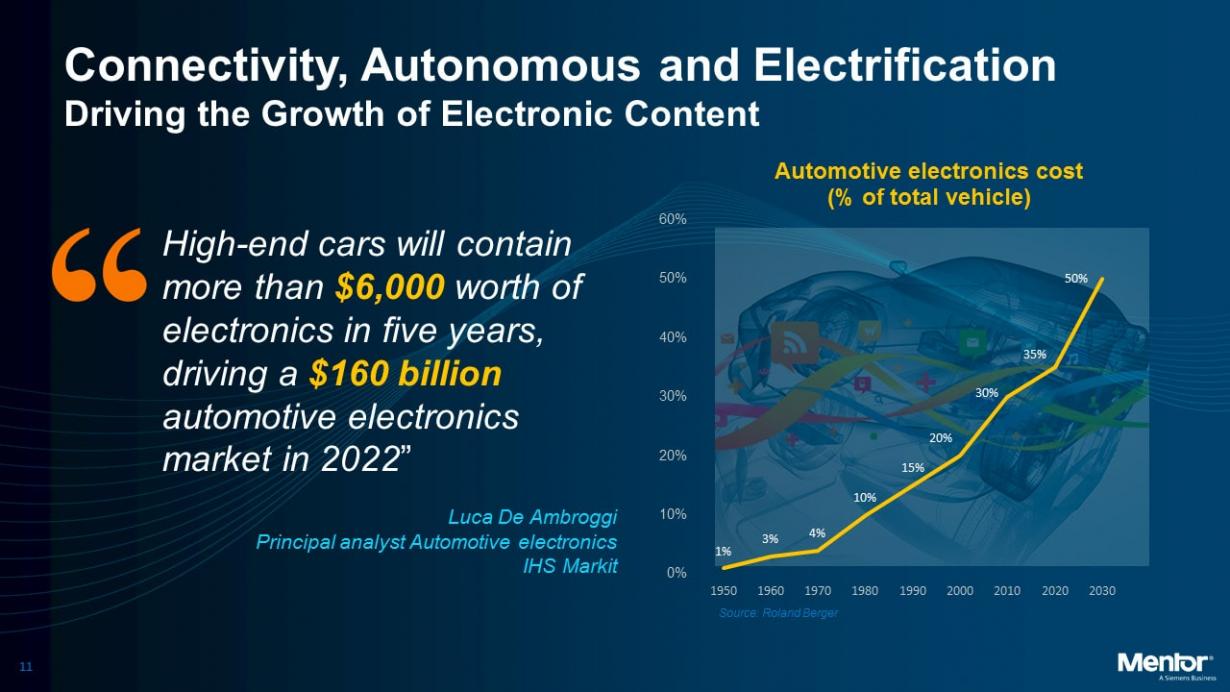 Source: IHS Markit
In the consumer electronics market we expect new smart phones every year or so, which in turn places demands on what we expect our automobiles to provide us. It's clear that auto makers have to become more nimble jn order to address the growing trends of connectivity, autonomous vehicles and electrification. One promising path is to use both new software tools and services combined to met these challenges.
On the autonomous vehicle front we hear from experts at Toyota that say it will take 14.2 billion miles of testing to reach SAE level 5 safety standards, so that would take too much time to do physically so it makes sense to add some virtual verification in the mix as well.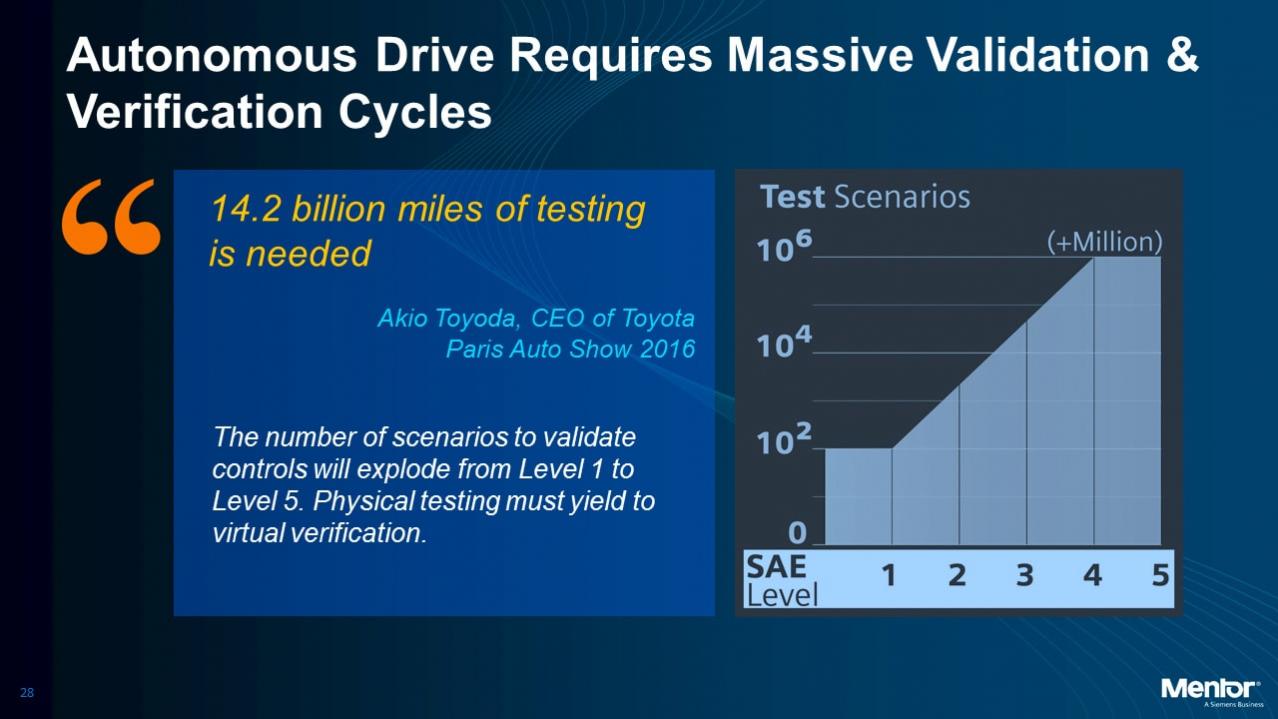 Source: Toyota

I spoke with two automotive experts at Mentor over the phone to get an update on design tools and services that are helping automotive systems designs, Scott Majdecki is part of the Capital support and consulting services, and Andrew Macleod is Director of automotive marketing. The Capital tool is built for both electrical and wire harness design.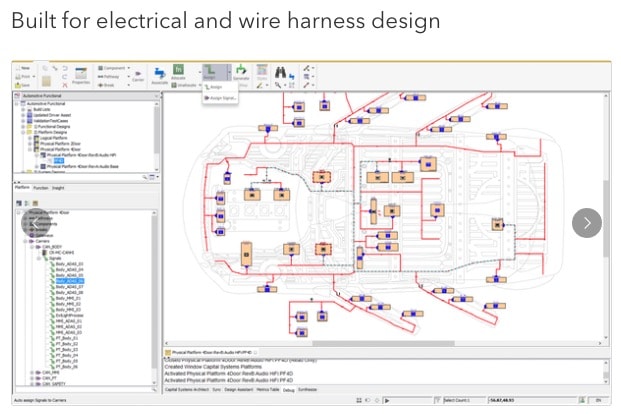 Q: What challenges do you see for automotive systems designs?
Scott Majdecki – Customers bought tools then struggled getting new designs into production, because they needed help to pilot the use, so we came up with a structured deployment called PROVEN through a cycle of evaluating current design, through a pilot project. For wire harnesses there is an issue with legacy data. The Capital tool has online, on-demand training, or instructor led training for basics, and then continued learning as needed on-demand. Vehicle wiring architecture is the modern approach versus manual wiring.
Q: What automotive design trends do you see?
Andy – There are so many new issues, like: connectivity, sensors, autonomous driving, multiple voltages in the vehicle, complexity, zero defects. Virtual design trends are emerging where we have high-level design first, simulate first mechanical, then simulate electrical. It's all about Time To Revenue.
Q: Where is virtual design at for automotive?
Scott – Mentor has a virtual testing environment for vehicles that includes pedestrians, weather, sensors and verification platforms.
Services
Companies can get to market more quickly by adopting Mentor Automotive Services for many thing, like: pilot, production rollout, legacy data migration, PLM integration, support and training services. Here's a quick look at the services delivery model: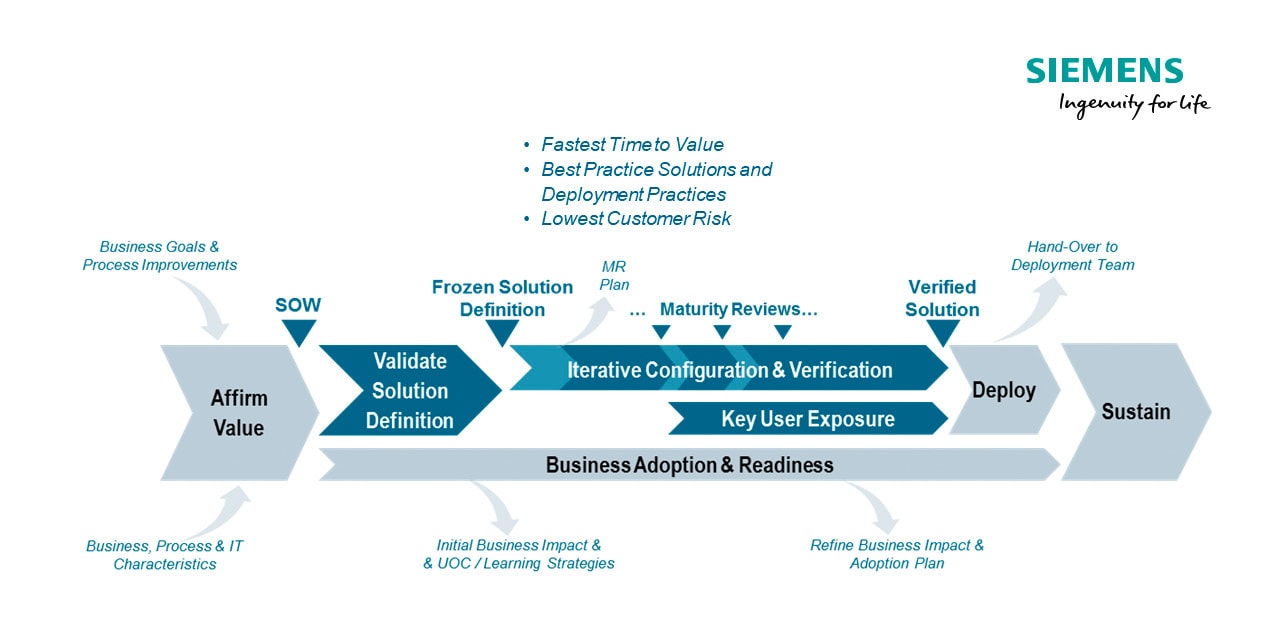 Simulation and Modeling
Platform design includes many parts like sensors, batteries, motor drivers, power electronics, AUTOSAR software and ECUs. Here are six types of simulation that can be done by modeling sensors as part of a system: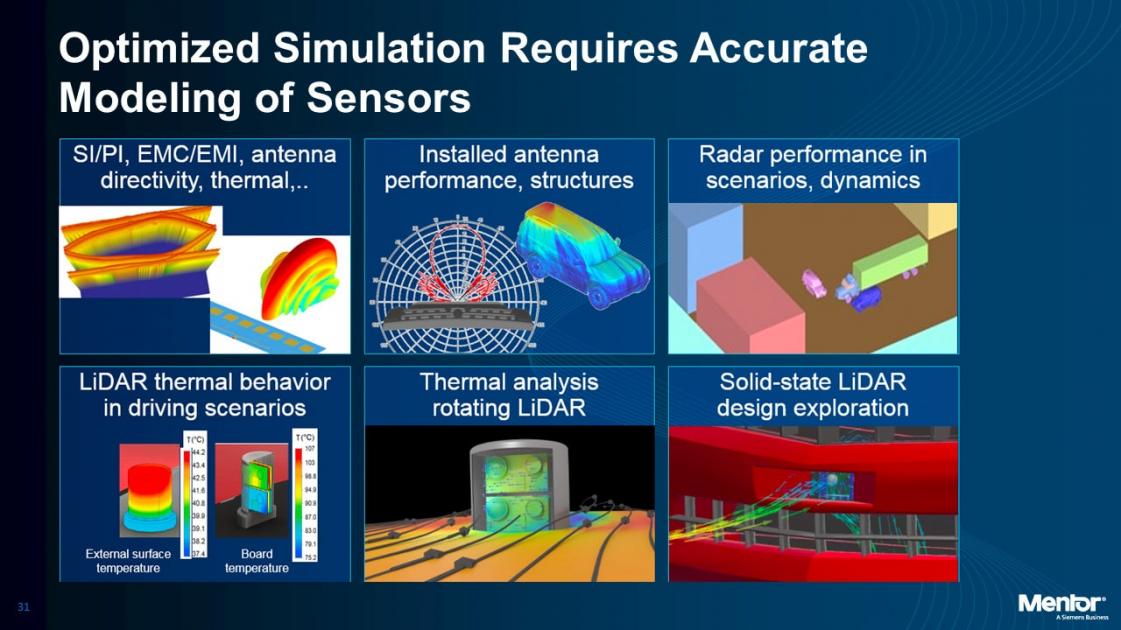 The Big Picture
There are four mega-trends in automotive systems design today, and those companies that excel at meeting these trends will grow in market share despite turbulent market conditions:
Connectivity – connecting car, driver and the external world
Autonomous – self-driving and driver-assisted systems
Electrification – EV (Electric Vehicles), hybrids and supporting technology
Architecture – both EE architecture and system implementation
By adding new software tools along with automotive-specific design services will certainly decrease the inherent risks for new designs, shorten design cycles, and help ensure that demanding safety standards are met. The team at Mentor has been serving the automotive market for years in both tools and services, so it makes sense to look into their approach to see how it could benefit your project teams.
White Paper
To read the full six page white paper, follow this link and fill out a brief request form.
Related Articles
Share this post via: