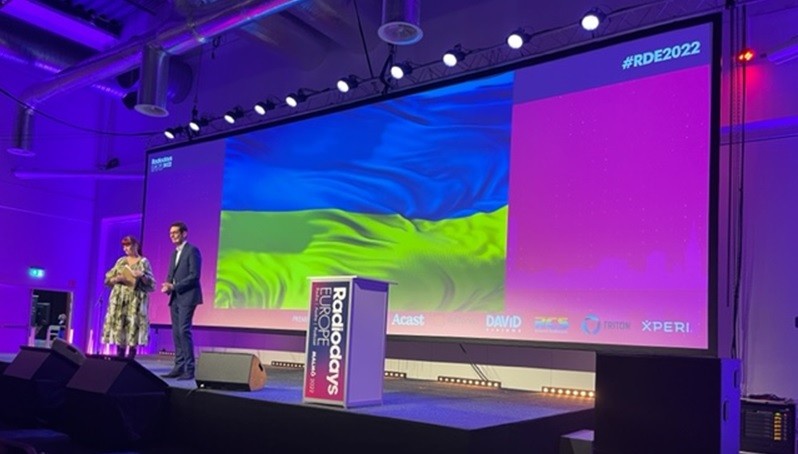 One doesn't expect to get emotional at the kickoff keynote for an industry event, but Radiodays Europe 22 flipped the script with live music and a bulletin from Ukrainian broadcasters beamed in from a bunker in Ukraine. The bunker broadcast followed speeches from Swedish and Finnish broadcasting executives including Cille Benko, director general and CEO of Swedish Radio.
Benko noted in her comments that the local broadcaster in Sweden went live eight minutes after the start of Russia's invasion at 4 a.m., Feb. 24th, with a 48-hour live broadcast of bulletins from the front. Benko noted a boost of up to half a million radio listeners out of a total population of 10M reflecting the power of live radio broadcasts in such emergency circumstances.
Benko's insight was made even more powerful by the fact that both print and television media have seen a steady audience erosion. In the current environment, radio is shining as a source of immediate and trusted information.
The choice of Malmo, Sweden, for the Radiodays Europe 22 event was particularly prescient given the announced intent of Sweden and Finland to join the North Atlantic Treaty Organization (NATO) in the wake of the Ukrainian invasion. Benko gave a strong boost to the notion of radio as a live and local medium, calling for the broadcasters in attendance to leverage technology for more content creation outside the studio and for taking advantage of podcasts and on-demand engagement with listeners.
Far from being passe or secondary to video content, Benko pronounced audio as ascendant and with decided advantages over other forms of content. Helsinki-based Stefan Moller, President of the Association of European Radio, added to the emotional undercurrent with his own comments regarding the urgency of radio's role in the current environment.
But the most powerful message came from the sub-terranean Ukrainians, Andriy Tarano and Dmytro Khorkin, representing Ukrainian Public Broadcasting, who joined the event via video to thank their international supporters and describe their ongoing efforts to broadcast via all means available including mobile apps. They also noted that only AM broadcasts were currently available in Mariupol.
Radio advocates have long noted radio's ability to endure and deliver critical information in times of crisis such as earthquakes and hurricanes, when cellular and Internet communications are often knocked offline. The Radiodays Europe keynote highlighted the extent to which political events can reshape the media environment and alter the conventional wisdom governing public perceptions. There are few positive messages to be taken from the disastrous invasion of Ukraine by Russia, but one such message is the enduring power and relevance of broadcast radio.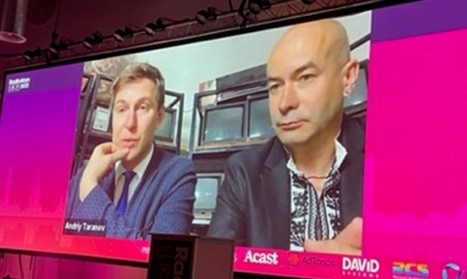 SOURCE: Dmytro Khorkin and Andriy Taranov of Public Broadcasting Company of Ukraine speaking via video to Radiodays Europe 22 opening session in Malmo, Sweden.
Also Read:
Why Traceability Now? Blame Custom SoC Demand
The Jig is Up for Car Data Brokers
Share this post via: