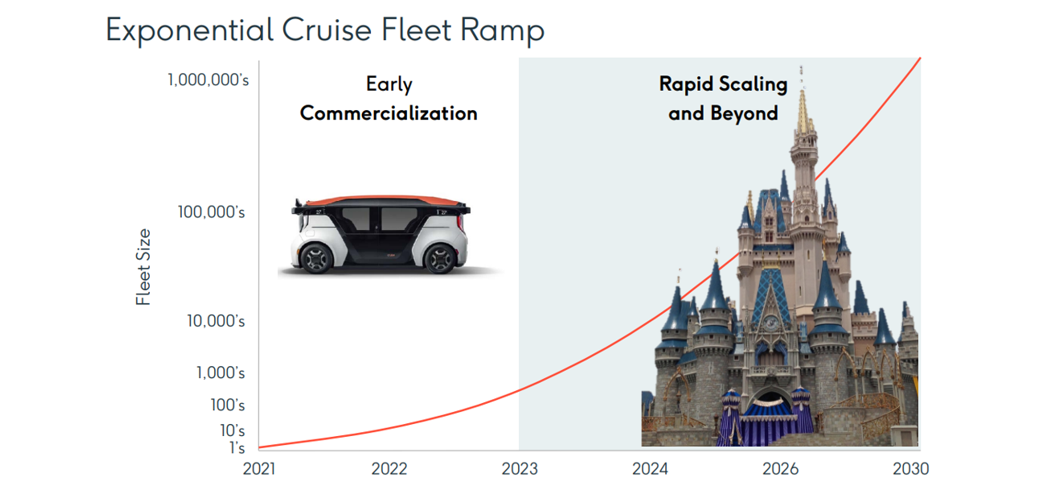 In the midst of what may well be the greatest electric vehicle debacle of the nascent EV era, General Motors put on a happy face telling investors two weeks ago that all things EV and autonomous were going swimmingly to plan with gumdrops and sugar plums coming on the road ahead. GM claimed before-end-of-year availability for the absurd 1,000-horse-power, 4.5-ton Hummer EV and late 2022 availability for the Silverado EV.
Meanwhile, the General is facing a $1.9B financial hit* from buying back (or repairing) 141,000 Bolt EVs – a reality that GM CEO Mary Barra skirted in a Fox Business interview by referring to "cell replacements" for Bolt EV owners. Those comments clearly sidestepped the reality of a growing number of Bolt owners seeking outright buybacks of their cars after being told not to park them in their garages and discovering their vehicles were also prohibited from some public covered parking facilities including those at Detroit Metropolitan Airport. (*Worth noting battery supplier has accepted responsibility for the battery failure and is compensating GM to the tune of $1.9B – all the more reason for GM to accelerate customer compensation.)
Adding to the fanciful technology outlook painted for GM investors was a sunny forecast for millions of self-driving Origin robotaxis arriving in the market within a few short years – illustrated by a graph showing an exponential adoption rate. Based on a single deployment in a confined area in San Francisco this outlook is optimistic in the extreme.
Sadly, the exaggeration and chest-thumping on behalf of Cruise Automation's self-driving efforts over-shadowed the more significant technological advances coming from GM's own tech labs in Warren, Mich. What really deserved attention at the event was GM's success in bringing semi-automated driving in the form of Super Cruise to the market without a hitch or whiff of a mishap or negative headline. In fact, the technology is on the cusp of a major global rollout reflecting impressive progress.
This technological achievement was worthy of glorification – not the billion-dollar boondoggle of Cruise, which represents a dumpster fire of a cash burn with little yet to show in terms of adoption, technological achievement, or even a compelling consumer application. Even Waymo's modest progress is massively superior to Cruise's gains – and Intel's Mobileye continues to roll out its own robotaxi prototyping endeavors in groundbreaking launches and creative partnerships in New York, Munich, and elsewhere around the world.
But automated driving and semi-automated driving aside, GM's EV situation is in the midst of a massive crisis. GM's Barra claims the company is not intimidated by Tesla and is prepared to take the upstart EV maker on – but GM has more than Tesla to be concerned about. Hyundai, Kia, Ford Motor Company, and, now, Porsche are all in play with varying degrees of success.
An EV customer considering his or her options will be hard pressed to overlook the fact that Tesla has the strongest track record in the EV sector – with vehicles having demonstrated their ability to endure a wide range of operating conditions without catastrophic failures of the sort experienced by a handful of Bolt EVs (so far). Price is certainly a primary consideration – and incentives – but durability and reputation matter.
In the aforementioned Fox interview, the Fox correspondent noted that she was a recent convert from Lexus to Tesla and praised Tesla's direct response when she had a tire inflation issue. In other words, GM is not simply competing on price or technology – it is also being forced to compete on customer service, and failing.
The Bolt EV debacle is something GM is trying to sweep under the rug – not unlike the ignition switch crisis which lingers on in litigation and incomplete recalls. Like the ignition switch recall and litigation, GM is taking on the Bolt EV failure on a case by case basis, resulting in a lingering stank on the GM brand. One begins to wonder whether anyone in GM's warranty department has ever removed a band-aid before.
In essence, with the Bolt EV failure GM has wasted all or a substantial portion of its EV tax credits, it has massively undermined its own EV credibility in the midst of an announced $35B EV investment program, and it has minted thousands of new Tesla buyers – customers fed up with waiting for GM to get it right. Remember, GM's journey began with the EV-1 that customers loved but that GM called back and crushed; and followed up with the extended range EV Volt, which customers loved but that GM threw overboard in favor of the Bolt.
GM promises that all will be right in a world built upon the new Ultium battery foundation. For that to happen, GM must A) buy back all 141,000 Bolts and B) offer a life-time warranty on any Ultium battery vehicles. Nothing less will restore long lost luster to the GM brand and prop up the customer retention necessary to the brand's future. Happy talk, denial, and tap dancing will not suffice.
Share this post via: