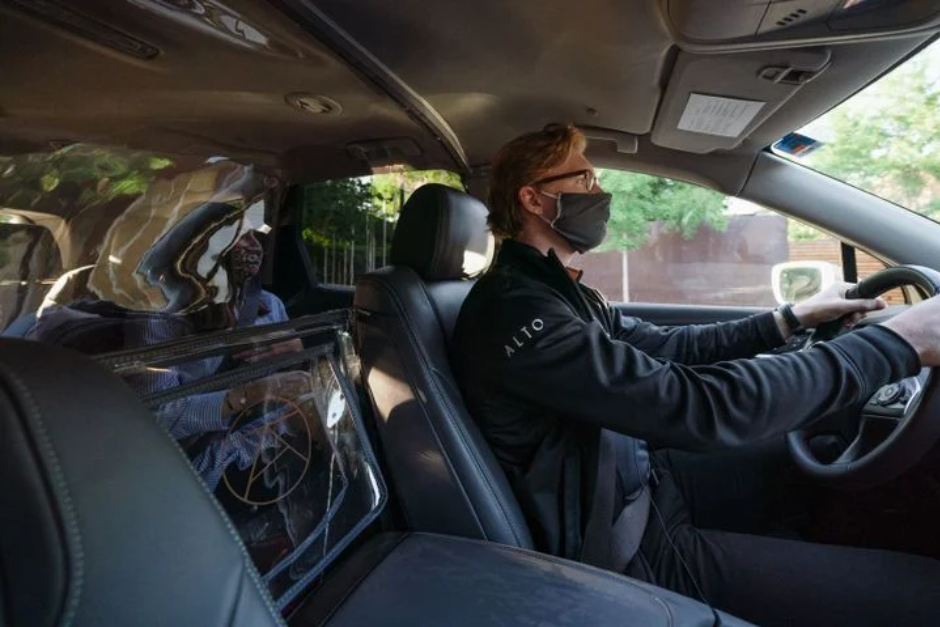 Uber, Lyft, Postmates, Instacart and Doordash were successful in their nearly $200M effort to pass California's Proposition 22 in November – to allow gig operators to avoid treating their drivers as full-time employees with all of the associated employee benefits and legal protections. In the midst of a devastating pandemic that has placed a premium on safety and driven away both passengers and driver/contractors, a new threat to these operators is arriving in the shape of Alto to contest the juicy L.A. market opportunity.
Uber and Lyft have taken on ride hailing competition before, but Alto is an entirely new kind of rival offering a reasonably priced, premium level of service enabled by an employee-based platform using company-owned and outfitted vehicles with partitions. All of Alto's vehicles are five-star crash rated SUVs piloted by a team of vetted and trained uniformed drivers.
While Uber and Lyft have hemorrhaged both drivers and passengers – to the tune of more than a third of their revenue – during the COVID-19 pandemic, Alto is pursuing its slightly delayed plans to expand to Los Angeles, California, and Austin and Houston, Texas. The key for Alto is its intense commitment to quality control and safety – something that makes a difference during a pandemic that has devastated the ad hoc transportation sector including everything from ride hailing to rental cars.
Uber and Lyft have both groped for a solution to the revenue crisis by leveraging micromobility and delivery services – but both have either resisted a shift toward deploying partitions in their vehicles or have made only half-hearted efforts to do so. Lyft, at least, has made partitions available – but has not required them.  Uber has done nothing.
To its credit, Alto recognized from the beginning that the fundamental value proposition of ride hailing was delivering a luxury service. As such, during a pandemic, it was no longer sufficient to offer convenience and an inexpensive ride. True luxury during COVID time requires a powerful statement regarding driver and passenger safety.
Uber and Lyft both require masks for drivers and passengers. But we all know, by now, that enforcing mask wearing on passengers is a dicey and difficult proposition for drivers. And masks alone in the confined space of an automobile cabin is insufficient protection.
Alto has removed this concern by installing partitions in all of its cars. This is also easier to do for Alto because it acquires and owns all its cars and can therefore deliver a predictable, reliable, guaranteed quality of service. With Uber and Lyft both the driver and the passenger get no such guarantees – particularly as regards safety. (We all know that ride hailing with Uber and Lyft, to quote Forrest Gump, is like a box of chocolates – "you never know what you're going to get.")
Alto says each driver is a "W2-employee and undergoes an extensive background check in addition to a thorough safety and defensive driving training program. Drivers are empowered with the tools needed for a successful ride every time, with technical support embedded into Alto's dashboard including destination confirmation, navigation preferences and more. Riders can feel confident knowing that any time they request an Alto, it will be the same experience down to the vehicle model, amenities, and even the scent."
Alto says its drivers are available for "corporate or personal courier service, customer or employee courtesy rides, and food pickup and delivery. Alto's uniformed employee drivers are available to shop, purchase, and deliver a variety of needs from anywhere."
Alto's L.A. market entry press release states:  "In addition to the daily cleaning and maintenance procedures, each vehicle's high-touch surfaces such as the interior and exterior door handles and headrests are disinfected between every trip. To ensure maximum safety for its drivers and riders in the midst of COVID-19, Alto has double-downed on its safety efforts by equipping each vehicle with custom plexiglass barriers between the driver and passenger compartments while also installing HEPA cabin air filters that remove 99.9% of airborne particles."
Alto is not alone in adopting in-vehicle partitions. Bolt, DiDi Chuxing, Yandex, and Cabify have either fully or partially equipped their fleets with partitions.
With operations in Spain, Portugal, and Latin America, Cabify has taken some unique pandemic-related measures including installing partitions in 7,000 of its vehicles in Columbia and administering COVID-19 tests to some drivers. Cabify has reported increases in business during the pandemic, which may in part be due to its safety measures.
Cabify says it has been able to support safe mobility with more than 38,000 taxis in Columbia that have been operating since the beginning of the quarantine, complying with all government safety protocols.
The company noted in a report that most of the new users of its service are people who previously used mass public transport (40%), their private car (15%) or took taxi services on the street (15%). A company spokesman said: "During the pandemic, 60% of new users said that the reason they used the app was due to the good availability of vehicles and the high safety standards. The three main reasons why they needed to mobilize were: work 50%, health 10% and family visits 9%."
Partitions are seeing wider adoption throughout the transportation sector including new partitions in public busses throughout the world. It's worth noting that partitions are likely to become a permanent aspect of public, shared, and semi-private transportation services.
While most ride hail operators have added partitions without waiting for regulations, it is possible that regulatory pressure may grow for requiring partitions for taxis and other ad hoc transportation service providers. The next step is likely to include regular driver testing – though funding and reporting will have to be addressed.
It will be interesting to see how Uber responds to competitors adopting superior pandemic-related safety and sanitation measures like Alto in L.A. and Cabify in Latin America.  Alto is a particularly serious threat, though, in offering both a safer operating proposition for drivers and passengers – while also offering full employment and benefits. There is no doubt that hundreds of former Uber and Lyft drivers in L.A. will be lining up to join the Alto platform.
Alto is currently recruiting driver employees in L.A. and making the necessary arrangements to serve area airports.  Alto's value proposition for both drivers and passengers is tailor-made to capitalize on the negative industry impacts from COVID-19.  L.A. is about to see a ride hailing street fight capable of restoring broader consumer confidence in the ride hailing sector. If the terms of engagement are safety, Alto will win hands down – and partitions up.
Share this post via: