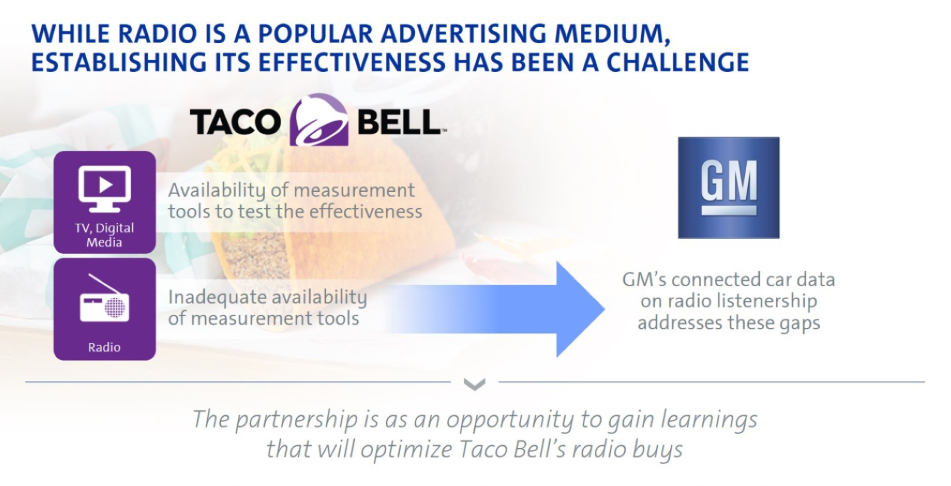 "Ads definitely work, but we can't tell you how or why or give you any evidence," – Tim Hwang, research fellow, Georgetown Center for Security and Emerging Technology
Two recent episodes of the Freakonomics Radio podcast tackle the question "Does advertising actually work?" and they coincided with a presentation given earlier this year by General Motors that attempted to take on the same question. While the podcasts were looking at all forms of advertising, the GM presentation at the Advertising Research Foundation this Fall garnered attention and praise for attacking the question of radio advertising efficacy in connected cars.
Freakonomics podcasts:
https://freakonomics.com/podcast/advertising-part-1/
https://freakonomics.com/podcast/advertising-part-2/
The podcasts highlight the estimated $250B spent on advertising in the U.S. and $600B globally and raise questions regarding the return on investment for all types of advertising and the long-term viability of the advertising-based Internet economy currently dominated by ad-centric powerhouses Google and Facebook. The takeaway from the two discussions is that advertising is performing a difficult to measure function and that participants in the advertising infrastructure are least likely to probe too deeply to question its usefulness.
In that context, the GM insights were most welcome. For its part, GM is one of the largest advertisers in the U.S., spending an estimated $3B. GM must know a lot about advertising effectiveness and, as a major advertiser, commanded the attention of ARF attendees with its analytical look at a radio advertising campaign by Taco Bell.
The focus of the Taco Bell study was to assess the effectiveness of radio advertising in cars. GM created geo-fences around 78 Taco Bell locations in Columbus, Ohio, and then compared vehicle location data with radio ad logs to assess reach and frequency. The entry of cars into the designated geo-fenced store "polygons" was used to determine attribution.
Attribution is the Holy Grail of any advertising analysis – i.e. the attribution of a consumer behavior such as a store visit or purchase that can be directly attributed to a particular advertisement. Of course, to achieve actual attribution would require mind reading or some sort of comprehensive surveillance (coming soon from Amazon or Google, no doubt), but the novelty of using connected car technology to close this analytical loop was impressive if filled with some obvious flaws.
GM's conclusions were somewhat inconclusive to whit:
The typical :30 second radio ad was the most effective in driving restaurant visits.
Voiced (personality sponsorships) and NWT (News/Weather/Traffic) ad units generate synergies when combined.
The combination of the :30 second standard ads with voiced personality enhanced campaign frequency
Mid-day recorded the highest driving activity.
Of the study, GM said: "While the pilot's results were promising, there's opportunity to enrich the insights." In other words, the findings, which oddly included demographic breakdowns, were merely interesting.
The technology behind the study originated with a small startup called Drive Time Metrics. Drive Time Metrics, which holds a number of patents on its work, demonstrated to GM and other auto makers several years ago the ability to obtain a comprehensive view of content consumption in vehicles thereby setting the stage for connected car audience measurement. The two companies do not appear to be currently working together.
The Drive Time endeavor might seem to be nearly meaningless or pointless given the fact that cars spend 97% of their time – or more – parked. Why would media consumption in a connected car matter? It matters because researchers estimate that 50% or more of total radio listening occurs in cars.
More importantly, a listener in a car represents a captive audience and is likely on the way to conducting a transaction of some sort. I like to say that the car itself is the equivalent of a browser and every action of the driver is an indication of intent – purchasing or otherwise.
The only problem for researchers has been that the leading media measurement company, Nielsen Media, has no means for measuring in-vehicle media consumption with any detail or reliability – even though it purports to report total projected radio listening audience data.  This means that big advertisers like GM and advertising-centric companies like Google and Facebook are faced with a major media blindspot – the automobile.
Further, the car is an aural environment. It is nearly impossible, if not dangerous, to leverage visual advertising to target drivers with the possible exception of billboards.
Drive Time Metrics raised the curtain on in-vehicle media measurement by tapping into the vehicle CAN bus – the on-board network – where the company found comprehensive insights regarding what drivers were listening to and from which source. Drive Time's solution is able to tell auto makers and advertisers what media sources are being accessed, when, where, by whom, and in what car.
In the past, companies such as Harman International have demonstrated in-vehicle ad solutions capable of linking broadcast radio ads from digital or streaming radio sources requiring an action by a driver to obtain a coupon or discount. This crude form of attribution is evident in GM's Marketplace app developed with Xevo.
This was the very message taken away by some observers at the ARF event. Forbes magazine quoted one "futurist" as saying: "In order to provide radio breakthroughs across more product categories, expect to soon see voice command added to connected cars so drivers with their hands on the wheel can accept radio-advertised coupon and other offers to be downloaded into their phones. At least two different companies are already thinking along those lines, WiO and Thinaire."
WiO and Thinaire are not alone, but there is nothing new in what they are working on and others have tried and failed before them.
It's precisely the WRONG message to derive from GM's presentation. GM's analysis only gave further evidence of the difficulty of establishing attribution of a particular event to a particular ad. The last thing auto makers ought to be spending their money on is distracting drivers with location-centric advertising with an urgent call to action while driving. This is one thing that GM's attorneys and engineers ought to be able to agree on.
That intensive form of driver engagement – requiring a screen touch or voice response – is sub-optimal from a driver distraction standpoint. Drive Time's vision is to open the door to a comprehensive view of the in-vehicle media landscape and with that a projectable audience measurement platform.
The GM presentation is tantalizing but ultimately disappointing and pointless. Advertisers are not interested in understanding the efficacy of radio advertising in GM vehicles. They want to know the efficacy of radio advertising more broadly and in the context of a comprehensive advertising portfolio.
What GM is failing to recognize is that its first goal ought to be to use Drive Time's technology to better understand its own customers, leveraging those insights to refine GM's own marketing programs and tune up its in-vehicle infotainment systems. GM is a major radio advertiser both directly and through dealer co-op advertising. GM should go back to the drawing board to better understand how it can apply its newly found insights in support of its own marketing and product development objectives.
As for Drive Time Metrics, all car makers ought to take a closer look at the DTM solution. We will all benefit from better understanding in-vehicle media consumption. Understanding that behavior will help user experience designers create non-distracting solutions for the next generation of non-distracting in-motion marketing.
Share this post via: