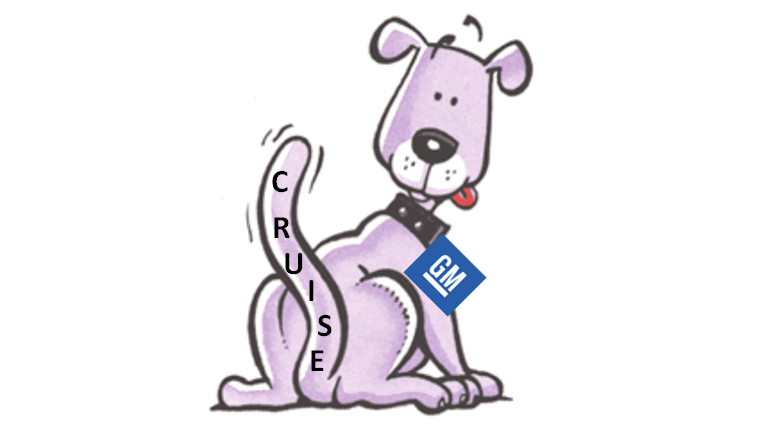 The Information tells us that General Motors' Cruise Automation self-driving car unit has acquired automotive radar maker Astyx. The move can be seen as a simple defensive move to preserve access to valuable radar technology along the path to realizing Cruise's vision of a robotaxi infused future.
There are a variety of of wrinkles to this acquisition – with a veritable Shar Pei of implications for GM, for Cruise, and for the autonomous vehicle world. There are three key elements underlying the financial aspects of the deal – the specifics of which have yet to be acknowledged, disclosed or confirmed – cash on hand, valuation, and market cap.
Thanks to investors such as Honda and Softbank, Cruise has $5B-$6B to burn – and burn it will at upwards of $250M/quarter. Cruise's valuation, following the latest round of investment, stands at $19B. This compares to GM's market cap of $39B, Waymo's valuation of $30B, and Alphabet's market cap of $1T.
It is amusing to ponder the prospect of Cruise's valuation potentially exceeding GM's market cap. I have an image in my mind of Cruise founder and president Kyle Vogt, just back from running seven marathons on seven continents in seven days (look it up), strolling into GM CEO Mary Barra's office and "telling her how it's going to be" at GM now that he owns the place.
Don't hold your breath for that.
Cruise is playing a high stakes game of chicken in its pursuit of the autonomous driving Holy Grail. It must maintain its valuation, while steadily making progress toward an actual value-creating proposition, while burning massive amounts of cash…but not TOO much. To that end, Cruise announced layoffs recently which were thought to include personnel from the prior acquisition of Strobe – a Lidar supplier.
The most notable aspect of the Astyx acquisition is that it is a purchase that GM itself would have never made – in a million years. Car makers typically prefer not to take possession of their suppliers. Car makers prefer to have smaller suppliers, such as Astyx, partner with existing so-called "Tier 1" suppliers. In fact, Astyx has existing relationships with ZF, Hella, Autoliv, and Nvidia.
In the race to autonomy, though, acquisitions of this sort are common as AV developers seek to own and protect their "software stack" – the core of their AV solution. Typically, though, these acquisitions have occurred at the Tier 1 level with acquirers such as Continental, Bosch, and Aptix, while car makers have made select "investments" or engaged in partnerships.
While the Cruise move on Astyx may bave been defensive, such acquisitions have an offensive nature as well. The Cruise/Astyx deal may disrupt some competing AV developers that have been working with Astyx. They may be forced to rethink those relationships. For Cruise, though, taking possession of Astyx's development team might help accelerate Cruise's progress toward autonomy.
In spite of Mary Barra's frequent claims that Cruise is on track to meet its goals and hitting its milestones – the reality appears to be something quite different. The latest announcements surrounding the much-heralded Cruise Origin robotaxi entering production in 2022 suggests a timeline shifting inexorably into the future – as has happened at most other OEMs and independent developers working in the space.
The odds are as long as the stakes are high in the game that Cruise is playing. I still remember running into Waymo CEO John Krafcik on the floor of the Geneva International Motor Show three years ago where he noted that Cruise was racking up hundreds of thousands of miles on city streets while Waymo was notching millions of miles on highway, surface, and city streets.
The issue is critical to determining which approach to autonomy will scale the most rapidly. Waymo has made clear its long-term intention to offer an autonomous driving "kit" to makers of all types of vehicles operating in a wide range of environments while continuing to operate its own nascent all-purpose autonomous driving solution. Cruise appears to be committed exclusively to the robotaxi path.
The outlook for robotaxi development is grim. Even assuming Cruise is successful, at the end of the day it will have mastered San Francisco after years of development work. How much time, effort, and money will it take to tackle Los Angeles? New York? Shanghai?
The acquisition of Astyx could set the stage for a Cruise shift toward a more Waymo-like operational capability encompassing urban and highway operation. If so, it probably would make sense to abandon the Cruise Origin entirely.
If Cruise is bent on taking on highway driving, though, it will run headlong into GM's in-house Super Cruise development efforts which are proceeding on an entirely parallel path with little or no cross pollination. GM's Warren Tech Center team and Cruise are pursuing completely separate hardware and software stacks with very different visions of value creation. Only the GM in-house team has crossed the threshold into mass production.
Whether offensive or defensive, the Astyx acquisition does not appear to measurably advance the cause of vehicle automation in the short-term, nor does it appear to alter Cruise's strategic plans either to expand its operational domain or to shift its go to market strategy to a Waymo-style AV kit approach. But if Cruise intends to maintain or enhance its current valuation it needs to show measurable progress in 2020.
The Astyx acquisition may simply reflect Cruise taking advantage of diminished post-COVID-19 valuations, and a minority Astyx shareholder's (ZF) need for cash, to add to its development team and provide its own internal stimulus. It won't fix a flawed business model. So Cruise may be in control, but it won't wag the dog.
Share this post via: