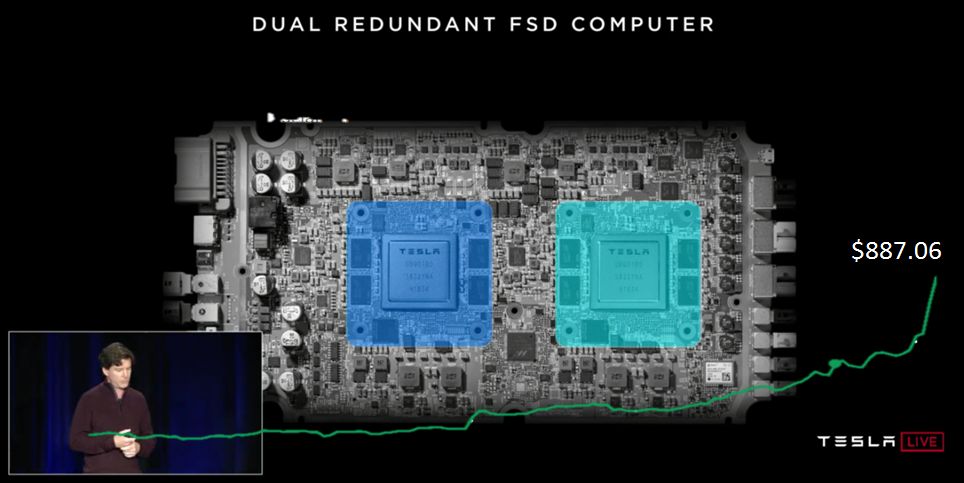 Telsa Motors' stock skyrockets and all observers are shocked and amazed. The shorts that took a multi-billion-dollar hit then double down with their concerns regarding the German gigafactory construction permits or coronavirus or the company's ability to create demand or fulfill it.
All of these investors are ignoring something that Tesla owners or wannabe owners know, that Tesla's vehicles are fundamentally built differently. From their Ethernet networks to Tesla's dual redundant fully self-driving system, Tesla's vehicles are unlike anything manufactured anywhere else in the world for sale to the general public.
Tesla is also building up a powerful network effect narrative around its stated plans to enable a car sharing/ride hailing service on its existing connectivity platform. But fleet operators aren't waiting for Tesla's own networked car solution. Fleet operators from Daimler (that's right – buying 60 Tesla's) to Kapten (Las Vegas taxi operator – bought 50) and many others are stuffing their fleets with Tesla's due to their low cost of operation and reliability.
Underlying all of this is the most remarkable value multiplier of all: transparency. While other autonomous vehicle operators and car companies tout their long-term and short-term plans for electrification, connectivity, and autonomy – Tesla publicly discloses its plans, its architecture, its philosophy, and its results.
Is Tesla perfect? Far from it. Tesla vehicles continue to periodically collide with vehicles parked in travel lanes and even on shoulders of roads. We likely have not seen the end of Tesla-related injuries and fatalities.
But Tesla is doing more than any other car maker or operator to explain how its systems work, how and why they fail (usually attributable to the human in the loop), and what the company is doing to correct the shortcomings in the system. Tesla's approach actually raises questions regarding the legacy auto industry's approach to safety based on standards such as ISO 26262 and ASIL-D.
ISO 26262 and ASIL-D require organization-wide commitments and behavioral adjustments in order to anticipate and account for and test for all potential system failures. With Tesla's dual redundant computing platform, Tesla is suggesting an entirely different path closer to the aerospace industry where triple-redundancy is not unusual.
Tesla Autonomy Investor Day: https://theteslashow.com/tesla-autonomy-investor-day/fzh9g5j2wcze3euvra49vdab0s69hw
Tesla discloses the architecture in detail along with the nature of the decision-making process that supports the existing semi-autonomous system operation. Tesla nestles its custom-made SoC/chip between the two computers on the board (pictured above) which receive identical data feeds independently.
It's difficult to say whether this is Tesla's answer to ISO 26262 and ASIL-D protocols. It's also difficult to say it's the wrong way forward. Tesla has made more progress than any other operator on a path toward a global, scalable autonomous driving solution.
If all of these realities are not enough to convince investors of the upside prospects for Tesla, they need only reconsider the fact that competing with Tesla is like trying to stop a bullet with a badminton shuttlecock. The bullet's moving too fast and the shuttlecock is moving too slow.
Tesla continues to update its vehicle systems with software upgrades that universally dazzle and delight Tesla owners. The company has gone further, though, in updating hardware on the assembly line – very nearly unheard-of among legacy auto makers – as well as routinely updating hardware within vehicles already on the road.
Tesla is a model of value creation, extension, and maintenance. It's an aggressive and successful business model that is helping the company gobble up luxury vehicle market share and for which there is no remedy in sight.
A decade in to the Tesla era, no car maker has yet risen to the competitive challenge posed by the company. Car makers are scrambling to deploy Tesla-like large screens, Tesla-like over-the-air software updates, Tesla-like 300-mile range, Tesla-like performance, Tesla-like semi-autonomous driving, and Tesla-like reliability. But, so far, only Tesla is delivering.
It remains to be seen whether 2020 will be the year that some car maker catches up to Tesla. Until that happens it will be difficult for any analyst to doubt the stock's potential to soar even higher.
Don't miss the Tesla hackathon: https://twitter.com/elonmusk/status/1224087317364854785
Share this post via: