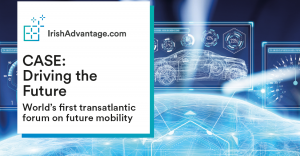 A senior executive from Volkswagen North America kicked off Enterprise Ireland's first annual "CASE: Driving the Future" mobility symposium last week with the announcement of the launch of its next generation Car-Net connected car platform. The new solution represents a breakthrough by allowing for the customer selection of preferred wireless carrier and the ability to add a new connected VW to an existing consumer wireless plan.
The VW announcement was a bombshell not only for this novel multiple-carrier configuration but also for the fact that it marks Verizon Wireless' return to the connected car market six years after General Motors' OnStar service opted for AT&T Mobility over Verizon. The VW announcement is something of a poke at AT&T as well, which is VW's existing connectivity provider.  AT&T may yet be added to the new Car-Net platform in 2020 as a customer option.
The new Car-Net system also marks a change in business model for VW – offering new car customers five years of free remote access functionality (remote start, remote lock/unlock) from the company's mobile app with OnStar-like automatic crash notification via the on-board modem as a $99/year add-on. The Car-Net service was previously offered as a complete package at $199/year.
New cars with the updated Car-Net service will start arriving soon in the U.S. – with a line-wide upgrade expected to be completed during the course of 2020. Verizon is the first carrier enabled on the Car-Net platform thanks to software and service provided by Ireland-based supplier Cubic Telecom. (Cubic Telecom investors include Volkswagen's Audi division, Qualcomm, and eSIM supplier Valid.) T-Mobile is expected to be added soon to Car-Net via remote provisioning of the on-board e-SIM by Cubic. Volkswagen also expects AT&T to be an option in the future.
The announcement opens a new chapter in vehicle connectivity – one in which consumers can tap a re-provisionable connectivity device in a connected car in order to simply add their car to their existing wireless plan. The new connectivity means cars may actually come to be seen by consumers as smartphones on wheels.
VW intends to use the new platform to deliver streaming services, usage-based insurance, vehicle diagnostics and service scheduling, and integrated e-commerce capabilities for paying for parking, tolls, and fuel. All of the richness of the VW/Cubic value proposition will be realized in due time. The announcement shows VW stealing the connectivity innovation flag from Detroit's GM and planting it firmly in Herndon, Va., VW NA's headquarters. The multiple-carrier solution and device add-on functionality is only currently enabled in the U.S. and Canada largely due to regional regulatory limitations elsewhere in the world.
Share this post via: