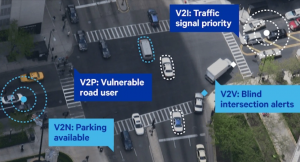 There is a vast amount of hubbub in the automotive industry regarding the onset of 5G technology. Industry excitement is manifest in the 5G Automotive Association (5GAA) which is facilitating collaboration (among 120+ member) between the automotive industry and the wireless industry, possibly for the first time ever.
For years, cars and connectivity have gone together like fish and bicycles – in other words, not at all. General Motors' OnStar automatic crash notification was a brilliant idea, but the arrival of the smartphone has almost completely erased any consumer enthusiasm for this application.
But cellular skeptics will be wise to arrest their tut-tutting about the future of connected cars because pre-5G LTE-based connectivity in the form of C-V2X is about to change everyone's understanding of the value of connecting cars. More than 6,000 pedestrians were killed in traffic-related incidents in 2018 in the U.S., a 40% increase from 2008 and now representing 16% of all U.S. highway fatalities. That's likely to get worse with the proliferation of micromobility. C-V2X is about to change that grim reality forever.
When Ford Motor Company announced its plans to adopt built-in C-V2X technology in all or most of its cars by 2022, the automotive industry shrugged. Ford had long trailed GM in its implementation of embedded connectivity – relying instead on connected smartphones with its clever SYNC solution created in partnership with Microsoft. Ford even found a way to enable automatic crash notifications from connected smartphones – i.e. 911 assist.
SYNC has since evolved, but so has Ford's thinking about connectivity. The company's singular embrace of C-V2X is likely to put the company in the vanguard of a movement to leverage vehicle-to-vehicle technology (enabled by C-V2X) and vehicle-to-pedestrian technology to reduce collisions between cars and between cars and pedestrians.
Enabling cars to "see" pedestrians is something of an industry Holy Grail. We've all seen the LiDAR images of pedestrians and even the camera-based and night-vision pedestrian detection systems. All of these modalities hint at the potential to use sensors to avoid collisions with pedestrians.
C-V2X, however, will enable so-equipped cars to detect the presence of pedestrians by "detecting" their C-V2X (or 5G enabled) smartphones. As C-V2X proliferates through mobile devices and, eventually, in cars, vehicles will increasingly be able to detect other vehicles and pedestrians.
This ability will initially manifest as driver alerts in dashboard-based systems such as the instrument cluster or infotainment system or even in head-up displays. Eventually, in-vehicle systems will be able to respond automatically, braking or taking other evasive action to avoid collisions.
Qualcomm will be holding an Automotive Showcase next Tuesday, Sept. 24, at the NextEnergy Center in Detroit, Mich., to demonstrate the capabilities inherent in C-V2X technology and explore new life-saving applications. There is no doubt that 5G, when it arrives in the U.S., will have its own transformative impact on vehicle technology development and deployment, but C-V2X will arrive even sooner in cars and in mobile devices.
Gil-Scott Heron was wrong. This revolution WILL be televised…in your dashboard.
Register for the Qualcomm Automotive Showcase here: https://tinyurl.com/yxawjuse
Share this post via: