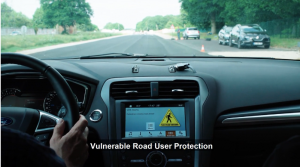 Ford Motor Company's debt may have been downgraded to junk this week, but the company's savvy strategy for vehicle safety and connectivity has had an outsize influence on the broader automotive industry.  That is the takeaway message from this week's ITS California gathering of transportation executives taking place in Los Angeles.
On the vehicle safety front Ford standardized a set of advanced driver assist systems (collectively known as ADAS) across much of its new vehicle line up with the goal of making these safety systems standard by 2020. The portfolio of safety features is collectively known as Co-Pilot360 and includes:
·       Automatic braking
·       Pedestrian detection
·       Lane keeping
·       Automatic high beams (car senses oncoming traffic and switches to regular beams to avoid blinding the other driver)
·       Blind-spot monitoring
·       Rear-cross-traffic alert
·       Backup camera
This move has set the stage for an enhanced insurance offering designed to use application program interfaces (APIs) to allow Ford vehicle owners to share vehicle data directly with insurance companies. To allow that data to be shared, Ford also announced its intention to connect all of its cars.
But the connections Ford intends to add are not just any connections. By 2022, Ford expects most of its cars to come with built in C-V2X technology – an LTE-based cellular system capable of allowing Ford vehicles to communicate directly with other so-equipped Ford's or, indeed, any other vehicle with built in C-V2X modems.
Ford's move contrasts with GM's introduction of DSRC-based V2V technology on a single slow-selling Cadillac model; Toyota's reversal of its announced plans to introduce DSRC in North America in 2021; and Volkswagen's stated intention to fit all of its cars with DSRC. Ford's C-V2X decision has set the company apart with a decision likely to bestow a leadership patina on the one-time connectivity laggard.
To emphasize the importance of this decision, Ford has been conducting technology demonstrations in Europe and the U.S. in partnership with Audi of America – demonstrating the ability of C-V2X connections to enable direct communications between vehicles from different manufacturers. This C-V2X deployment decision from Ford has fundamentally altered thinking in both the automotive and transportation industries around inter-vehicle communications and, in fact, vehicle-to-everything connections.
Ford, a founding member of CAMP (Crash Avoidance Metrics Partnership), operated under the aegis of the National Highway Traffic Safety Administration since 2001, has long advocated the use of DSRC-based 5.9GHz wireless spectrum for collision avoidance applications built upon vehicle-to-vehicle communications. Ford's embrace of cellular technology for collision avoidance was a shock to both the automotive and the ITS communities.
ITS is short for Intelligent Transportation Systems. ITS California is the state chapter of the larger ITS America organization. Transportation and transit agency members gather annually to share information regarding new technologies and prioritize problem solving and spending.
The systems discussed, debated, and sold at ITS events such as the one held in Los Angeles this week are hardware and software solutions designed to leverage roadway cameras and sensors and wireless and wired connections to allow traffic managers to enhance vehicle throughputs on highways, bridges, tunnels, and city streets, reduce congestion and mitigate mishaps like vehicle crashes.
Prominent among the workhorse technologies for these organizations – including state-level departments of transportation and public transit authorities – is wireless technology operating in the 5.9GHz band. The 5.9GHz band has been assigned to transportation applications for more than 20 years, due in part to the work of CAMP. It is only recently that it has been aggressively employed for transit priority, traffic monitoring, congestion detection, traveler alerts, snow plow and emergency vehicle traffic signal pre-emption, and vehicle-to-vehicle collision avoidance applications.
Up until the end of the Obama administration much of the discussion around the use of the 5.9GHz band centered on so-called dedicated short range communications (DSRC) technology – a protocol designed to enable safety-relevant, low latency, inter-vehicle communications. The onset of LTE-based C-V2X and, soon, 5G wireless technologies – also operating in the 5.9GHz band – has changed the conversation.
Regulators in the E.U. and the U.S. are now reconsidering what was once expected to be a global technology mandate for DSRC adoption in passenger vehicles. The momentum toward a mandate stalled in the U.S. at the end of the Obama administration and received at least a temporary detour in the E.U. with the rejection of the DSRC-linked Delegated Act by member states this summer. China has simply rejected DSRC in favor of 5G and C-V2X cellular technology.
A subtle change in messaging from regulators and transportation executives in the U.S., though, reflects a sea change that has occurred in the industry thanks mainly to Ford's decision to commit entirely to built-in C-V2X connections in cars. U.S. Secretary of Transportation Elaine Chao has consistently chosen language suggesting a technology agnostic stance for vehicle-to-vehicle communications – in itself a significant change from prior department messaging.
Chao's messaging has now been picked up within the wider ITS community. When 50 U.S. state DOT's sent a letter, in August, to the Federal Communications Commission insisting that the 5.9GHz be preserved solely for transportation applications, they did not specify or favor DSRC over cellular technology.
The FCC is testing the proposition that the 5.9GHz band might be shared with other unlicensed applications. The transportation industry is asking that the assignment of the spectrum for transportation be preserved (in the face of heavy lobbying from the cable industry), but has set aside its prior insistence on DSRC.
In reaction to Ford's announcement of C-V2X deployment plans, DOT's have begun to grasp the implications of cellular-based vehicle-to-everything communications. Most notable of all that C-V2X and 5G will enable is vehicle-to-pedestrian connections. It is widely, and finally, recognized that smartphones will never be equipped with DSRC. But some day most smartphones will operate on 5G networks.
The clincher at the ITS California event was the first offering of a dual mode (DSRC/C-V2X) roadside field monitoring unit from Applied Information. The automotive has seen dual mode devices from Continental and Bosch, but Applied Information is the first to offer this combination for infrastructure installations.
Applied has deployed C-V2X technology at hundreds of locations around the U.S., but the introduction of the dual mode device recognizes the reality that DSRC and C-V2X are likely to co-exist in the market – even if C-V2X has considerably greater momentum.
The arrival of the dual mode device, along with Applied Information's broader offering of related C-V2X-based devices and systems, is a manifestation of the growing interest among state and city DOT's in future-proofed, cellular-based systems. With Ford signaling its plans to fit C-V2X in ALL of its cars, the future of car connectivity and vehicle-to-everything connections is clear. A new era of vehicle connectivity and safety has dawned, ushered in by Ford.
Share this post via: