Ever since the early days of computing there has always been a large distinction between 'regular' computing and real time computing – where special care had to be made to deal with unordered and asynchronous events. Back then a system typically consisted of a handful of sensors and perhaps some electromechanical devices. The complexity back in those days pales in comparison to the challenges of building systems for automated driving in the present day. Each component of a self-driving car is part of an interdependent whole.
The goes literally from where the rubber meets the road to the high powered SOCs that make the whole system work. Due to the myriad interdependencies, it is not possible to simply build a prototype and test it to arrive at a correctly operating and optimized vehicle. It's not enough that the AI hardware and software are working properly – sensors and actuators need to be accurate, and reliable. The physical properties of each need to be modeled so inputs can be properly interpreted, and controls are driven precisely. Piled on top of this complexity are the added requirements for safety. Systems in the vehicle need to be self-testing and failover has to occur seamlessly.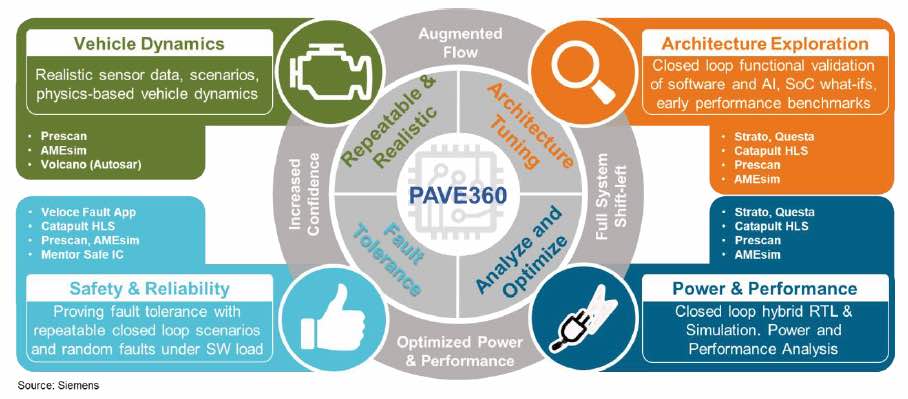 It is customary to make models of physical and electronic systems early in their design process to ensure that the designs are fully verified by the time they are manufactured. Scaling modeling and simulation up to the vehicle level is necessary for autonomous vehicles. The benefits of doing this extend beyond verification, allowing for iterative design improvement long before physical components are available. One such example is determining optimal sensor placement. Also, in the realm of AI, an accurate model of the vehicle can facilitate neural network training.
Closed loop simulation is so valuable in the automotive design space that Siemens has developed a simulation system that can model every element of a vehicle and mix real physical components with virtual ones to allow a wide range of system integration and simulation long before a real working vehicle is ever assembled. The system is called PAVE360.
One of the most interesting aspects to the PAVE360 is its ability to simulate custom SOCs using Mentor hardware emulation tools. In the maturing autonomous vehicle market, manufacturers are looking to improve performance by designing AI/ML SOCs tailored to their specific needs. This is a leading factor in creating product differentiation.
PAVE360 can model every aspect of a vehicle in operation. This not only includes simulating sensor input for real world operation, it also can cover 5G operation for V2V and V2I communications. This illustrates just how comprehensive the system is. Siemens believes that the availability of PAVE360 systems can help every member of the supply chain improve their products. It's also not just for navigation. PAVE360 can be used for every system in a vehicle, including engine and drivetrain management, safety, infotainment, battery/fuel management, etc.
Siemens has developed a unique system for enabling early simulation of SOC designs in a comprehensive environment that covers every aspect of vehicle operation. Looking back at their acquisition of Mentor, there were many questions at the time about the value proposition. It seems now that building something like PAVE360 could only be done with their combined technology and resources. A PAVE360 installation is on display in the Center for Practical Autonomy Lab in Novi, Michigan. The details of this system are featured in the announcement by Siemens.
Share this post via: