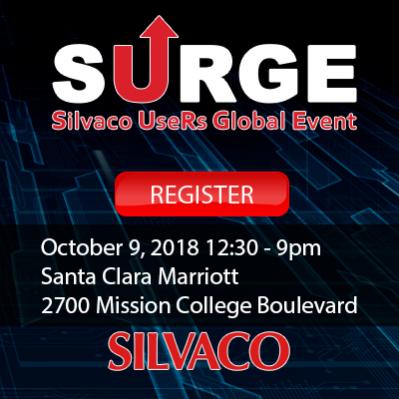 The semiconductor industry has been very good to me over the past 35 years. I have had a front row seat to some of the most innovative and disruptive things like the fabless transformation and of course the Electronic Design Automation phenomenon, not to mention the end products that we as an industry have enabled. It is truly amazing that my iPhone X has more processing power than NASA and Neil Armstrong had when landing on the moon, absolutely.

I remember telling my family what I did for a living way back when and they always gave me a quizzical look, "semiconductors?", "EDA?". Career day at my son's school went the same way. My son suggested I talk about airplanes and being a pilot because kids would be bored by EDA. Thankfully I did because the other Dad that day was a Fireman, "Look at me I save lives blah blah blah…. Here's a sticker badge". That son is now a Fireman and none of my four children followed me to Silicon Valley (insert Rodney Dangerfield imitation here: I don't get no respect…).
One of the under respected companies in EDA is Silvaco. Silvaco has made one of the great EDA pivots over the last four years and you can credit CEO Dave Dutton with more than doubling Silvaco's revenue. Silvaco is now the third largest independent EDA company behind Synopsys and Cadence, if you can believe that!
We did an interview with David Dutton last year HERE for reference. A very nice combination of organic and non organic growth brought in the big revenue numbers which is the EDA way. You can see a list of the Silvaco M&A activity in our EDA M&A wiki but here is a quick look:
Silvaco Completes Acquisition of NanGate
(March 5th, 2018)
Silvaco to Acquire SoC Solutions
(June 16th, 2017)
Silvaco Accelerates Characterization Business with Agreement to Acquire Paripath
(June 14th, 2017)
Silvaco Enters IP Market With Acquisition of IPextreme
(June 3rd, 2016)
Silvaco Group Acquires edXact for SPICE Simulation Speed-up
(June 2nd, 2016)
Silvaco Extends SPICE Product Portfolio to Address Advanced Variation-Aware Design with Acquisition of Infiniscale
(December 15th, 2015)
Silvaco Acquires Invarian to Accelerate Adoption of Concurrent Power-Voltage-Thermal Analysis
(March 19th, 2015)
Which brings us to the upcoming Silvaco Surge event:
Silvaco announces the launch of a Silvaco Users Seminar at various Silvaco sites in 2018. SURGE (Silvaco UseRs Global Event) is a premier and unique event bringing together both the EDA as well as the IP community to discuss new technologies, smart integration for innovative applications and new techniques for realizing advanced designs.
Live demos of new features and capabilities
Unique variety of technical presentations
Roadmap presentations and exciting technology updates
Dynamic panel discussions and executive keynotes
Networking opportunities with industry experts
Silvaco US will be hosting SURGE on October 9, 2018.
Date/Time:
October 9, 2018 12:30 – 9am
Venue:
Santa Clara Marriott
2700 Mission College Boulevard
Santa Clara, CA 95054
Surge Highlights:Welcome PresentationThomas F. Blaesi
Vice President, Global Marketing, Silvaco, Inc.
Thomas F. Blaesi is Vice President of the global marketing group, which is chartered with defining, driving, and promoting Silvaco's leadership in the TCAD, EDA and IP market. Key areas of responsibility include strategic planning, corporate marketing, product marketing, market research, brand management, corporate communications, and ecosystem alliance programs.
Thomas joined Silvaco in October 2017 with more than 25 years of experience in corporate strategy, business development, and marketing in semiconductor, and electronic design automation industries. He has led major projects in SoC platform-based design, system-level design, and design for manufacturing in addition to hands-on experience in custom and semi-custom chip design and development.
Most recently, Thomas was the managing partner at Zeema Technologies. Before that, he served as CEO of Chipvision, and held various senior business and technical positions at Cadence, Synopsys, and LSI Logic.
Thomas holds a BS in electrical engineering and computer science from Hochschule Furtwangen University, Germany.
Smart Silicon Solutions from SilvacoCEO, David L. Dutton, Silvaco, Inc.
David L. Dutton serves as Chief Executive Officer of Silvaco and is also a member of the company's Board of Directors. He has also served as an advisory board director of solar company Sunpreme since 2013 and LED manufacturer Glo since 2014. Dutton serves as managing principal of business management consulting firms SemiEnergy and CEO to CEO and was an active member of the Silicon Valley Leadership Group and the Alliance of Chief Executives.
From 2001 to 2013, Dutton served as President, CEO and board director member of Mattson Technology, where he led the company's turnaround to profitability and quadruped the company's total available market by expanding into new semiconductor and clean tech capital equipment markets. Prior to joining Mattson, Dutton held management, engineering and product positions at Silicon Valley technology companies, including Intel and Maxim Integrated Products. Dutton holds a B.S. in Geology from San Jose State University.
The State of the Semiconductor IndustryPresident, Jim Feldhan, Semico Research
Jim Feldhan founded Semico Research in 1994. A 20-year veteran of the semiconductor industry, he brings his management, forecasting and modeling expertise to Semico, along with a reputation of quality research. Jim designed and developed the research methodologies and report structures,which are the basis for Semico's Custom Research and Portfolio Services. Jim also develops Semico's overall economic outlook as well as performing various semiconductor consulting and forecasting. With a focus on quality, Semico Research has grown to the largest semiconductor-focused consulting and research firm.
Jim was formerly the Executive Vice-President and General Manager at In-Stat as a member of the start-up team.
From TCAD to Sign-OffDr. Eric Guichard, Vice President of the TCAD Division, Silvaco, Inc.
Dr. Eric Guichard is Vice President of Silvaco's TCAD Division. He is responsible for managing all aspects of the TCAD division from R&D to field operations.
Atomistic Device Simulations,Tillmann Kubis, Purdue University
Tillmann Kubis received the Ph.D. degree in physics from the Technische Universität München, Munich, Germany, in 2009. He is currently a Research Faculty with Purdue University, West Lafayette, IN, USA. His research interests include the high performance implementation of the nonequilibrium Green's function method and its expansion into new physics and new application spaces. He is leading the development of the NEMO tool suite including the NEMO5 multipurpose nanodevice simulation tool that embraces most of his latest quantum transport method developments.
TCAD for Display ApplicationsDr. Derek Kimpton, Principal Applications Engineer, Silvaco, Inc.
Dr. Derek Kimpton, Principal Applications Engineer at Silvaco, spent four years characterizing radiation effects on devices at Plessey Semiconductors in Lincoln, England. Whilst there he published the paper in Solid-State Electronics on a new and predictive total dose oxide charging model, that is the basis for the code implemented in Silvaco's latest TCAD Victory Device simulator.
Prior to his over 17 years at Silvaco, Dr. Kimpton received both a B.Sc. in Electronics and Ph.D. in GaInAs MOSFET fabrication from Kings College, London with an industrial year in the Optical Fiber division at GEC Hirst Research Center, in England. He also worked on the synthesis of silicon germanium (SiGe) by implantation of germanium as a Research Fellow at Middlesex University, England.
Advancements In Annealing And Oxidation Steps For Compound Semiconductor Power Devices,Vito Šimonka, Application Engineer, Silvaco, Inc.
Vito Šimonka was born in Murska Sobota, Slovenia in 1991. He received Dipl. Fiz. (UN) and Mag. Fiz. degree in physics from the University of Maribor, Slovenia in 2009 and 2015, respectively. He graduated magna cum laude and received the Best Student Award of the University of Maribor in 2015 due to his research achievements in the field of computational physics. He was additionally awarded with the Zois Scholarship from the Public Fund of Slovenia for Excellence in 2012, the PRACE Summer of HPC Ambassador Award in 2013, and the Rectors Award of the University of Maribor in 2017.
Currently, Vito is a doctoral student at the Institute for Microelectronics, TU Wien, Austria, working on the development of process TCAD solutions and modeling of wide bandgap semiconductors. His research contributions include extensions of the silicon carbide oxidation models for three-dimensional simulations, dopant activation models for implanted silicon carbide and gallium nitride, and investigations of various semiconductor devices, in particular power diodes, rectifiers, and field-effect transistors.
TechModeler and Spice Model Generation ServicesDr. Bogdan Tudor, Senior Manager, Device Characterization, Silvaco, Inc.
Bogdan Tudor is Head of Device Characterization for Silvaco, leading the UTMOST and Modeling Service teams. He has over 20 years of experience in model development and characterization software.

Jumpstarting Your SoC Design Using Arm DesignStart and Silvaco IP, Warren Savage, General Manager, IP, Silvaco, Inc.
Warren Savage serves as the General Manager of Silvaco's newly formed IP Division. He has spent his entire career in Silicon Valley with engineering and management roles in leading companies including Fairchild Semiconductor, Tandem Computers, Synopsys, and most recently with IPextreme.
He is a widely recognized expert in the field of semiconductor intellectual property and with building IP businesses beginning with Synopsys (DesignWare) in 1995 and the founding of IPextreme in 2004, which was acquired by Silvaco in 2016.
Compute Acceleration Using Silvaco RTL IP on eFPGA,Tony Kozaczuk, Director, Solutions Architecture, Flex Logix
Tony Kozaczuk is the Director of Solutions Architecture at Flex Logix. Tony's team's role at Flex Logix is to provide support to customers to evaluate architectural alternatives for using EFLX to achieve the best result. Over twenty years Architecting systems and ICs at National, Sun and Intel. Most recently at Intel, Tony was Lead System Architect for multiple generations of Intel CPU Cores, and led system clocking architecture for all client systems. At Sun, Tony was Lead System Architect for several servers and workstations and led I/O architecture and microarchitecture of several systems and chips. He holds a BSEE from San Francisco State University.
Using IAR Systems Software Tools To Accelerate The Integration of Silvaco's Arm-based Subsystems,Zulfi Zamindar, Field Application Engineer, IAR Systems Software Inc.
Responsible for the US West region, Zulfi holds a B.S., Electrical Engineering degree and a MBA, General Management degree. With 20 years of semiconductor experience supporting start-ups to original equipment manufacturers, Zulfi has extensive experience in multi-core ARM Cortex microcontroller and ARM v8 processors, Ethernet PHYs, Ethernet Switches, PCIe Switches, FPGAs, and Embedded RTOS.
Designing High Speed Analog Interface Blocks With Expert™,Brian Bradburn, Head of EDA, Front-End/Back-End, Silvaco, Inc.
Brian Bradburn is Head of Silvaco's EDA product group, driving the design, development and vision of the front-end and back-end flow of products.
Standard Cell Layout Optimization With Cello™,Guilherme Schlinker, Director of Layout Automation, Silvaco, Inc.
Guilherme Schlinker is Director of Layout Automation at Silvaco. He is responsible for Silvaco's Layout Optimizer Product Line. Prior to joining Silvaco in 2018 he worked for 12 years at Nangate, where he developed EDA tools for layout automation and delivered standard cell library IP for multiple foundries and technology nodes. He joined Silvaco as part of the acquisition of Nangate and continues working with the former Nangate products. Mr. Schlinker holds a Computer Engineering degree from Universidade Federal do Rio Grande do Sul, Brazil.
Trusted High-Sigma Variation Analysis with VarMan™Dr. Firas Mohamed, Head of Flow Optimization General Manager, Silvaco France
Dr Firas is General Manager of Silvaco France. He is Head of process variability and netlist reduction products line. Firas has over twenty three years experience in EDA industry.
The Benefits Of Using Jivaro™ For Parasitic Reduction,Jean-Pierre Goujon, Application Manager, Silvaco, Inc.
Mr. Jean-Pierre Goujon is Application Manager for Silvaco France. He is responsible for customer technical support for EDA products, with a specific interest in parasitic analysis and reduction products. Prior to this position, he has been AE manager for Edxact for 12 years and had various AE responsibilities at Cadence, Simplex and Snaketech mostly in the field of parasitic extraction.
Mr. Goujon holds a BSc in EEE from Robert Gordon University, Aberdeen, UK and a MS in EEE from Ecole Supérieure de Chimie, Physique, Electronique de Lyon, France.
The Benefits Of Using Jivaro™ For Parasitic Reduction,Nemani, Viswateja, CAD Engineer, Intel
Viswateja has been a CAD Engineer at Intel PSG since 2015. He is currently the Parasitic Extraction lead for PSG San Jose team and works on defining extraction methodologies and flows for various advanced process nodes. He has held internship positions at Nvidia &amm; Real Intent where he found his passion for Design Automation & EDA development.
Viswateja graduated from San Jose State University with a MSEE in 2015. While at SJSU, he worked on a research project in collaboration with Volkswagen to implement real time image matching applications in Autonomous vehicles by using FPGA based hardware accelerators. He is originally from Bangalore, India and holds a Bachelors in Electronics and Communications from Visvesvaraya Technological University which served as a foundation for his interest in the field of semiconductor engineering.He has been a member of SJSU IEEE student chapter and continues to be a professional IEEE member.
Smart Silicon Solutions,Ole Christian Andersen, GM – EDA Business Unit, Silvaco, Inc.
Mr. Andersen held the position of Vice President and General Manager of Vitesse Semiconductors – Ethernet Products Division. Before joining Vitesse, he served as CEO of Exbit Technology, a Danish company he founded in 1999. Exbit Technology was acquired by Vitesse in 2001. From 1997 to 1999, he worked for Intel Corporation in Denmark as Engineering Manager for the switch IC group. From 1994 to 1997, he worked for Cray Communications in Denmark, heading up the switch IC group. He was part of the team that headed Cray's sales effort to Intel in 1997. Prior to joining Cray Communications, Mr. Andersen worked with EDA research and full-custom IC design for 4 years at the Technical University of Denmark and DELTA Electronics. Mr. Andersen received his M.Sc.EE from the Technical University of Denmark, and has a B.Sc in Economics and Business Administration from the Copenhagen Business School.
Characterization Solutions and Services for Standard Cells and IO,Jens C. Michelsen, Director Biz Dev, Silvaco, Inc.
Mr. Michelsen was Director of Physical Design at Vitesse's Ethernet Products Division. Before joining Vitesse, he served as Physical Design Manager of Exbit Technology. Mr. Michelsen has more than 15 years' industry experience within leading companies including Intel, Olicom and GN Nettest, in areas ranging from mathematical modeling to physical design. In recent years, physical design and design flow to tapeout have been his main focus. He holds several US patents in communications and IC design.
Share this post via: