I've been a mobile device user since the 1980's when the Motorola brick phone was introduced, so I've seen an increasing amount of sensors added to each new generation of mobile phones over the years. One big challenge to both sensor companies and fabless semiconductor companies designing SoCs for mobile devices is how to efficiently connect all of that sensor technology without resorting to proprietary interface schemes. Back in 2003 the MIPI Alliance was founded by four companies (ARM, Nokia, ST, TI) to specifically address this challenge, now they have some 280 member companies, so this is an important alliance to keep up to date with.
There's a webinar on September 12th, Getting to Know the New MIPI Alliance I3C Standard, from 10AM-11AM PDT, hosted by NXP and Silvaco that I will be attending, and invite you to join me online.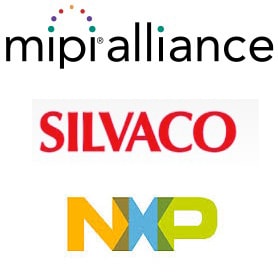 Webinar Description
Mobile devices today contain a rich assortment of sensors that need to communicate their information as quickly as possible at the lowest possible power. To achieve this the MIPI Alliance has gathered industry leaders to create a new interface standard around connecting sensors.
I3C is a new standard that has advantages in reducing pin count, increasing performance, and decreasing power while achieving some level of backwards compatibility with the long established I2C interface.

Webinar Content
Background on the development of I3C

Basic MIPI I3C signaling and protocol

Comparison of I2C vs I3C

Key features of I3C

Lower power

Hot pluggable

High Data Rate (HDR) modes

Dynamic Addressing

In-band- Interrupts

Common Command Codes (CCC's)

I3C roadmap features

Integrating I3C cores

NXP Presenter
Michael Joehren is currently working as a product definer in NXP's Business Line Secure Interface & Power focusing on MIPI I3C equipped devices. Michael is an active participant in the MIPI I3C SWG and chairing the MIPI-JEDEC I3C liaison sub-group. During his past 23+ years in the semiconductors industry Michael held positions in mixed mode IC design, technical marketing, and system architecture in NXP Semiconductors (formerly Philips Semiconductors) in Germany and the US.
Michael holds an electrical engineering degree from University of Dortmund, Germany (1993) and is the author/co-author of seven patents.
Silvaco Presenter
Warren Savage serves as the General Manager of the IP Division at Silvaco. He has spent his entire career in Silicon Valley with engineering and management roles in leading companies including Fairchild Semiconductor, Tandem Computers, Synopsys, and most recently with IPextreme which he founded in 2004 and was acquired by Silvaco in June 2016.
Warren holds a BS in Computer Engineering from Santa Clara University, an MBA from Pepperdine University and is the author/co-author of three patents.

Webinar Details

When: September 12, 2017
Where:Register Online
Time: 10AM – 11AM PDT
Share this post via: