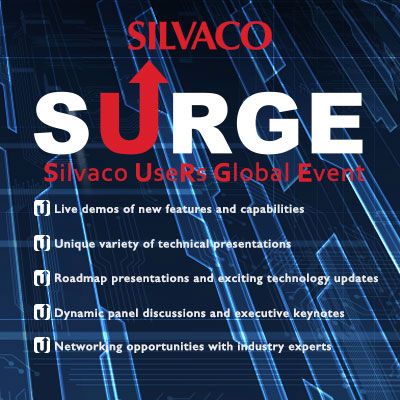 Founded in 1984, Silvaco is now the largest privately held EDA company with a rich history including a recent transformation that is worth a blog if not a book. Coincidently, I started my career in Silicon Valley in 1984 and have had many dealings with Silvaco over the years including a personal relationship with Silvaco founder Ivan Pesic. The transformation I am speaking of started when David Dutton became CEO in 2014 and covers the last three years. They joined SemiWiki in 2013 so we have had a front row seat.
You can see a brief history of Silvaco on SemiWiki HERE. Interestingly, the views on this blog are comparable to the views on the brief history of Cadence, Synopsys, and Mentor blogs. You can also read the CEO interview we did in January with David HERE. This was also a well-read blog.
David and I are on the same page with the transformation EDA is currently undergoing. Semiconductor design is getting harder with each new node and with fabless systems companies in the mix, time-to-market pressures continue to compress the design cycle forcing EDA customers to focus on a much smaller number of vendors. It is called a "fewer throats to choke when something goes wrong" strategy. Given that, take a look at the acquisition spree Silvaco has gone on in the last two years:
Silvaco to Acquire SoC Solutions
(June 16th, 2017)
Silvaco Accelerates Characterization Business with Agreement to Acquire Paripath
(June 14th, 2017)
Silvaco Enters IP Market With Acquisition of IPextreme
(June 3rd, 2016)
Silvaco Group Acquires edXact for SPICE Simulation Speed-up
(June 2nd, 2016)
Silvaco Extends SPICE Product Portfolio to Address Advanced Variation-Aware Design with Acquisition of Infiniscale
(December 15th, 2015)
Silvaco Acquires Invarian to Accelerate Adoption of Concurrent Power-Voltage-Thermal Analysis
(March 19th, 2015)
This month they launched a worldwide series of SURGE events. SURGE stands for Silvaco UserRs Global Events which shows the company's commitment to expanding their customer base.
"Our inaugural Silvaco UseRs Global Event, SURGE, in Hsinchu Taiwan exceeded our expectations with strong attendance and user participation. The keynote speech on PixelLED Development by Dr. Charles Li, CEO of Playnitride, was well received by the audience showing the challenges of leading-edge LED display design. The power of bringing our technology experts to our users is a further step in Silvaco's commitment to provide solutions to our customers for their ever-increasing challenges in display and semiconductor design. We are looking forward to hosting SURGE's worldwide user base throughout 2017 and to building them stronger in the years ahead."David Dutton, CEO of Silvaco.

These types of gatherings are what makes EDA great, the ability to collaborate directly with the people who use the tools, absolutely. Be sure and check the schedule and attend the one closest to you. I will be at the one in Silicon Valley and it would be a pleasure to meet you!

About Silvaco, Inc.
Silvaco, Inc. is a leading EDA provider of software tools used for process and device development and for analog/mixed-signal, power IC and memory design. Silvaco delivers a full TCAD-to-sign-off flow for vertical markets including: displays, power electronics, optical devices, radiation and soft error reliability and advanced CMOS process and IP development. For over 30 years, Silvaco has enabled its customers to bring superior products to market with reduced cost and in the shortest time. The company is headquartered in Santa Clara, California and has a global presence with offices located in North America, Europe, Japan and Asia.
Share this post via: