Silvaco is the leading supplier of TCAD software, and a major supplier of EDA software for circuit simulation and design of analog, mixed-signal and RF integrated circuits.
The company was founded in 1984 by Dr. Ivan Pesic. The initial product, Utmost, quickly became the industry standard for parameter extraction, device characterization and modeling. It was followed in 1985 by SmartSpice, bringing Silvaco into the SPICE circuit simulation market. SmartSpice was later complimented by a family of circuit simulation products for analog, mixed-signal, and RF.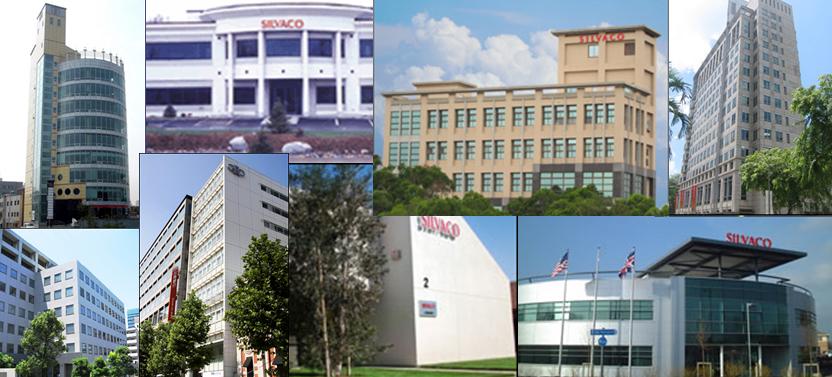 In 1987 Silvaco entered into the TCAD market and by 1992 had become the dominant TCAD supplier with the Athena process simulator and Atlas device simulator. These would later evolve into a complete family of 2D and 3D process, device and stress simulation products.
In 1997 Silvaco entered the analog IC CAD market with a suite of EDA tools for schematic capture, layout, physical verification (DRC, LVS and LPE) and parasitic extraction. In the same year Silvaco also began offering its tools for 3D physics-based interconnect modeling for passive components and interconnect parasitics.
In 2004, Silvaco entered the digital market, offering tools for cell/core library characterization, place and route, and Verilog simulation.
In 2006 Silvaco began to offer foundry-specific PDKs to enable designers to streamline their design flows all the way to fabrication. This began with the TSMC 0.18um process and has since grown to over ninety PDKs for eighteen foundries, and the number of supported PDKs continues to grow.
In October 2012, after an extensive battle, Dr. Pesic succumbed to cancer. Ownership of Silvaco remains in the Pesic family, with Dr. Pesic's son, Iliya Pesic, now Chairman of the Board. David Halliday, a veteran with over twenty years of experience at Silvaco, has been appointed interim CEO. The company continues to move forward and is a proactive member of the EDA and TCAD business communities through such industry associations as Si2, SEMATECH, CMC, and GSA.
The company has always been privately held, financially strong, and debt-free, growing steadily on retained earnings to become the largest privately-held EDA company.
In addition to its headquarters in Santa Clara, California, Silvaco maintains US sales and support offices in Boston, Massachusetts, and Austin, Texas. Silvaco also has international sales and support offices in Japan, Korea, Taiwan, Singapore, and the United Kingdom. In addition, Silvaco employs local distributors in China, India and Malaysia.
Silvaco's broad customer base includes leading foundries, fabless semiconductor companies, integrated device manufacturers, universities, research institutions and IC design houses.
Silvaco's mission is to remain the leading TCAD supplier while becoming the leading EDA supplier delivering best-in-class tools, complete design tool flows, expert technical support, and professional services.
Silvaco has a proven track record of providing leading edge and innovative solutions and will continue to build on its success having all the attributes required to provide best-in-class tools for the ever more challenging requirements imposed by future generations of semiconductor devices and technologies.
Silvaco is determined to remain independent, financially stable and debt free to enable them to be a long term premier alternative to the 'old guard' EDA companies. Silvaco will focus on providing excellent tools and outstanding support to continue to grow its already extensive, established and loyal customer base.
Share this post via: