There has been a general trend for over a decade now towards the use of very fast serial interfaces instead of wide parallel interfaces. This has been driven by a number of different factors ranging from the lack of pins on an SoC, the difficulty of keeping wide parallel interfaces free of skew, limitations on printed circuit board wiring space and so on. Apart from the difficulty of building very fast serial interfaces, almost everything is upside.
JEDEC and MIPI (the Mobile Industry Processor Interface) were both working on high-performance serial I/O standards for data transfers between portable consumer devices. In 2010 these efforts were merged to create the Universal Flash Storage (UFS) standard. UFS is designed to offer a fast, reliable and simple means of supporting storage requirements in portable applications such as smart phones. It supports both embedded and removable card applications. Since it is intended primarily for portable applications, the standard features low power consumption.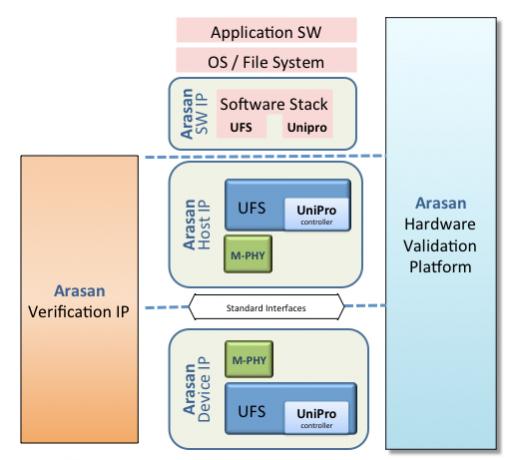 Next week Arasan is having two live seminars on UFS and the Arasan UFS solution:
UniPro controller
M-PHY interface block
UFS block
UFS and UniPro drivers
Software stack
Hardware verification IP
Hardware validation platform
The live webinar will be on February 28th at 6pm PST (and a useful time for people attending in Asia) and again the next morning February 29th at 10AM PST. Register HERE.

Share this post via: