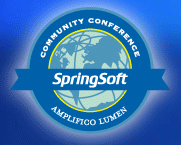 During the next 6 months or so, SpringSoft will be running a dozen community conferences. These are open not just to users but to anyone interested in SpringSoft's technology.
There will be 3 conferences in US in October in Irvine, Austin and San Jose. For more details as they become available check here. There will be three in Bangalore (India), Seoul (Korea) and Yokohama (Japan).
But the first three, coming up next month, are in Taiwan and China.
August 4th in Hsinchu, Taiwan 八月四号在新竹台灣
August 10th in Shanghai. 八月十号在上海中国
August 12th in Beijing。 八月十二号在北京中国
All have the same agenda. The morning will consist of two keynotes followed by lunch. Then in the afternoon there are parallel session covering either functional verification (Verdi and Protolink) or physical layout (Laker). The day wraps up at 5pm with closing results and a drawing for an iPad2.
Full details of the Asian seminars are here.
Share this post via: