After 27 years in semiconductor design and manufacturing I actually had to look up the word collaboration. Seriously, I did not know the meaning of the word.
Collaboration:a recursive process where two or more people or organizations work together to realize shared goals, (this is more than the intersection of common goals seen in co-operative ventures, but a deep, collective, determination to reach an identical objective).
The type of collaboration I would like to see is between the PANEL and the AUDIENCE. There will be no PowerPoint slides or lengthy introductions. We will go right to the audience to better define the type of collaboration that will be required for semiconductor design and manufacturing to be successful in the coming nodes. Bring your toughest questions and they will get answered, believe it. Registration for EDA Tech Forum is FREE. This event is filling up fast so register today!
PANEL: Enabling True Collaboration Across the Ecosystem to Deliver Maximum Innovation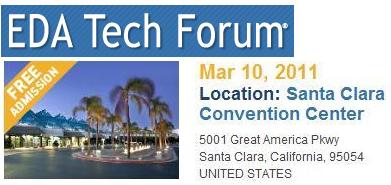 At advanced nodes manufacturing success is highly sensitive to specific physical design features, requiring more complex design rules and more attention to manufacturability on the part of designers. Experts will discuss how collaboration among EDA vendors, IP suppliers, foundries and design firms is the key to enabling efficient design without over-constraining and limiting designers' creativity. The discussion will touch on what has been accomplished, including industry initiatives under way, and where we need to go in the future.
Moderator:
Daniel Nenni, SemiWiki.com
Panelists:
Walter Ng, Vice President, IP Ecosystem, GLOBALFOUNDRIES
Rich Goldman, Vice President Corporate Marketing & Strategic Alliances, Synopsys
John Murphy, Director of Strategic Alliances Marketing, Cadence
Prasad Subramaniam, VP of R&D and Design Technology, eSilicon
Michael Buehler-Garcia, Director of Marketing, Mentor Graphics
Walter's position on collaboration:
– "Collaboration" has now become a buzz word
– Chartered/GF pioneered definition of "Collaboration" in semiconductor manufacturing space with origination of the JDA model for process development
o Benefits in bringing the best expertise worldwide from multiple companies to innovate at the leading edge of process development
o Best economic model for access to leading edge technology in the industry which is also scalable
– Efficiency in the value chain for design enablement support of a common process technology
– "Collaboration" is now a requirement in almost everything we do
– "Concurrent Process development and design enablement development" now the focus area of Leading Edge
– "Unencumbered Open, collaborative" model with Eco-system is a requirement; need to address concerns around leakage and differentiation
Rich's position on collaboration:
Collaboration has been key in Semiconductors since the advent of ASIC and EDA in the early 80s. Our industry depends on it, and you can't get anywhere without it. It has just been getting more critical every year, and every new node. Without it, forget about Moore's Law, and forget about your own company. Doing it right IS hard, especially between competitors. It is an essential skill, and will just continue to get more critical. Get used to it. Love it. Embrace it.
John's position on collaboration:
Enabling fast ramp by optimizing for rules, tools, and IP together. The success of a semiconductor manufacturer depends upon ramping process nodes to volume production as fast as possible to achieve attractive ROI for the staggering capital investment required to build fabrication facilities. SOC designers on the bleeding edge of advanced nodes need early access to process information, design and sign-off tools optimized for the node, and IP they trust will work in real silicon, to ramp their products to volume quickly to access ever-shrinking market windows. The age of enablement which focused primarily on process rules has ended; a new age has emerged that requires industry-level collaboration that optimizes rules, tools and IP together. This requires industry-level collaboration on a scale and depth never seen nor achieved before.
Prasad's position on collaboration:
With the desegregation in the semiconductor industry, it is no longer practical for a single company to have all the expertise required to design and manufacture integrated circuits. As a result, collaboration is a basic necessity for successful chip design. It is an ongoing process where every piece of the supply chain needs to collaborate with the other to ensure that the needs of the industry are met.

Michael's position on Collaboration:
Market Scenario:
o Each IC node advance introduces more interactions between design and manufacturing processes, and consequently more complexity in the design flow and design verification process.
o These interactions are occurring at the same time as the business model has moved almost exclusively to fabless/COT. This means more companies doing their own design flow integration vs. just running a completely scripted flow (aka ASIC) provided by the silicon supplier.
o Each Major EDA vendor has an interface program specifically designed to help facilitate integration between different their products and other EDA tools
· Discussion Topics:
o How many designers know about these programs and are taking advantage of them?
o As the complexity of the design and process grows with each node, do we need more and tighter interactions?
o What roles should the foundry play, without becoming an ASIC supplier and controlling too much of the ecosystem?
o What should be the role and responsibility of the fabless company?
Share this post via: