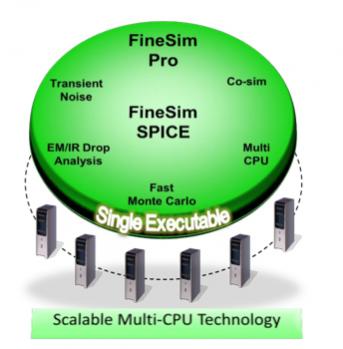 FineSim is Magma's circuit simulator that has been doing extraordinarily well. In my opinion it is one of the big reasons that Synopsys is acquiring (presumably, still subject to approval of course) Magma. FineSim is especially strong in the memory market with over 70% of the top 5 DRAM manufacturers and the top 10 flash manufacturers using it. Plus over half of the top 20 semiconductor manufacturers. For a relatively new product this is impressive growth.
FineSim was written from the start to be scalable and to take advantage of multi-core workstations and racks of servers. This means that it scales to simulate large analog designs tha could not have been verified with previous SPICE engines. It is actually two products, FineSim Pro and FineSim SPICE.
There is a huge explosion in the need for analog, RF and mixed-signal solutions. For example, your smartphone may have as many as 10 radios in it: 4 GSM bands, GPRS, EDGE, 3 UMTS bands, HSDBA, WLAN, GPS, Bluetooth. Plus modern processes require characterization at many more than the old four-corners that we used to be able to use just a few process generations ago.
There is a new FineSim webinar that covers the use of FineSim for various kinds of simulation. It is 2-5X as fast as the competition on a single CPU and, of course, gets faster still with multiple CPUs.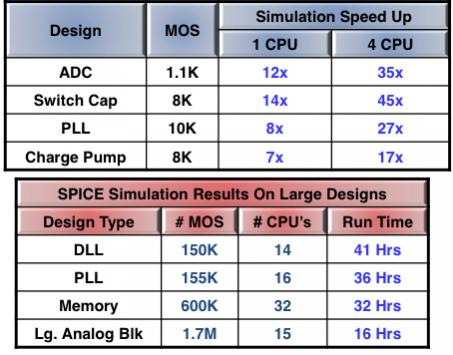 Some of the things that will be covered in the webinar are:
multi-threaded/multi-machine performance and scalability that allows you to simulate 1.7 million transistors in just 16 hours with SPICE-accurate results
support for industry standard formats, enabling seamless integration into existing design and verification environments
extensive reliability analysis to ensure design quality
superfact runtime that allows you to increase test coverage with having to tradeoff against accuracy
AMS (analog/mixed-signal) verification
Fast Monte Carlo (FMC) flow
FineSim RF
Register for the webinar here.

Share this post via: