The global semiconductor market was weaker than expected in 1Q 2013, down 4.5% from 4Q 2012 according to WSTS. Much of the softnes was attributable to a major falloff in the PC market. According to International Data Corporation (IDC), 1Q 2013 PC shipments were down 15% from 4Q 2012 and down 14% from 1Q 2012. Other key end markets remained strong. IDC estimates 1Q 2013 media tablet shipments were up 142% from a year ago. The combination of PC units and media tablet units showed 15% year-to-year growth in 1Q 2013. Mobile phone shipments in 1Q 2013 increased only 4% from a year ago. However smart phones – with high semiconductor content – were up 42% versus a year ago, continuing the 43% growth trend for the year 2012.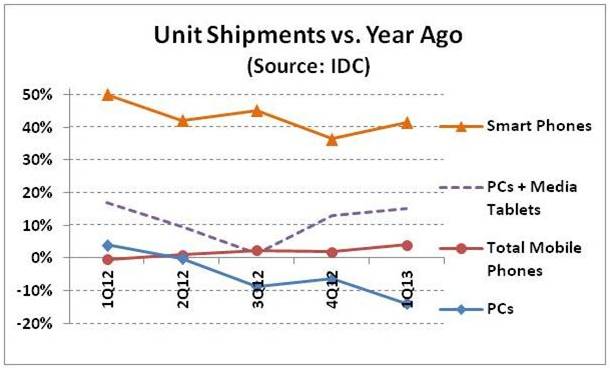 The strong growth of media tablets and smart phones will continue in 2013. IDC forecast 59% growth for media tablets in 2013, with tablets surpassing PC units by 2015. Smart phones are expected to grow 30% in 2013, exceeding 50% of total mobile phone units. Overall economic growth should pick up slightly in 2013 over 2012. The International Monetary Fund (IMF) April forecast called for global GDP growth of 3.3% in 2013 compared to 3.2% in 2012.
The second quarter of 2013 shows promise for healthy growth over 1Q 2013. Below is the available revenue guidance for major semiconductor companies. Micron did not provide specific guidance, but we at Semiconductor Intelligence estimated revenue growth based on Micron's expectations of bit growth and price changes for DRAM and flash. The low end of guidance is pessimistic, with 5 of the 6 companies forecasting a decline. The midpoint guidance seems more realistic, with all but Qualcomm showing increases. Qualcomm cited seasonal trends in its business for the weak guidance. High end guidance averages 6% for the 6 companies providing numbers.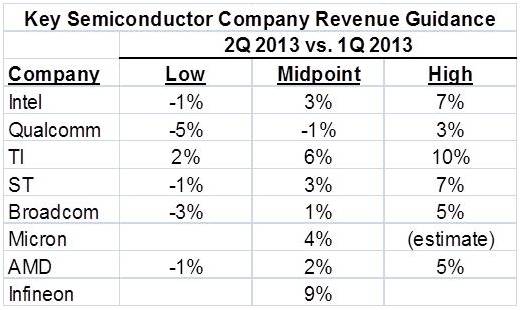 In February, we at Semiconductor Intelligence forecast 7.5% growth in the semiconductor market in 2013 and 12% growth in 2014. Although 1Q 2013 was weaker than expected, the general trends driving moderate growth are still in place. We have lowered our forecast for 2013 to 6%. We are holding the 2014 forecast at 12% based on continued improvement in the global economy. The chart below compares recent forecasts for 2013 and 2014.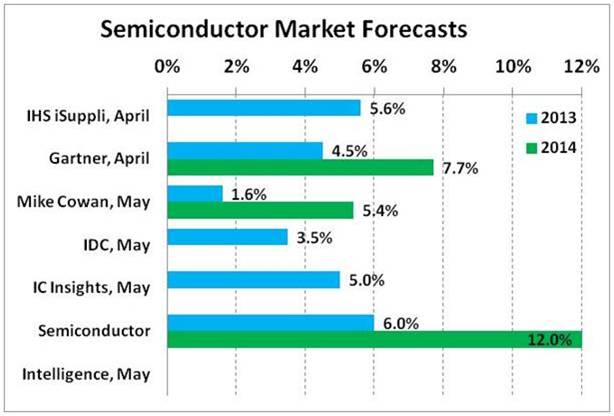 lang: en_US

Share this post via: