Semiconductor manufacturing equipment has been on an upswing for the last few months. Combined data from Semiconductor Equipment and Materials International (SEMI) and Semiconductor Equipment Association of Japan (SEAJ) shows three-month-average bookings have increased for five consecutive months through March 2013. Billings have increased for the last two months.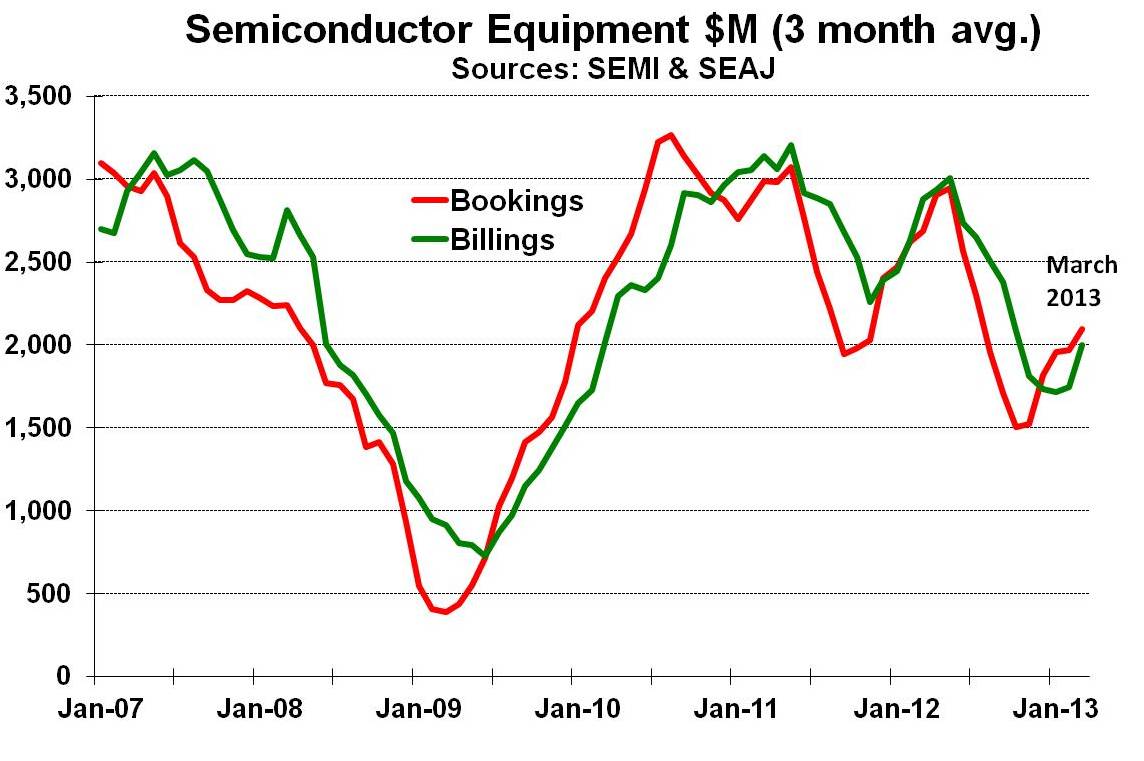 The question is whether the recovery in semiconductor equipment will continue. After a severe fall off during the 2008-2009 recession, semiconductor equipment recovered in the second half of 2009 and through 2010. The market weakened again in March 2011 following the Japan earthquake and tsunami. A recovery beginning in late 2011 was short lived. Bookings and billings peaked at $3 billion in May 2012 before beginning another decline due to concerns over the European debt crisis and a weak U.S. economic recovery. March 2013 bookings and billings were only about two-thirds of the May 2012 peak.
SEMI's December 2012 forecast called for 2013 semiconductor equipment shipments to be down 0.4%. The 0.4% decline would require average quarter-to-quarter growth in shipments of about 10%, equal to the 1Q 2013 growth over 4Q 2012. IC Insights was slightly more optimistic in its March 2013 semiconductor capital expenditure forecasts, calling for 2013 growth of 1.8%.
The announced capital expenditure plans of the largest semiconductor manufacturers indicate moderate growth in 2013 capex. The table below shows the 2013 capex guidance for the three largest integrated device manufacturers (IDMs): Intel, Samsung and SK Hynix and for the three largest wafer foundries: TSMC, Global Foundries and UMC.

Of the six companies, three plan significant capex increases in 2013 ranging from 9% to 17%. One company is flat and two predict declines. The total of the six companies (estimating a 10% drop for SK Hynix) is a capex increase of $2.5 billion, up 6% from 2012. Assuming other semiconductor manufacturers follow this trend, 2013 should show moderate but positive growth in capex and semiconductor equipment shipments. We at Semiconductor Intelligence are forecasting 2013 semiconductor capital expenditures will increase 5% from 2012. Semiconductor manufacturing equipment billings (which lag overall capex) should increase 2% from 2013.
lang: en_US
Share this post via: