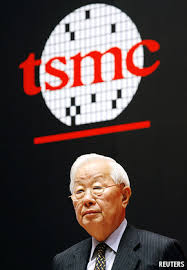 The foundry executive shuffle continues at Samsung, GlobalFoundries, and TSMC. Some expected, some not, the needs of the many outweigh the needs of the few. As I have mentioned before I have no inside knowledge as to who will be named as Dr. Morris Chang's successor but here is my candidate for the next TSMC CEO.
First, the executive shuffle: Mike Noonen is no longer Executive Vice President, Global Products, Design, Sales & Marketing at GlobalFoundries. This came as a shock to me as the changes I witnessed during his tenure were amazing. Hopefully Mike will take a CEO position in EDA or IP and continue with the transformation of the semiconductor industry. John McClure also left GlobalFoundries, John was Mike's #2 guy. John is now with Intel's Mobile Communications group. In fact, Intel has hired quite a few GF people so they are definitely serious about the foundry business.
Second: Ana Hunter is no longer Foundry Vice President at Samsung after more than seven years, which, by the way, is how long Samsung has been in the foundry business. Look for Samsung to be the #2 foundry when 14nm revenue kicks in and you can thank Ana for that, absolutely. Ana now works for GlobalFoundries.
Third: Dr. Shang-yi Chiang will retire at the end of October. Shang-Yi is TSMC's Executive Vice President and Co-Chief Operating Officer. He retired from TSMC as Senior Vice President of R&D in July 2006 and returned in September 2009 so I would not be surprised if Shang-Yi comes back to TSMC after a much deserved break.
If you look at the TSMC corporate executives page you will see many people that are qualified to succeed Dr. Morris Chang. Dr. Mark Liu, Co-Chief Operating Officer, is the odds on favorite. Prior to joining TSMC, from 1987 to 1993, he was with AT&T Bell Laboratory. From 1983 to 1987, he was a process integration manager of CMOS technology development at Intel Corporation, Santa Clara, CA, developing silicon process technologies for Intel microprocessor. Mark has a PhD in EE and CS from UC Berkeley.
While Mark is the logical choice he is not who I would choose. Dr. Cliff Hou would be my choice as the new TSMC CEO, absolutely.
Dr. Cliff Hou was appointed TSMC's Vice President of Research and Development (R&D) in 2011. He joined TSMC in 1997 and was previously Senior Director at Design and Technology Platform where he established the Company's technology design kit and reference flow development organizations. He also led TSMC in-house IP development teams from 2008 to 2010. Cliff has 20 U.S. Patents and serves as a board member of Global Unichip Corp. He received a Ph.D. in electrical and computer engineering from Syracuse University.
Why Dr. Cliff Hou you ask? Cliff knows design enablement and is trusted by the top fabless semiconductor companies around the world, that's why. Moving forward TSMC's greatest challenge is not technical, which I'm sorry to say since that is their strong suit. TSMC's greatest challenge is political. Their next challenge is retaining the commanding market share that 28nm brought them.
As the semiconductor industry continues to transform, TSMC and the other foundries must continue to integrate with their customers. Paul McLellan and I recently finished a book "Fabless: The Transformation of the Semiconductor Industry" and the research we did was enlightening. Historically speaking, the semiconductor industry transformed from the transistor to the IC to IDMs to the ASIC to the FPGA to fab-lite to fabless. The transition continues as fabless semiconductor companies consolidate and become more integrated with the foundries. GlobalFoundries calls this Foundry 2.0. TSMC calls this the Grand Alliance. I call this the natural course of business in Silicon Valley.
Bottom line: When 90% of the semiconductor wafers are purchased by 10% of the companies you really need to accommodate that 10%. Detractors will say that Dr. Cliff Hou does not have enough gray hair to be CEO. I do not agree. Cliff Hou is the same age as the people who buy the commanding share of the wafers and they buy from people who they know and trust.
lang: en_US

Share this post via: