Reports out of Taiwan (I'm in Hsinchu this week) have TSMC more than doubling 28nm wafer output in Q3 2012 due to yield improvements and capacity increases while only spending $3.6B of the $8.5B forecasted CAPEX! Current estimates have TSMC 28nm capacity at 100,000 300mm wafers (+/- 10%) per month versus 25,000 wafers reported in the second quarter. Wow! Talk about a process ramp! As I mentioned before, 28nm will be the most profitable process node the fabless semiconductor industry may ever see!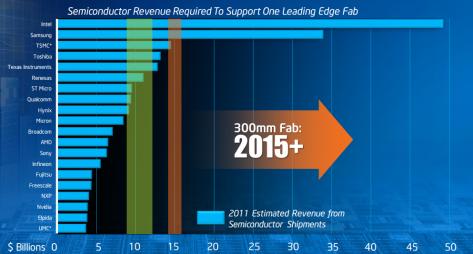 TSMC Q2 2012 28nm revenue was 7% with forecasts of 14% for Q3 which is a very nice uptick. As a second data point, I have also heard that TSMC will be through the 28nm backlog in Q3 which correlates with the capacity and yield increase stories.
That would put the 28nm ramp in the truly amazing category at:
28nm
[LIST=1]
2% 1/18/2012
7% 4/26/2012
14% 7/19/2012
20% 10/25/2012 (my guess)
Compared to 65nm and 40nm:
65nm
[LIST=1]
1%
3%
7%
10%
40nm
[LIST=1]
<1%
1%
4%
9%
Let's not forget all of the TSMC 28nm bashing in the first quarter. So tell me again that "foundry Taiwan Semiconductor Manufacturing Co. Ltd. is in trouble with its 28-nm manufacturing process technologies"Mr. Mike Bryant, CTO of Future Horizons. Tell me again that "TSMC halted 28nm for weeks"Mr. Charlie Demerjian of SemiAccurate. And special thanks to Dan Hutchenson, CEO of VLSI Research, John Cooley of DeepChip, and all of the other semiconductor industry pundits who joined the TSMC 28nm bashing conga line.
With roughly $5B CAPAX left to spend this year, what will TSMC do with all of that extra 28nm capacity in 2013? Convert some to 20nm surely but my guess is that TSMC is preparing for a price war with Samsung as they are also building out 28nm capacity. The stories of top TSMC customers shopping around 28nm designs due to capacity constraints were absolutely true. People in my circles were quietly taking trips to Seoul collecting promises of capacity and competitive (cheap) wafer pricing.
Unfortunately, all 28nm process are not created equal and it will not be easy to move TSMC designs around (second source), with the exception of UMC. Samsung, IBM, and GF use gate-first technology while TMC and UMC use gate-last. That will change at 20nm with everybody going gate-last but from what I have seen 20nm will also be a challenge to second source since the process is much more restrictive.
Bottom line: In the wafer business the three most important things are price, yield, and capacity. Since TSMC is 1+ year ahead on yield and capacity, Samsung will have to literally dump 28nm wafers to get significant market share, just like they were accused of doing in the DRAM memory market. So yes, it could happen and that is what TSMC is preparing for, my opinion.
The other interesting news comes out of Seeking Alpha "UMC is a ripe takeover Target". Okay, the article is not so interesting but I wanted to use the "Revenue Required to Support One Leading Edge Fab" graphic so I needed to cite the source. It's actually an Intel slide so you have to take it with a big grain of salt. Even so, you have to ask yourself what is going to happen at 14nm? How many foundries will be able to play in that very high stakes game?

Share this post via: