TSMC posted its best net profit in a year for Q309, saying demand for chips across all applications improved. Third-quarter sales fell a modest 3.3% year over year to $2.76 billion, but increased 21% from the previous quarter. Earnings per American Depositary Share (ADS) were flat when compared to 2008, but 25% above the second quarter of 2009. The revenue results hit the very top end of management guidance, and TSMC's recovery continues to be a V-shape, as predicted in my blog TSMC Yields Recovery!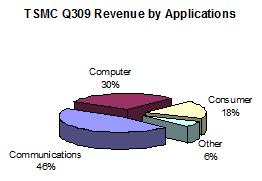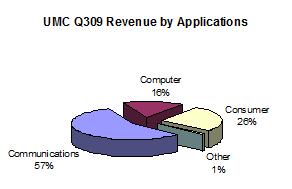 UMC's Q309 revenue increased 21.1% from the previous quarter, recording the highest revenue for the past seven quarters, and the highest gross profit margin in five years. Utilization is up to 89%, demand for advanced process nodes continue to rise with revenue from 65nm and below growing more than 40%, with further growth predicted in Q4.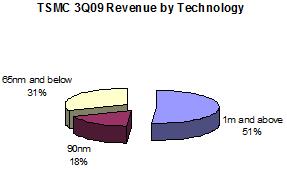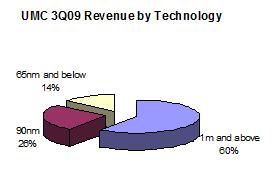 In contrast, Chartered Semiconductor continued its string of losing quarters in what will be the final chapter as the the Abu Dhabi government-owned Advanced Technology Investment Company (Atic) acquisition was passed by investors in a majority vote. A total of 665 shareholders attended the meeting, 115 of them expressed displeasure at the return on investment they will receive. Upset shareholders bought Chartered shares at the 1999 initial public offering (IPO) price of S$3.34, the shares were later consolidated at 10 for 1, so they effectively cost S$33.40 each. Atic offered S$2.68 a share. My blog TSMC vs Global Foundries gives further perspective on the acquisition.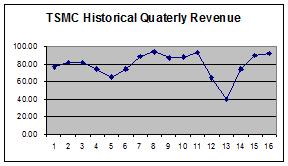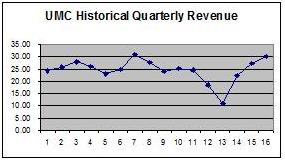 Even more contrast, SMIC posted its tenth straight quarterly loss in an endless stream of red ink. SMIC has accomplished a lot in 9 years, China and its IC community should be grateful for that, but if the company is to survive it needs leadership who will push it to operate in an ethical and profitable manner. Unfortunately it may be too late for SMIC. A good place to start is my blog on TSMC vs SMIC , but last week aCalifornia jury found that SMIC stole and used trade secrets from TSMC. The jury also ruled that SMIC breached the terms of a previous settlement related to trade secrets for leading-edge process technologies in chip manufacturing. The next phase of the trial, to assess damages against SMIC, begins Thursday where TSMC will ask for more than $1 billion in total fines. In addition, TSMC is seeking an injunction that would bar SMIC from selling tainted products in U.S. markets. In Q309 59% of SMIC's sales were attributable to North American companies, according to presentation materials from its third-quarter investors' conference.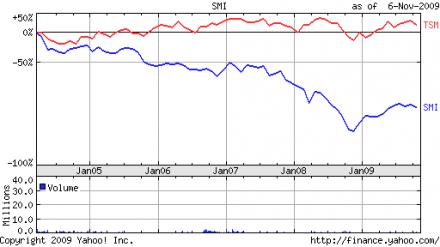 Currently SMIC has more than a $1,000,000,000 in debt and $500,000,000 in the bank. A significant settlement and/or an injunction could force SMIC to offer itself for sale to the highest bidder. TSMC would be the easy choice, but there will definitely be other bidders with the Chinese consumer electronics market as part of the deal. SMIC can appeal the court ruling but has yet to do so, both TSMC and SMIC will push to settle out of court (my opinion). Trading in shares of SMIC have been suspended since Wednesday pending a company statement.
Share this post via: