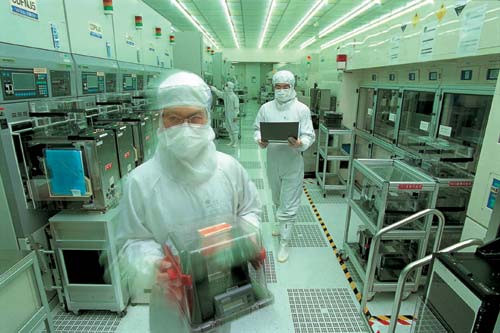 Part 1 here.
The line between fabless semiconductor companies and IDMs has blurred over the last decade. Back in the 1990s, most IDMs manufactured most of their own product, perhaps using a foundry for a small percentage of additional capacity when required. But their own manufacturing was competitive, both in terms of the capacity of fab they could afford to build, and in terms of process technology.
However, gradually both of these things changed. The size of fab required to remain cost-competitive continued to increase to the point that most semiconductor companies could not fill a fab that large. The semiconductor processes also got significantly more complex and costly, so that the cost of staying on the leading edge became prohibitive for all except the largest IDMs, most notably Intel.
The first thing that happened was the formation of several process clubs, where a lot of the cost of technology development of the semiconductor process could be shared between a number of semiconductor companies. A small semiconductor company couldn't hope to develop a state-of-the-art process on their own.
Gradually it became clear that only the largest semiconductor companies could even afford to build a cost-competitive fab. It wasn't just a matter of the investment required, it was that the capacity that they would create would be more than they would be able to use. They would never be able to "fill the fab." Back when a fab cost $3B to build, that meant that roughly a company would face a depreciation cost of $1B per year, meaning that they need to have a running semiconductor business of perhaps $5B, around the size of AMD, the only competitor to Intel in the x86 microprocessor business.
In fact, in March 2009, AMD went completely fabless. They divested their manufacturing to the Advanced Technology Investment Company, primarily owned by the Emirate of Abu Dhabi. The manufacturing part became a pure-play foundry called Global Foundries. This was still partially owned by AMD and, of course, with AMD already had a large customer in place. Subsequently Global Foundries acquired Chartered Semiconductor, the other major pure-play foundry based in Singapore, and today they are the second largest foundry behind TSMC.
Many other semiconductor companies also went fabless, such as Freescale, Infineon and Sony. Other semiconductor companies didn't go quite so far. They kept their existing fabs, many of which were fully depreciated and running non-leading-edge processes. But for the most advanced processes they used foundries since they couldn't afford either the investment or the cost of technology development to keep up. These companies, still usually called IDMs, are known as fab-lite.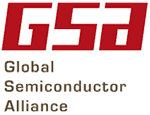 In 1994 the fabless semiconductor companies and the foundries created the Fabless Semiconductor Association. There was already an organization, the Semiconductor Industry Association, which most IDMs belonged to, but in that era, fabless semiconductor companies were not seen as "real" semiconductor companies and were not allowed to join. This has since been renamed the Global Semiconductor Alliance or GSA.
GSA's data show that in 2012 the top foundry is TSMC by a long way, with revenues of $16B. Global Foundries is number two with revenues of $4.3B, followed by UMC with $3.7B. The fourth largest company in terms of foundry business is Samsung, which is an IDM. Their foundry business was $3.4B. Of course they are famously both a major supplier of chips to Apple and their primary competitor in the smartphone business. Number 5 is China-based SMIC, the only other company with foundry revenues over $1B, at $1.6B. The size of business drops off rapidly although there is a long tail of foundries. For example, in twelfth place is Korea-based MagnaChip with revenues of $375M, one fortieth the size of TSMC.
Meanwhile the transition of IDMs towards outsourcing manufacturing to foundries continues. At 45nm, nine semiconductor companies had their own 45nm fabs: Intel, Samsung, IBM, ST, Panasonic, Renasas, Texas Instruments, Toshiba and Fujitsu. By the 20/22nm process node, the only IDMs with their own fabs, ignoring specialist companies that only manufacture memories, are Intel, IBM and Samsung.
At 20/22nm, the foundry manufacturing has been taken up by TSMC, UMC, Global Foundries and Samsung, the only foundries with 20/22nm fabs in place or planned.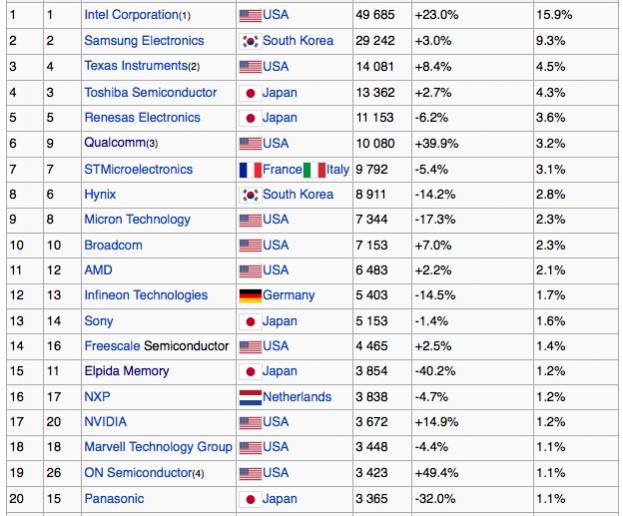 Meanwhile, more and more of the top ten of the non-memory semiconductor manufacturers are taken up with fabless and fab-lite companies. In 2011, the latest year for which data is available, Intel (IDM), Samsung (IDM and foundry) and Texas Instruments (fab-lite) take up the top three places. They are followed by Toshiba (fab-lite), Renasas (fab-lite), Qualcomm (fabless), ST (fab-lite) and Broadcom (fabless). Basically the rest of the top 25 are all either completely fabless or using the fab-lite approach of using foundries for leading edge process and continuing to manufacture internally anything that doesn't require a leading-edge fab. IBM (IDM and foundry) slots in somewhere, but they consume so much of their silicon internally that it is not clear where. Their merchant business is not very large.
Going forward, it is unclear whether all the IDMs and foundries that have made the move to 20/22nm will also be able to afford to make the transition to 14nm and beyond. There are big technical challenges as well as economic issues as to what price wafers will cost and, as a result, just how much of the existing product lines will make the transition as opposed to remaining on cheaper, less advanced, process nodes.

Share this post via: