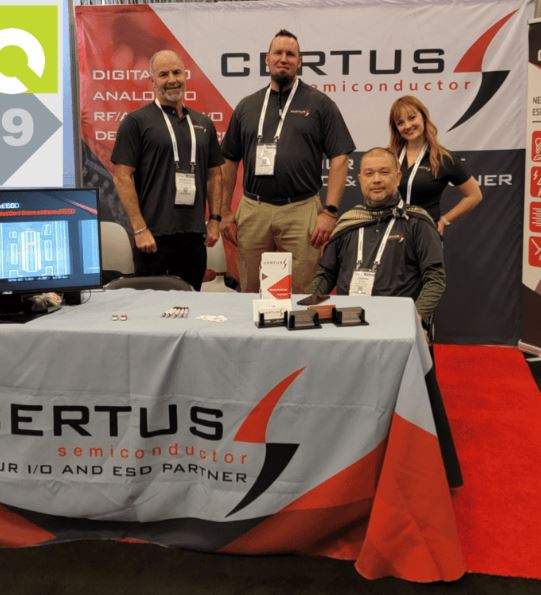 The semiconductor industry continues to drive innovation and constantly seeks methods to lower costs and improve performance. The advantages of custom I/O libraries versus free libraries can be seen as cost-savings or, more importantly, new markets, new customers, and new business
opportunities.
At DAC 2023, Certus Semiconductor will share the advantages of high-performance I/O libraries and having the opportunity to collaborate on new ideas, incorporating unique features that will open new markets and new opportunities for your company.
Certus Semiconductor is a Unique IO & ESD Solution Company
Certus has assembled several of the world's foremost experts in IO and ESD design to offer clients the ability to affordably tailor their IO libraries into the optimal fit for their products.
Certus expertise cross all industries. They have tailored IO and ESD libraries for low power and wide voltage ranges, and RF low cap ESD targeting the IoT, wireless and consumer electronics markets. There are IO Libraries customized for  flexible interface, multi-function, and high performance that target the FPGA and high performance computing markets. Certus expertise also includes radiation  hardened, high reliability and high-temperature IO libraries for the aerospace, automotive and industrial markets. Certus leverages this expertise to work directly with you – that means meeting with your architects, marketing team, circuit & layout designers and reliability engineers to ensure that the Certus IO and ESD solutions provide the most efficient and competitive solutions for your products and target markets.
Stephen Fairbanks, CEO of Certus Semiconductor has stated, "Our core advantages is our ability to truly work with our customers, understand their product goals and customer applications  and then to help them create IO and ESD solutions that give their products a true market differentiation and competitive advantage.  All our repeat business has been born out of these types of collaborations."
Certus has silicon-proven libraries in a variety of foundry processes. These can be licensed off-the-shelf or can be customized for your application, and are available as full libraries or on a cell-by-cell basis.
In addition to these processes, Certus has consulted on designs in many others and can be contracted for development in any of them. Our foundry experience, includes all major foundries such as Samsung, Intel, TowerJazz, DongBu HiTek, UMC, pSemi, Silanna, Lfoundry, Silterra, TSI, XFab,Vanguard and many others.The Design Automation Conference (DAC) is the premier event devoted to the design and design automation of electronic chips and systems. DAC focuses on the latest methodologies and technology advancements in electronic design.  The 60th DAC will bring together researchers, designers, practitioners, tool developers, students and vendors.
Certus is one of the  more than 130 companies supporting this industry leading event and they invite you to meet with the Certus I/O and ESD experts on the exhibit floor. You can contact Certus HERE to schedule a meeting at booth #1332. I hope to see you there!
Also Read:
The Opportunity Costs of using foundry I/O vs. high-performance custom I/O Libraries
CEO Interview: Stephen Fairbanks of Certus Semiconductor
Certus Semiconductor releases ESD library in GlobalFoundries 12nm Finfet process
Share this post via: