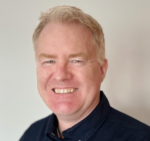 Barry Paterson is the CEO of UK-based analog IP pioneer, Agile Analog. He has held senior leadership, engineering and product management roles at Dialog Semiconductor and Wolfson Microelectronics. He has been involved in the development of custom, mixed-signal silicon solutions for many of the leading mobile and consumer electronics companies across the world. He has a technical background in Ethernet, Audio, Haptics and Power Management and is passionate about working with customers to deliver high quality products. He has an honours bachelor degree in electrical and electronic engineering from the University of Paisley in Scotland.
Agile Analog had a funding round of $19 Million last year. What was the key USP that investors liked? We have a disruptive technology called Composa™. This is an internal tool that enables us to automatically generate analog IP solutions to exactly meet customer specifications on their specific process technology.
What makes Agile Analog's approach so different to existing analog solutions?
Until now, analog IP was typically custom designed or ported from a different process node. We re-use our tried and tested analog IP circuits that are within our Composa library. This enables us to build a customer solution using our IP for a specific process node taking into account exact customer requirements of Power, Performance and Area. Effectively, the design-once-and-re-use-many-times model of digital IP can be applied to analog IP for the first time.
What are the benefits of your new approach to the customer?
First, the analog IP circuits in the Composa library have been extensively verified and used in previous designs. The verification is automated and applied to every build of the IP core. Second, our Composa automated approach creates bespoke analog IP solutions in a fraction of the time that it would normally take develop them using tradition analog design methodologies. Third, we enable customers to license and integrate analog IP into their products allowing them to focus on faster time to market and differentiation within their market.
You have used the phrase process-agnostic in a recent press release. What does that mean for customers?
Composa can simply regenerate an analog IP solution using the PDK selected by a customer. This may be on a different process technology, for example when switching to a different foundry or taking advantage of advances in process technology to improve their products. This allows customers to select the optimum process technology and capacity options they want to use without being constrained by the analog IP. Historically the availability of analog IP has been a constraint in process selection. Our aim at Agile Analog is to remove that constraint.
Why is analog IP becoming so important?
There is a huge demand for analog ICs, that has been estimated to be valued at 83.2 billion USD in 2022 according to IC Insights' 2022 McClean Report. We aim to address this space by making it very easy to integrate the functions of these discrete analog ICs onto the main SoC to reduce overall BOM costs, complexity, size and power consumption.
The drive to integrate analog functionality into System on Chip solutions is increasing as consumers expect a better user experience and more functionality. Some customers of Agile Analog have been exclusively been focused on digital products and now have a need to integrate some external analog functionality. This is where our foundation IP can be used. Other customers are developing devices that have increasing amounts of inputs and outputs to sensors and the real world. This invariably requires analog signals and the conversion to and from the digital domain. In this case, our data conversion IP is an ideal solution. In addition to data conversion, there is also a need to optimise power conversion to address the supply requirements of internal and external features. This is where Agile Analog's power conversion IP can be deployed. Finally, for some customers, they need a system solution where the integration of several analog IP cores interfaces directly to their digital cores. For this, we offer a number of bespoke subsystems.
 What IP do you offer?
We are building up our portfolio of foundation IP building blocks which provide some of the basic analog housekeeping that customers require. We also offer data conversion IP that includes a number of ADCs and DACs. In the power conversion space, we have LDOs and voltage references and we have future plans for buck and boost converters. Running alongside those IP cores, we want to build IP subsystems for IoT and wearables that will look like digital blocks to an EDA system to make it easy to drop them into the digital design flow. Customers can review our current IP portfolio on our website at agileanalog.com
 I hear that you are moving to new larger offices, why is that?
As the Agile Analog team has grown, we have a requirement to find a larger office with more space for collaboration and innovation. We looking forward to moving into a significantly larger office at the iconic Radio House building in the heart of Cambridge, UK. This will enable us to scale to over a hundred staff as we grow. Our new office will be our global headquarters and has been designed with collaboration and team networking in mind. We will continue to have a hybrid working model with a large number of staff working from both from home and at the office so that geography is not a barrier to recruitment of top analog engineers as well as the software and digital engineers that we also need.
So are you actively recruiting now?
Yes, we have just started a major recruiting drive with the aim to increase our engineering head count by over 50%. We are looking for a number of engineers across multiple domains. If there are analog design engineers that want to work on advanced process nodes, developing different IP cores and using our latest Composa technology then they should look at the latest vacancies on our website.
Why do you think analog engineers would beat a path to your door?
Engineers always like a challenge and to be doing something different. Our approach to analog IP is completely different and is revolutionising the way that the vital analog interfaces are being incorporated into next generation semiconductors. We are working on multiple IP cores and multiple processes therefore we offer the opportunity to build experience in many exciting areas.
https://www.agileanalog.com/contact
Also read:
CEO Interview: Vaysh Kewada of Salience Labs
CEO Interview: Chuck Gershman of Owl AI
CEO Interviews: Dr Ali El Kaafarani of PQShield
Share this post via: