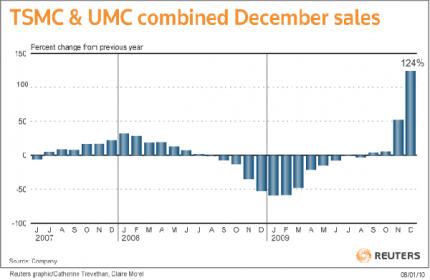 Any questions? Christmas was good for electronics and the start of a prosperous semiconductor New Year. Semiconductor inventories are low and demand is increasing around the world. Remember, there are 1,338,612,968 people in China that will need mobile internet devices and the stimulus money is gushing over there. There are a total of 6,795,200,000 people in the world that will need mobile internet devices and today there are only about 1,000,000,000 smartphones in use. Considering that you will purchase a new smartphone every 2-3 years, if you believe 2010 will be a good year for semiconductors, 2011 will be even better.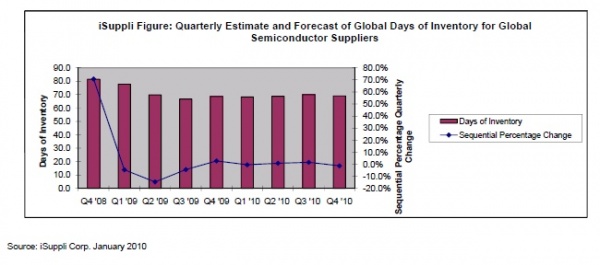 As consumer electronic devices go mobile, the lines between televisions, computers, phones, cameras, video games, browsers and operating systems will disappear. An electronics bubble has begun and I'm thrilled to be part of it. The Consumer Electronics Show (CES) in Las Vegas last week was certainly an excellent start. CES is an industry recognized barometer as 100,000+ gadget geeks ogle 2,500+ exhibitors with an estimated 20k+ new products.
What I look for personally is technology that will change my life. Porsche changed my life in the 70's, personal computers in the 80's, laptops in the 90's, and the smartphone in the 2000′s. For the next decade it is too soon to tell but certainly nothing at CES this year will change my life. Tablet PCs? 3D TV? E-Readers? YAWN. My prediction is that social media and mobile internet devices will continue to drive semiconductor revenue in the 2010′s.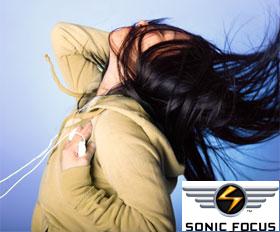 Speaking of audio, be sure and check out the Virage/ARC Sonic Focus demo. Audiofile or not, the sound quality will amaze you. The embedded processor companies were at CES in force, Nvidia even announced their own Tegra mobile embedded processor. But the most impressive demo is the Sonic Focus audio enrichment software which brings realism back to digitally compressed audio. Speaker size and placement will always be a problem for mobile internet, data will always be compressed, devices will get thinner and lighter. Using technology created by artisans and engineers founded in the music industry, Sonic Focus IP technologies deliver audio performance of today's consumer devices and enable an immersive, engaging and compelling experience. Hearing is believing so check it out.
My award for best gadget goes to Samsung's 14-inch transparent display. Not that it would change my life but it definitely has the cool factor! Also, if you missed the CEO keynotes, as I did, they are all on the CES front page. Very polished, very Las Vegas, somewhat informative, definitely worth streaming on your mobile internet device while you drive or wait in line for a $5 cup of coffee.
Share this post via: