Stanley Kubrick's 2001: A Space Odyssey showed us a world where machine vision allowed a computer to watch and interact with its human colleagues. Yet after 40 years of incredible progress in semiconductor design, the technology to make computer-based image and video analysis a reality is still not practical.



While working with semiconductor IP companies in Silicon Valley I met Parimics, a very promising start-up focused on making real-time image and video analysis a reality. The company has created a unique architecture to make machine vision orders of magnitude more powerful, reliable and easy to use and deploy.
The key to Parimics' image and video analysis subsystems is a novel image analysis processor chipset and accompanying software to deploy the technology. Vision systems based on Parimics' technology are capable of processing image and video data in real time — right when the image and video data is taken. This is a huge advantage compared to current systems that perform analysis offline, i.e. after images have been captured and stored. Applications for the technology include automotive guidance; security and surveillance; medical and biotechnology applications such as f-MRI machines and high-throughput drug screening processes; advanced robotics; and of course generalized machine vision applications. Since these solutions are both deterministic and real-time capable, they can be used in scenarios that demand high reliability.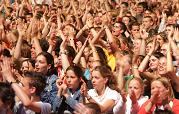 Image analysis solutions available today don't have the speed or accuracy needed for complex machine vision applications. Speeds of 20 frames per second (FPS) or less are the rule. The ability to track specific objects is often limited to 3-5 individual items per frame. Filtering out noise and objects that are not relevant to the video analysis is poorly done with today's systems. Finally, typical probabilistic methods greatly reduce system accuracy and trustworthiness. In some applications, it just cannot be tolerated that results are probabilistic or unreliable, or non-real-time.
In stark contrast, Parimics' unique and patented architecture supports speeds between 50 to 20,000 FPS, and its results are deterministic and reliable. Even in the cost-optimized version of the processor chipset, Parimics' solutions can track 160 unique objects per VGA or HD frame. The computational horsepower of the chipset also allows it to filter out noise and objects that are not relevant to the application within a very small number of frames.



Parimics' architecture is specifically designed for advanced image analysis, much the same way that graphics processors are designed to create graphical images. The video analytics processors take in any type of image at any speed and use a massively parallel architecture to analyze all the objects in the field of view. Parimics' scalable approach to solving customer problems easily meets the very wide range of their performance and cost requirements.
The company's technical advisory board includes Stan Mazor, key inventor of Intel's first microprocessor; John Gustafson, a leading expert in parallel architectures; John Wharton, inventor of the pervasive Intel 8051 microcontroller, and Dr. Gerard Medioni from USC, internationally known for his work on image recognition software.


Parimics' founders, CEO Royce Johnson, and CTO Axel Kloth, have a combined experience of more than 50 years in chip design and management of cost-effective operations. See their web site at www.parimics.com for more details.
Share this post via: