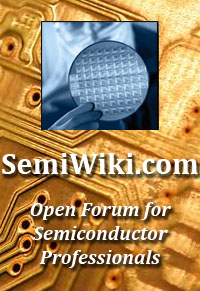 As a very experienced semiconductor job seeker/employer the most important lesson I have learned in 35 years is that getting the first interview is not so much WHAT you know as WHO you know. Networking really is the key to career success and SemiWiki 2.0 is all about networking, absolutely.
In fact, that is one of the reasons why I became a blogger. What I discovered when I started my career as a semiconductor ecosystem consultant is that I would spend more time looking for clients than actually doing the work which I found to be ridiculously inefficient. Once I started blogging and founded the SemiWiki platform I quickly established a sizable network that made consulting a very profitable career.
Given that, the first thing I would do as a job seeker, besides joining SemiWiki, is to focus on networking. Target specific companies and build a network of people who can assist you in that job search. In my experience the most successful job search is when you find a job before it is posted and the flood gates of resumes open. If not, sometimes applying for that first job opening leads to others so always persist. That is what networking is all about, building a career knowledge base and using it to your advantage.
As SemiWiki approaches its 9th anniversary and celebrates more than 3 million unique visitors we are happy to now include a job board in collaboration with our sponsoring companies who of course we are intimately familiar with. If you click on the Job Board icon in the header you can then search using keywords, location, or company name.   This is open to all job seekers, registered SemiWiki members or not. The SemiWiki job board will be updated daily with new opportunities.
If you are a SemiWiki member then please use the jobs forum discussion area to seek help with specific companies or openings. SemiWiki has more than 40,000 registered users and as a member you can also use the SemiWiki private email system for further discussions.
The best person to start with is me of course. I have the widest network inside the semiconductor ecosystem that you will ever experience. I am also a LinkedIn power user. If I don't know the right person for your job search inside a company, I certainly know someone who knows the right person.
The semiconductor industry is transforming once again which leads to new career opportunities for semiconductor professionals. If you are relatively new to the industry download our book Fabless: The Transformation of the Semiconductor Industry. If you have questions drop me an email on SemiWiki and we can schedule a call to discuss. The same goes for experienced semiconductor job seekers. Let's talk about the latest semiconductor industry transformation and how to leverage it for career growth.
The internal mantra for SemiWiki is "For the greater good of the semiconductor industry". That is why we do what we do, absolutely. Regardless of your experience or circumstance, everyone needs support during a job search so let's work together for the greater good.
Let's start the conversation in the comments section and go from there…
Share this post via: