Every year, analyst Mary Meeker produces a large presentation (88 slides this year) about internet trends. This year's oneis just out. So much of the semiconductor industry is driven by trends in mobile and PCs. Increasingly, just by mobile since it has already overtaken PCs in terms of units and will soon overtake in terms of semiconductor content. I covered last year's presentation here.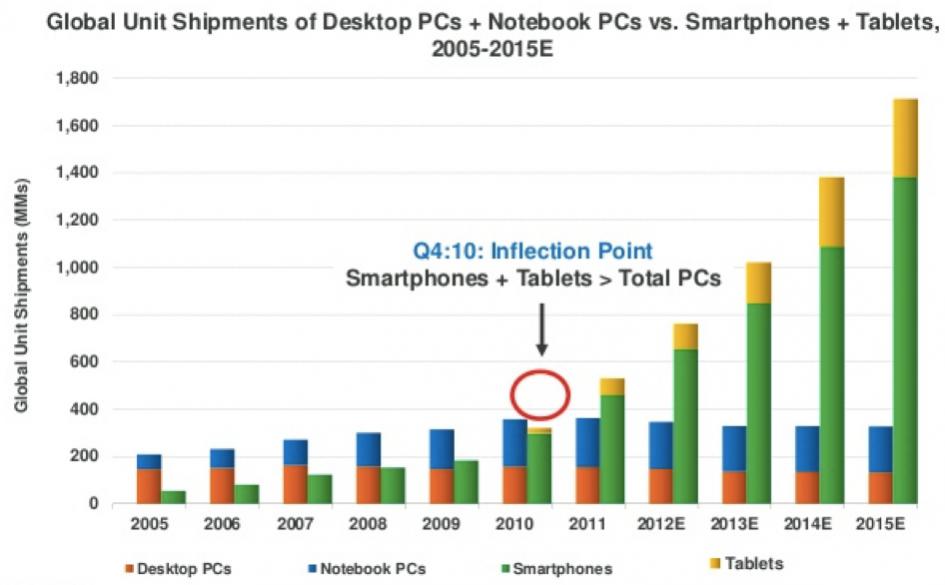 In the graph below, the orange and blue bars are the PC (desktop and notebook) and the green and yellow bars are smartphones and tablets. Q4 2010 was the inflection point when mobile device shipments surpassed PC shipments and you can see the enormous growth out into the future.
The middle part of the presentation is about how the internet is disrupting various businesses from the obvious ones (payment: square, paypal; hotels: airbnb, couchsurfing; taxis: uber etc) to many I haven't heard of.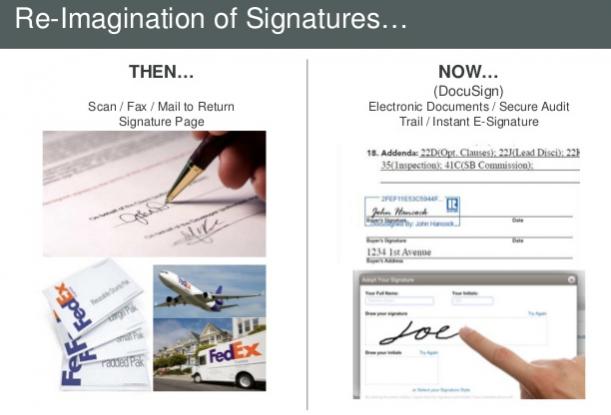 She ends with some cautionary notes. "Lots to be excited in tech, lots to be worried about in other areas."
Two big ones. First student loans: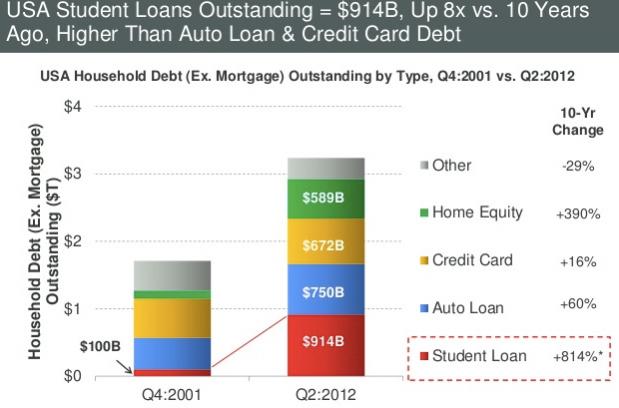 Second, general US government spending, which is at the biggest gap above revenue since the middle of the first and second world wars.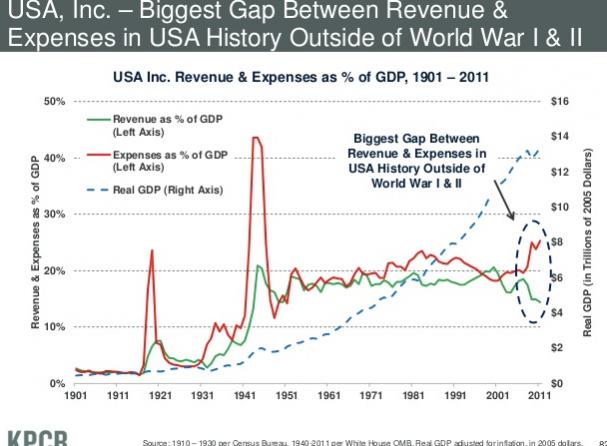 Mary Meeker is a general partner at Kleiner Perkins Caufield & Byers and joined the firm in January 2011. She focuses on investments in the firm's digital practice and helps lead KPCB's Digital Growth Fund, targeting high-growth Internet companies that have achieved rapid adoption and scale. Mary serves on the boards of Square, Lending Club, DocuSign and Quirky and is also actively involved in KPCB's investments in Twitter, LegalZoom, Spotify, 360buy.com, Waze, Jawbone, SoundCloud and Affectiva.
A prolific writer, Mary is the co-author of the industry-defining books The Internet Report (1995) and The Internet Advertising Report (1996). She is also the co-author of The Internet Retailing Report (1997), The Online Classified Advertising Report: It's About Search/Find/Obtain (SFO) (2002), The China Internet Report (2004), The Mobile Internet Report (2009), and The Technology IPO Yearbooks. Beyond technology, Mary (and Liang Wu) created USA, Inc. (2011), an award winning, non-partisan report / video that looks at the U.S. government (and its financials) from a business perspective. Mary's reports (including her annual Internet Trends presentations) are widely read around the world.
Once again, this year's presentation is here.
Share this post via: