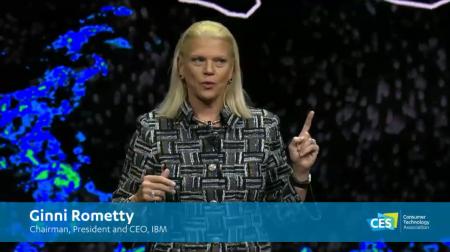 Ginni Rometty, chairman, president and CEO of IBM was kind enough to take on the task of an hour-long keynote at CES 2019 in Las Vegas last week. She used the opportunity to highlight three areas of computational innovation at IBM – deep data, broad AI and quantum systems – with the help of three partners: Delta Airlines, Wal-Mart and Exxon Mobile.
CES 2019: CTA State of the Industry Address and IBM Keynote

Rometty proclaimed IBM's advances in weather forecasting and the importance of building trust, transparency and security around data analytics. She also talked about the positive societal impacts of these technological advances and how artificial intelligence, while changing everything about how humans work in the future, will be a force for good.
Unfortunately, there were two big gaps in Rometty's comments. Firstly, Rometty had nothing to say about the automotive industry – an industry where IBM is deeply embedded and invested and therefore implicated in the nearly 40,000 annual fatalities that occur on the nation's highways. And, secondly, she had nothing to say about the Weather Channel's alleged sharing of location data via its smartphone application which has 45M active monthly users.
Rometty correctly pointed out that IBM is not thought of as a consumer technology company, yet IBM underpins many if not most consumer interactions with technology on a daily basis. A week before her keynote at CES, the city of Los Angeles attorney filed a lawsuit claiming that the Weather Company, which is owned by IBM, "unfairly manipulated users into turning on location tracking by implying that the information would be used only to localize weather reports," according to a report in the New York Times.
"Yet the company, which is owned by IBM, also used the data for unrelated commercial purposes, like targeted marketing and analysis for hedge funds, according to the lawsuit," reported the Times. The lawsuit alleges a violation of California's Unfair Competition Law.
(Two years before, IBM announced a partnership with General Motors to create a contextual marketing platform in GM vehicles to be called OnStar Go. The cooperation was announced at CES 2017, but by CES 2018 IBM had handed the opportunity over to a company called Xevo which now manages the application as the "GM Marketplace.")
The report in the New York Times sounds like a sad tale of corporate malfeasance unlikely to end well for all involved. For its part, IBM has asserted its innocence.
For me, though, the bigger issue is the underlying question of weather and automotive safety. In Nate Silver's "The Signal and the Noise: Why So Many Predictions Fail – but Some Don't," the author notes that weather is a rare area where prediction and forecasting has shown steady improvement in accuracy.
There is a lot of promise in weather forecasting and it may be for that reason that IBM acquired The Weather Channel in 2016. In fact, weather has become a contentious issue around enabling automated vehicle operation, with some analysts – including professors at Michigan State – suggesting that autonomous vehicles will never be able to overcome the challenges posed by weather.
Interestingly enough, a growing cadre of private weather researchers including Global Weather Corporation, Foreca, Weather Cloud, Weather Telematics and others are applying their analytic platforms to better understand and predict road surface conditions. These efforts are integrating data sources including roadside and on-vehicle sensors along with atmospheric indicators to enable automated vehicles to advise drivers when it may be necessary for a human operator to intervene.
IBM's keynote focused on how IBM was integrating new weather data forecasting sources including inputs from airplanes to enhance the accuracy and granularity of global weather forecasts. The focus for IBM is its Global High-Resolution Atmospheric Forecasting System, or GRAF, which is using IBM supercomputers to aggregate data from millions of sources, including the smartphones of Weather Channel app users (on an opt-in basis). GRAF will be rolled out later this year, IBM says.
Clearly, the app is playing a role in the larger weather-related message for IBM. In an age of European Global Data Protection Regulation and California's new privacy legislation, one would expect IBM to make sure it gets privacy and disclosure right.
Rometty told USAToday: "Your ATM doesn't work without us, you can't get an airline ticket without us, you cannot fill your car with gas without us, you (won't have a) supply at Wal-mart without us. We really are underneath almost all of it."
IBM wants and deserves credit for changing our lives every day – maybe even saving our lives and making our lives better. It is important, therefore, that IBM take on the most challenging and important tasks facing society and avoid the trivialities of potential legal violations via smartphone apps.
Better weather forecasts are a powerful value proposition – but accountability matters too. At a trade event dominated by personal transportation transformation, IBM was oddly silent on its contribution to resolving automotive safety issues and automated driving, in particular. How can the company solve these big challenges if it can get tripped up by an app-related end user disclosure?
Roger C. Lanctot is Director, Automotive Connected Mobility in the Global Automotive Practice at Strategy Analytics. Roger will be participating in the Future Networked Car Workshop, Feb. 7, at the Geneva Motor Show –https://www.itu.int/en/fnc/2019.
More details about Strategy Analytics can be found here: https://www.strategyanalytics.com/access-services/automotive#.
Share this post via: