I'm an avid road bike enthusiast having just completed my 2017 goal of 13,000 miles, so follow me on Strava if you want to see the routes and photo adventures I have in Oregon. In the photo below I'm the guy in the middle with the Portland Velojersey on and we're in a parking lot just 2 blocks away from Intel's Ronler Acres site in Hillsboro.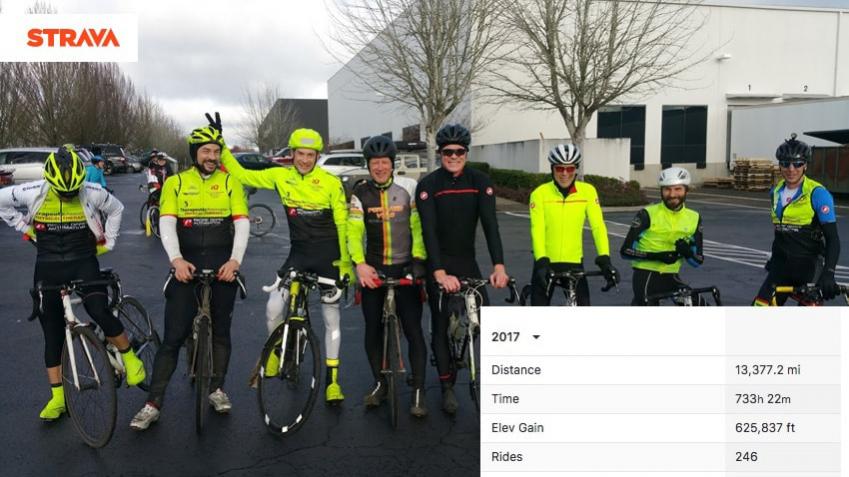 CES is the biggest show for many of the new electronic products for cyclists, so let me share what I've seen online so far.
Smart Rear Light
Motorists have a difficult time seeing cyclists and when there's a traffic conflict it is the cyclist that ends up being hurt by the big car. Cosmo Connected has a new smart light called Cosmo Bike that fits to the back of your helmet and gives you several safety features:
Automatic turn signals
Deceleration light
Fall detection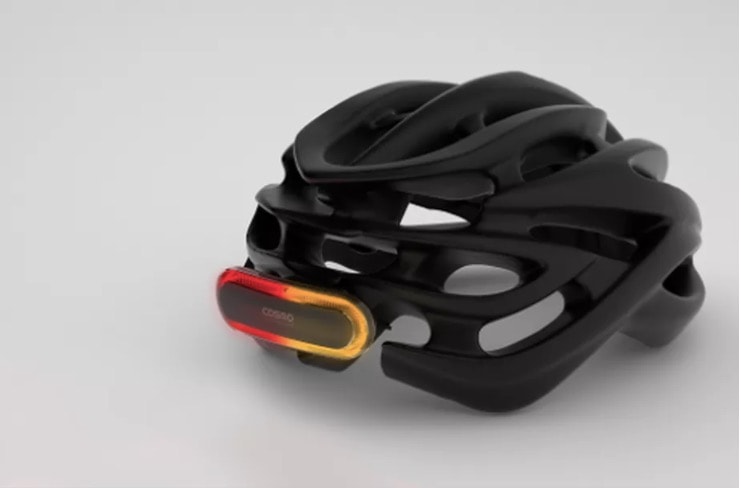 The turn signals can be activated through a route that you define in their app, or from the handlebars. If you get into an accident and fall on your bike, then the unit detects this and will then alert people that you have setup in your emergency contacts. You can even notify emergency services by subscribing to a service. Pricing is planned at $60 and should be in your local stores in the Fall of 2018.
I ride with a red blinking light on the back of my bike, but then I also wear high visibility colors and reflective material to be more visible on the road.
Electron Wheel
eBikes continue to be a fast-growing segment in the cycling industry and the idea is to assist riders by giving them an electronic push or pull to make commuting and reaching your destination less exerting physically. This Electron Wheel product replaces your front wheel so you don't need to go out and buy a totally new eBike, just retrofit what you already own and enjoy riding. As a publicity stunt the company has a cyclist pedaling cross-country in January with an Electron Wheel installed.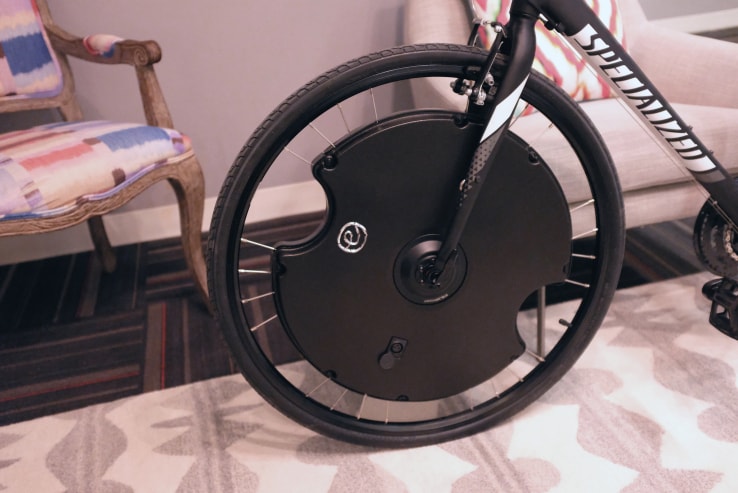 Pricing is set at $799 and you'll even be able to buy this at your local BestBuy store sometime starting in February. Range is about 50 miles and to install you just replace your regular front wheel with the Electron Wheel, then add a sensor to your crank arm with a velcro strap. By default the device detects hills automatically and starts to pull you up, or even use voice activation with Google Assist to tell it when to power your ride. The target market for this product are commuters and people that would ride more if the hills were a lot easier.
Smart Suspension
Mountain bikes have adopted suspensions and even some comfort bikes add it too, there's a company called HiRide Suspensionsthat is showing of their road bike frame system that uses, "AI to ride any kind of track. A combination of AI, multi-sensor fusion, and big data analytics to understand ride attitude and environmental conditions to control electronically the suspension." Wow, that's a lot of buzz words in one paragraph to digest. A few road bike frames have mechanical suspension like the Specialized Diverge, but what HiRide is talking about adds electronics and sensors, very high-tech indeed. I recall that some luxury autos like the Infiniti offered active suspension, so this sounds similar for bikes.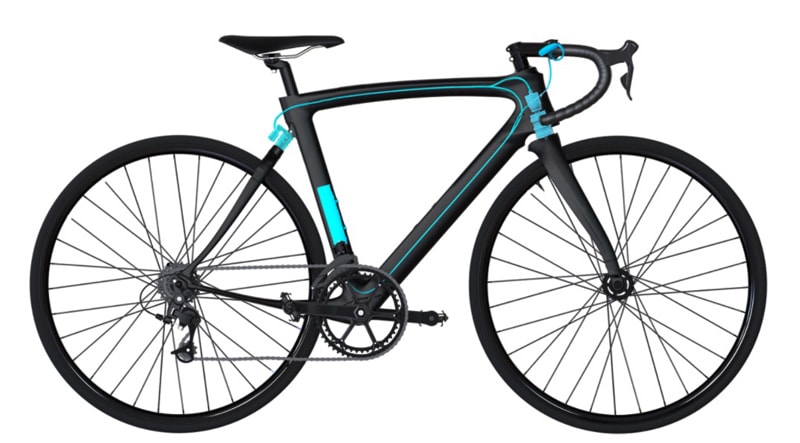 If this concept does take off then I'd expect that a big, established bike company like Specialized, Trek or Cannondale will buy them up.
AI Bike Light
Imagine a city planner that wants to know how many bicycles are being used in their city, which routes they take, road surface quality, monitor accidents and identify hot spots. SeeSense has a new product called ACE, a connected AI bike light that uses an IoT data hub, collecting data anonymously about cyclists.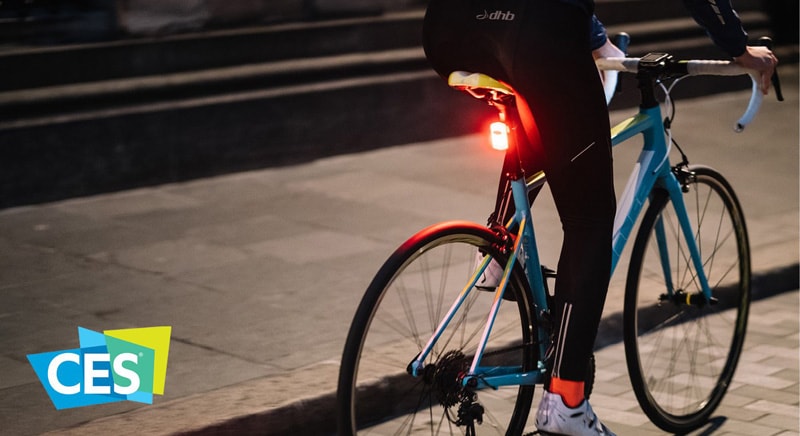 Helmet with Audio through Cheek bones
Cycling with earphones is a big safety no, no, because you cannot hear traffic and other sounds crucial to keeping you aware of what is around you. Coros has a new helmet called OMNI that actually transmits sounds to your body through the straps that contact your cheek bones.
Vibration-powered Bike Light
I have to charge my front and rear bike lights on a regular basis, so know how time consuming it can be to get everything charged up prior to a ride. ESiMihas a new bike light called the Firefly that is actually powered by the natural vibrations of your bike, so no more charging. Sounds cool and eco at the same time. Sorry, no product photos yet, these guys are really in stealth mode it seems. My big question is how many Lumens does their light produce, and do they have both front and rear lights ready to sell?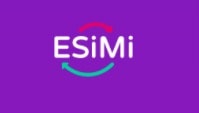 eBikes and eScooter
At the 2017 Portland Bridge Pedal we had some 20,000 cyclists and the only two bikes to pass me were both eBikes, so yes, you can go plenty fast on an eBike or even faster on an eScooter. genZe is showing off their eBike and eScooter products, along with a smart phone App to track your battery usage, control security, prevent theft and even plan routes.


Another technology company in this space is GPS Tunerfrom Hungary that provides a platform for eBike navigation, battery management, software and apps for OEMs. I even have a cycling buddy at Mentor in Wilsonville that bought an eBike this past year, so it's trending.
Daniel's Ride
For the past 14 months I've been riding a 2014 Specialized Tarmac SL4 with the following electronic components: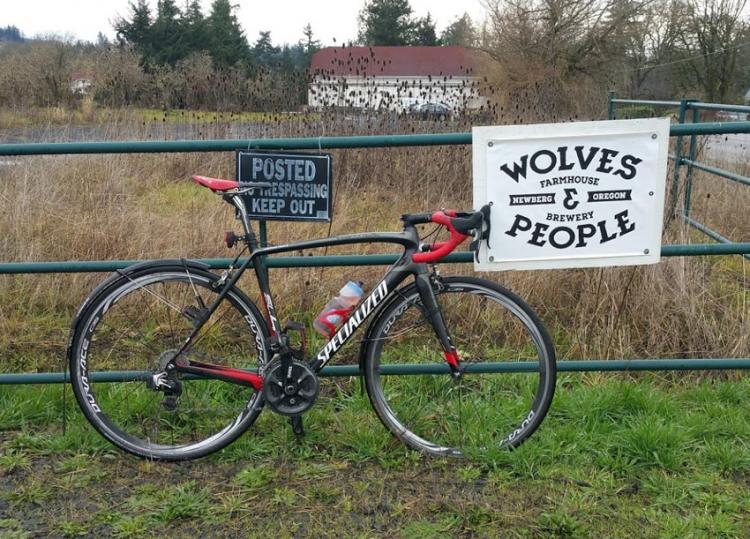 SRAM eTAP front and rear derailleurs, wireless shifting. Each derailleur has a rechargeable battery, then in each shifter hood there's a CR2032 battery powering the wireless shifting.
Front headlight with rechargeable battery
Garmin wireless speed sensor on front hub, CR2032 battery
Quark power meter in the crankset spider, CR2032 battery
Rear light with rechargeable battery
Garmin 820 cycling computer with rechargeable battery: GPS, turn by turn direction, crash detection, temperature sensor, altitude sensor, Bluetooth connectivity with Smart Phone, WiFi connectivity, syncs with Strava for analytics and social networking, user-defined data screens
Garmin heart rate monitor, CR2032 battery
That's a total of 10 batteries folks, so there's a mental checklist every time that I set out for a ride – are my batteries charged or fresh enough? Fortunately my Garmin 820 computer syncs with everything except the lights to alert me when a CR2032 battery needs replacing, it even tells me when my Samsung Galaxy Note 4 battery is getting low. The electronic content of my road bike is higher than most folks, but that's what happens when fitness meets an Electrical Engineer.
Share this post via: