I live in Tualatin, Oregon just a few miles away from the corporate headquarters of the #3 EDA company in the world, Mentor Graphics. Since DAC is fast approaching, I thought it would be useful to give you a quick overview of what Mentor is going to be talking about in Austin, Texas during June 5-9.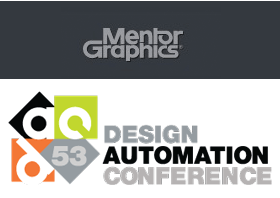 CEO
You should know that Wally Rhines is the Chairman and CEO of Mentor, and has a long pedigree in the semiconductor industry at Texas Instruments. Wally will be interviewed live about consolidation, automotive software, and what the semiconductor industry will look like in five years. Tuesday, June 7th from 11:30AM – 12:15PM at the DAC Pavilion.


IoT
One of the largest product groups at Mentor is Calibre, an EDA tool used for many back-end tasks: DRC, LVS, DFM and OPC. Come and find out how the IoT products need physical verification from expert Michael White at the Mentor Booth, #949 on Tuesday, June 7th from 4PM – 5PM.
Silicon Photonics
Most ICs today use traditional silicon with metal interconnect which requires electron transport, however a silicon photonic chip uses photons instead of electrons. Find out from Juan Rey what's happening with silicon photonics in the panel discussion on Wednesday, June 8 at 3PM – 4PM in the Mentor Booth, #949.

Hardware Emulation
Both verification and design engineers are benefitting from the use of emulators, especially as the prices have come down in recent years. Dr. Lauro Rizzatti is a popular verification consultant that will be leading a panel discussion on using emulation in the Mentor booth, #949 on Monday afternoon June 6th, from 4PM – 5PM.

Technical Focus Areas
There are six different areas that might pique your interest this year in the following categories, registration is required so just click the links to get started:
Experts
You can see the complete list of experts from Mentor scheduled for the Boothand the technical Conference, along with their topics.
Summary
DAC is the most exciting event in our IP and EDA industry each year, so start planning on filling up your calendar with the most interesting topics now. The complete Mentor site for DAC is here, and registration is required for many of the topics. Another great event to attend is the Sunday night reception at 5:30PM, where it is likely that you can walk up and meet people like Wally Rhines from Mentor Graphics.
Share this post via: