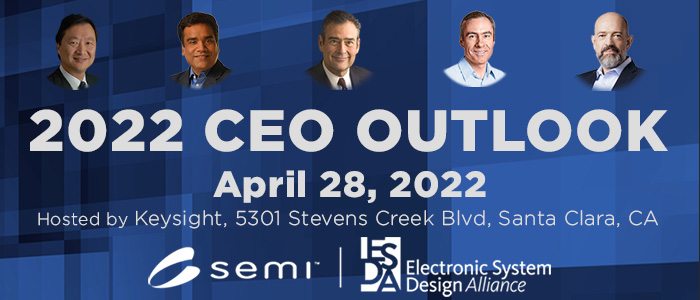 It's not often our community is able to attend an in-person discussion where executives share their insights on industry trends, especially over the past two years as the pandemic swept across the globe.
Well, that's about to change and I suggest you start jotting down questions as the ESD Alliance plans its first in-person CEO Outlook in three years. We're featuring five experienced executives –– Dr. Anirudh Devgan of Cadence Design Systems, Niels Fache from Keysight Technologies, Aki Fujimura of D2S, Siemens EDA's Joe Sawicki and Simon Segars of Arm. Ed Sperling of Semiconductor Engineering leads the discussion. Audience participation will be encouraged via a Q&A session.
Keysight is our co-host Thursday, April 28, at Agilent Building 5 at 5301 Stevens Creek Blvd. in Santa Clara, Calif., beginning at 5:30pm with a networking reception with food and beverages. The CEO Outlook panel begins at 6:30pm. It is free for ESD Alliance and SEMI members. Pricing for non-members is $49 per person. Click here for registration information.
The ESD Alliance Annual Membership meeting will be held prior to the start of the CEO Outlook beginning at 5pm at the same location. Non-members are welcome to attend if they purchase a ticket for the CEO Outlook.
The CEO executive panel is a long-standing yearly tradition that started with the EDA Consortium (EDAC) before our charter was expanded to include the entire system design ecosystem and we changed our name to the Electronic System Design (ESD) Alliance.
The wait is over and I look forward to seeing you again in person, and recommend you register today. Our CEO Outlook is a popular event and we're expecting a big crowd. Registration details can be found here.
About the ESD Alliance
The ESD Alliance serves as the central voice to communicate and promote the value of the semiconductor design ecosystem as a vital component of the global electronics industry. We have an ongoing series of networking and educational events like the CEO Outlook, programs and initiatives. Additionally, as a SEMI Technology Community, ESD Alliance companies can join SEMI at no extra cost.
To learn more about the ESD Alliance, visit the ESD Alliance website. Or contact me at bsmith@semi.org if you have questions or need more information.
Engage with the ESD Alliance at:
Website: www.esd-alliance.org
ESD Alliance Bridging the Frontier blog
Twitter: @ESDAlliance
LinkedIn
Facebook
Also read:
Key Executive to Discuss Latest Chip Industry Design Trends at SEMI ESD Alliance 2022 CEO Outlook April 28
Nominations Open for Phil Kaufman Hall of Fame Sponsored by ESD Alliance and IEEE CEDA
Cadence's Dr. Anirudh Devgan to be Honored with the 2021 Phil Kaufman Award on May 12
Share this post via: