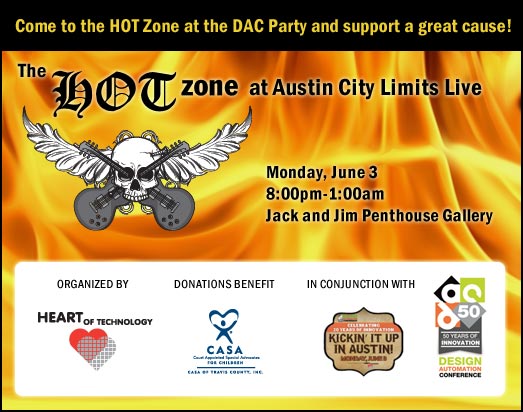 The big 50th Anniversary party for DAC is on Monday night at the home of Austin City Limits. However, you can do good while enjoying yourself and also get into "The Hot Zone", an exclusive area within the party in the penthouse Jack and Jim Gallery. The Gallery features 30 original photographs from the godfather of music photography, Jim Marshall, and is the largest exhibition of works from the legendary photographer. The HOT Zone features specialty food and premium drinks, airbrush tattoo artist, and photo booth. Entertainment will be provided by Grammy Award winning artists Asleep at the Wheel, Texas Terraplanes, and Vista Roads Band. With a special performance by "The Red Headed Stranger," the HOT Zone is sure to heat things up in Austin!
All you have to do is to donate $50 or more to CASA. Donate here.
CASA speaks up for children who've been abused or neglected by empowering the community to volunteer as advocates for them in the court system. Contributions go directly to CASA to keep children connected to their siblings, teach skills for life, and provide CASA volunteers.
Sponsors include, Atrenta, Ausdia, ChipEstimate.TV, CLK Design Automation, CronoConsortium, IC Manage, Invarian, Jim Hogan LLC, Mod Marketing, Nimbic, Pro Plus Solutions, Shocking Technologies, Si2, Solido, Sonics, Tela Innovations, Uniquify, and Waves Studio.
Full details are here.
Share this post via: