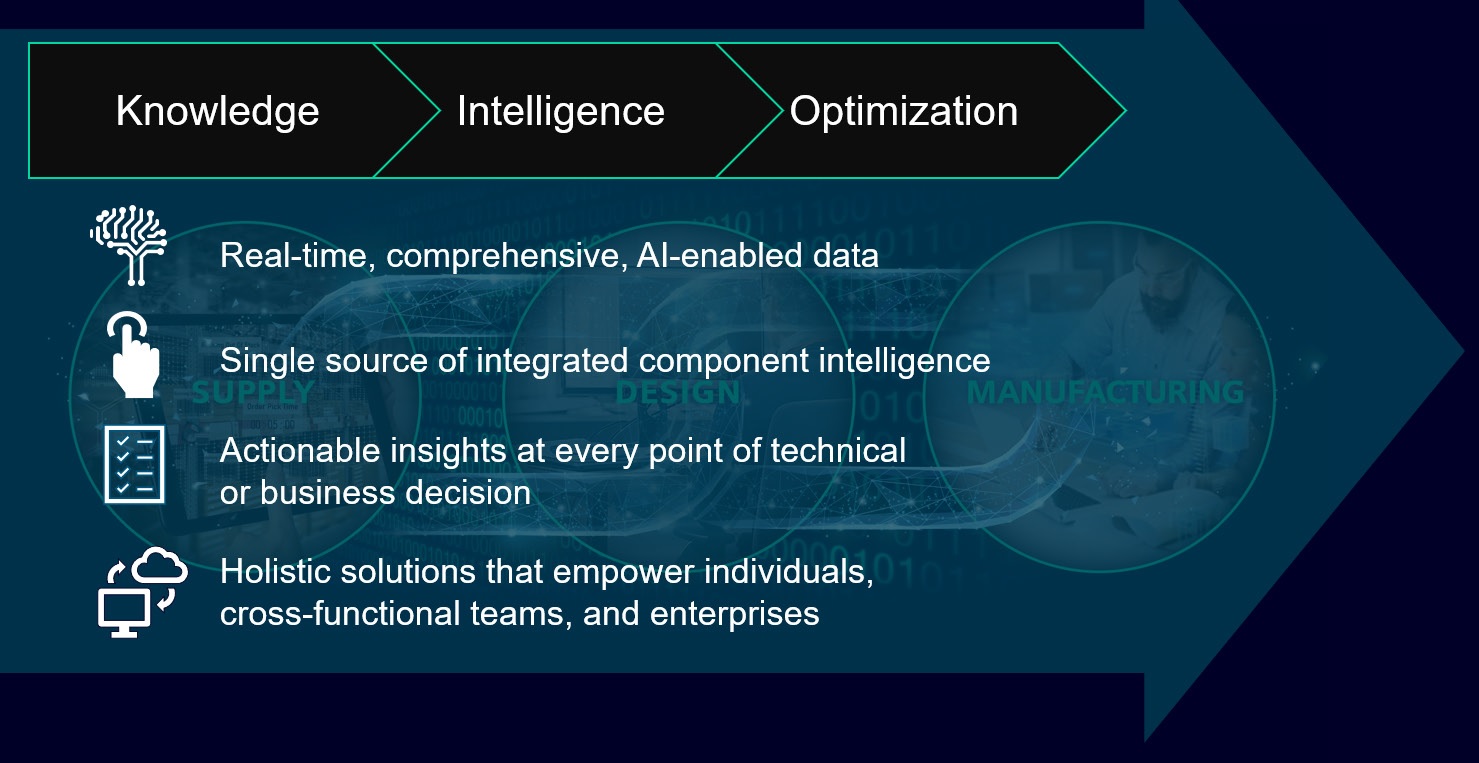 The last few years have seen multiple disruptions in the supply chain in many industries. One of the key technologies that many fingers have pointed to is the semiconductor technology.  As products in all industries become more electronics based, semiconductors play a key role since no end system could function today without these chips. Additionally, few, if any, complex chips are available from multiple suppliers, thus creating strong dependencies on a single source of supply. Any disruption in the chip manufacturing process, from fabrication lines to packaging to testing to shipping can impact product delivery.
Externally influenced supply chain disruptions resulting from geopolitical issues, a pandemic, labor difficulties, and unbridled fluctuations in demand make it difficult to bring products to market on time and within budget. However, as Stephen Chavez of Siemens Digital Industries Software explains, businesses can manage risk and plan for a more resilient future by applying a three-phased solution to enable supply-chain resilience for electronic systems design (see the figure). The key focus of this solution is digital transformation, implementing a "shift-left" or "outside-in" approach to a workflow that is inherently siloed, disconnected, and inefficient.
The phases, Chavez explains, are built on three progressive principles: Knowledge, Intelligence, and Optimization.  The 'Knowledge' phase is about arming engineers and teams with comprehensive real-time compo­nent sourcing data so they can make more informed part decisions when the cost of change is lowest. 'Intelligence' further applies the insights from component sourcing knowledge and couples it with part intelligence to empower more informed actions and workflows across the enterprise, solving for both cost and risk. This allows the enter­prise to adapt quickly to supply disruptions. Lastly, 'Optimization' delivers a full closed-loop component management digital twin, with built-in traceability, comprehension of manufacturing experi­ences, and AI-driven analytics, so that optimal choices are made at every point of technical and business decision.
He projects that the three-phase approach will empower organizations and expand supply chain resilience to the point of design, allowing companies to optimize not only their systems design process, but also every link to the stakeholders in the global electronics value chain. By uniting the electronics value chain with the engineer's desktop, system design companies will achieve higher levels of digital transforma­tion and the greater profitability that results, as they realize, with confidence, the requirements of tomorrow's designs today.
The simultaneous array of dynamic forces impacting today's supply landscape have created the perfect storm in the electronics industry. Sadly, as Chavez observes, there is no immediate end in sight, nor will there be any temporary relief. If anything, there is real poten­tial for matters to get worse before they get better. He sees four main themes contributing to the dynamic market forces that continue to stress the global electronics value chain to its limits.
Electrification across verticals (especially modern vehicles). Today we see increased product complexity as things get smaller and faster, with a big push for many things to go electrical and wireless.
Global supply chain complexity. With today's globalization, we see distributed teams collaborating and functioning as one complex centralized machine. Numerous suppliers add to this complexity along with ever-expanding geographies.
Accelerating speed of innovation. As the industry has evolved, so have our engineering tools and knowledge, which has directly impacted the speed in which we innovate. Today we see release cycles defined in months versus years, and these are accomplished with less resources and tighter budgets. Adding to this acceleration is heightened competition and customer demand. Product seasonality fuels the speed of innovation. It's amazing how fast innovation happens compared to years past.
Increased supply chain market volatility. Globalized supply chains are extremely fragile. This is due to many years of executing against a "just-in-time" model that isn't sustainable with the evolution of today's industries. Only now is the depth of this fragility exposed due to the pandemic and global geopolitics. Additionally, the lack of data visibility is persistent, making it more difficult to deliver products.
Chavez also sees a very complex, spider-web-like network of informal processes. This morass of processes entangles enter­prises in even more sticky challenges as they attempt to span functional silos, disparate systems, and frag­mented cross-functional decision-making processes. The complexities of internal systems and tools – such as EDA, PLM, source/procurement, SCM ERP, and MES – add to the challenge within the enterprise for tighter integrations and communications. From diverse engineering, sourcing, and supply teams to how issues are being addressed by emails, manual spreadsheets, meetings, and static reports, there is both a desire and a need to optimize.
A shift left, or better yet, an "outside-in" approach, where processes and systems are primed by global business and supply chain conditions on the ground, is the key to cost reduction, risk mitigation, and faster time-to-market through data visibility, system link­ages, and cross-team collaboration. The key point here is to make these external sources of data internal to the enterprise so that they can be addressed further upstream in the process – because in the current scenario, by the time they are addressed, downstream, their negative impacts are more signifi­cant and costly.
In practice, supply-chain resilience is the capacity of a supply chain to persist, adapt, or transform in the face of change. Many design organizations are highly vulnerable to supply-chain volatility since the engineering and sourcing handoff is highly linear and not built with resilience in mind. Chavez sees the electronics value chain as ripe for a digital transformation, given the persistent chasms that stifle innovation and product development execution.
Also read:
Five Key Workflows For 3D IC Packaging Success
Verifying 10+ Billion-Gate Designs Requires Distinct, Scalable Hardware Emulation Architecture
UVM Polymorphism is Your Friend
Share this post via: