Chiplet-based System-on-Chips (SoCs) are becoming increasingly popular in the semiconductor industry due to their potential to improve design efficiency, increase performance, and reduce costs. While chiplets are seen as a way to reduce the cost of innovation, they introduce a lot of challenges too. Packaging, interconnect models, verification, provenance and traceability, IP/design ecosystem management and ensuring security are areas where challenges need to be addressed. Before mass migration to chiplet-based designs can happen, new infrastructure and tools are needed. More complex modeling is needed for interconnects, timing verification, thermal management. Trust concerns around how the chiplets are delivered and integrated into a SoC need to be addressed. This in turn involves making sure chiplets have not been compromised along their way from development through integration to delivery to the foundry/assembly house. Establishing provenance and a traceable integration process becomes a key requirement.
It is in the above context that Simon Butler gave a talk at the IP SoC 2023 conference in Santa Clara last month. He is the General Manager of the Methodics IPLM business unit at Perforce. A chiplet is essentially an IP in the form of a standalone die. Perforce and Simon are no strangers to IP Lifecycle management. Simon walked the audience through laying the foundation for establishing provenance and traceability, bill of materials (BoM) management, and enforcing BoM provenance. Provenance means the origin of something and the history of its ownership, used for establishing authenticity and quality.
Challenges to Establishing Provenance and Traceability
In chiplet-based SoCs, different chiplets can be used in various SoC designs. Therefore, the IP reuse becomes important in order to increase efficiency, reduce cost and time to market. But reusing IP from other designs may cause compatibility issues. In addition, different IP blocks may come from different sources, and knowing the ownership of IP is crucial.
Any system to be used for managing IP should be able to avoid incompatibility issues among all the chiplets and other IP blocks in a chiplet-based SoC. The system should also be able to help avoid IP infringement issues and confirm proper licensing exists. It should also be able to perform authenticity verification to ensure the chiplets were not compromised through backdoors during the manufacturing or delivery process.
Foundation for Establishing Provenance and Traceability
The system should be able to represent IP in a way for identifying the respective design files as well as corresponding metadata model defining the IP's state and context. While there are many popular version control systems for data/file management, one that includes metadata management is key. Metadata model is where access permissions, quality grade, IP compatibility information, standards compliance details, etc. are maintained. As such, the metadata layer should also offer immutable fields such as timestamps, ownership and other user-defined items.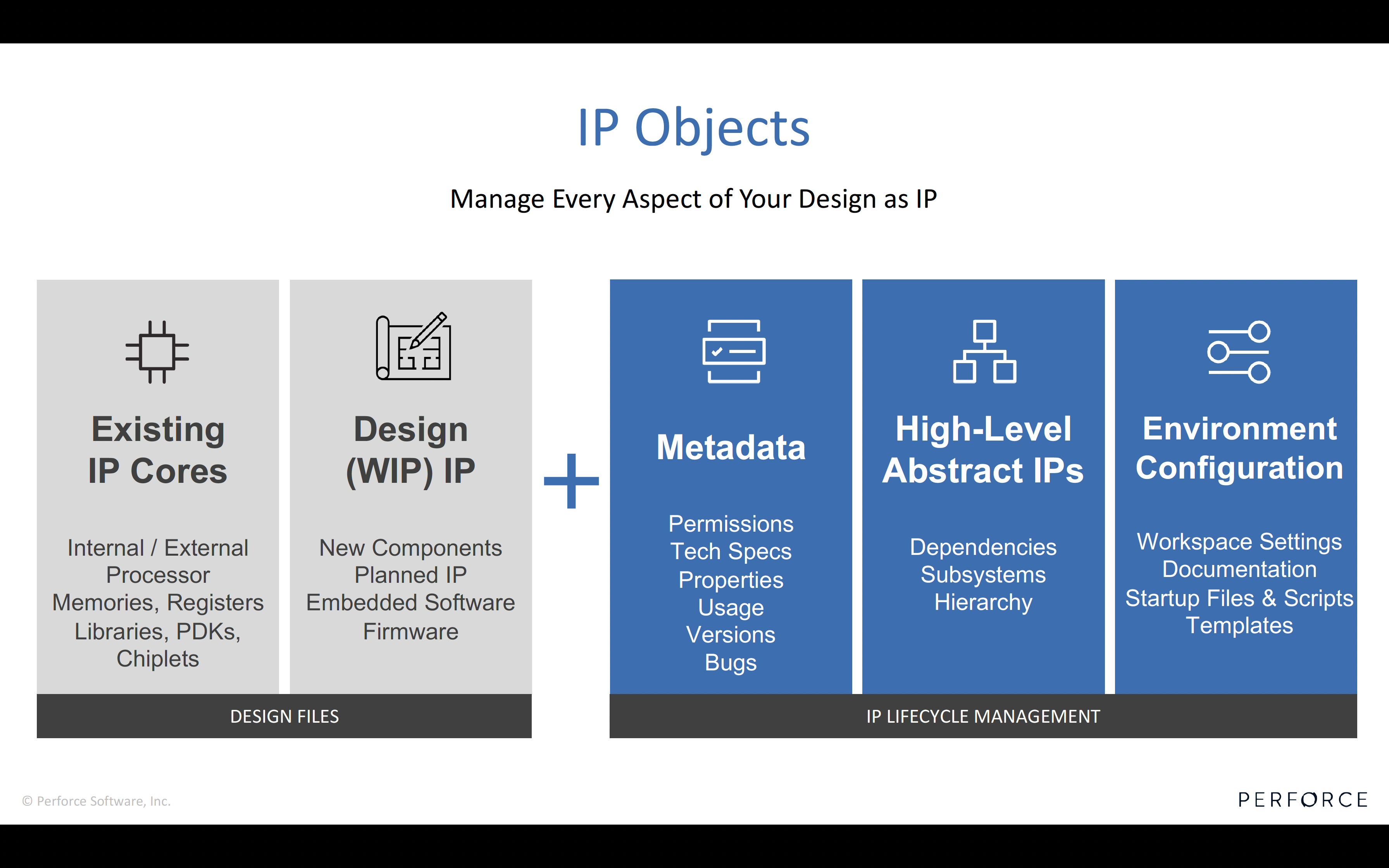 With the IP representation defined as above, the next critical piece is Bill of Materials (BoM) management.
Bill of Materials (BoM) Management
A BoM is essentially a hierarchically versioned tree of the building block components in a system. As an example, referring to the Figure below, SoC@4 refers to fourth version of the SoC and is guaranteed to contain the respective versions of the sub-components contained in that tree. This ensures traceability and the metadata overlays from the various sub-components provide context.  Thus, the BoM can be relied upon as the single source of truth for the configuration management of the SoC. BoM immutability should be enforced at the platform level so that the definition of a version cannot change after a release is made.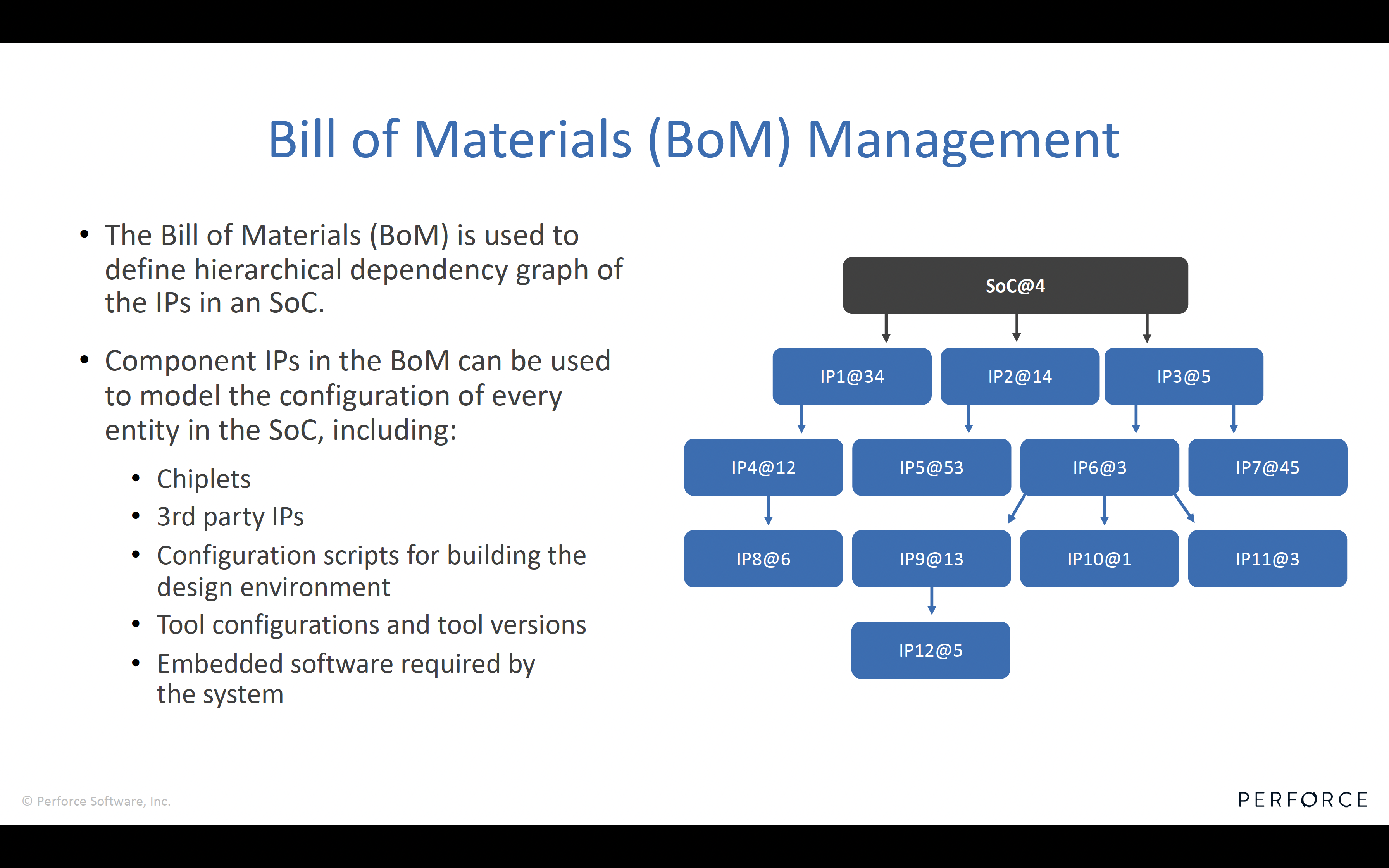 Enforcing BoM Provenance
By integrating IP fingerprinting techniques including blockchain-managed signatures for important metadata, immutability of IP contents can be locked down. Queries can be used on such an integrated platform to validate the trustworthiness of the components on the BoM. This helps to mitigate the risk of supply chain attacks, where malicious actors can introduce backdoors or other security vulnerabilities into the product.
Many industries have regulations that require the traceability of components used in electronic products. Enforcing the BoM provenance helps to ensure that the product complies with these regulations and can help with audits and other compliance requirements.
Summary
The best way to ensure BoM provenance is to use a traceable platform such as the one described above. IP release management, built-in traceability, IP discovery and reuse and workspace management across design managers are all included in Methodics IP Lifecycle Management solution.
You can listen toSimon's talk on-demand here. You can download his presentation slides here.
Also Read:
Overcoming Semiconductor Supply Chain Bottlenecks
The CHIPS and Science Act, Cybersecurity, and Semiconductor Manufacturing
Solve Embedded Development Challenges With IP-Centric Planning
Share this post via: