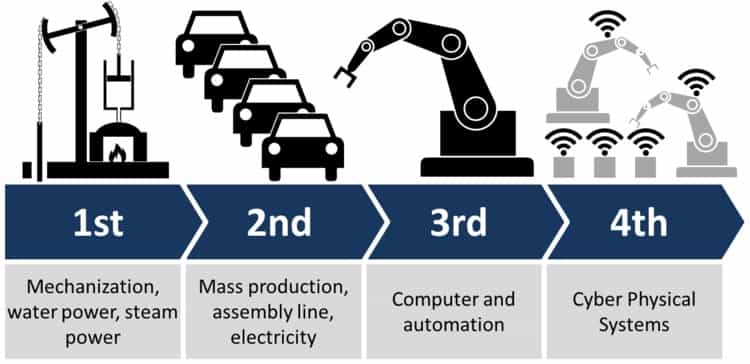 One of the many benefits of blogging is that you get to meet some very interesting people. This time I had the pleasure of speaking with Michael Ford of Mentor Graphics about Industry 4.0 and smart factories. In fact, Mentor has an excellent series of white papers titled "Is This a Manufacturing Revolution?" from their Valor Division, but first a bit about Michael.
Michael spent more than 25 years with Sony Electronics Manufacturing Systems which resulted in the spin out of Valor Computerized Systems Ltd. Valor was a recognized leader of productivity improvement software across the electronics design and manufacturing supply chains that "simulate, optimize, monitor and control the production lifecycle of electronics products, enabling companies to design and manufacture more efficiently, cost effectively and with better quality". In 2010 Mentor Graphics acquired Valor and that is how Michael arrived at Mentor.
The first question I asked Michael is when will electronics manufacturing come back to the United States? Given the advancement of robotics, artificial intelligence, and cloud computing, manufacturing is now a very small percentage of the electronic product cost equation. In fact, according to Michael, Apple's percentage cost of manufacturing in China is now about 1%. The answer to my question of course is described in detail in the 8 part white paper series:
Part 1: Stop the Leaking Factory
Part 2: What Does the Industry 4.0 Factory Look Like?
Part 3: The Customers' Perspective
Part 4: How to Get Started
Part 5: Making the Connections
Part 6: Staying Flexible
Part 7: The ROI of Change
Part 8: Risks and the Future

Michael and I also talked about Industry 4.0 and Mentor's Open Manufacturing Language specification (OML). You can get a good look at Industry 4.0 from Wikipedia so let's talk about OML. Earlier this year Mentor launched the OML initiative which is really IoT for manufacturing.
"For some time now we have seen and heard the demand for a comprehensive shop-floor communication standard that is detailed enough to support the next generation of computerization such as Industry 4.0 solutions," stated Dan Hoz, General Manager of Mentor Graphics Valor Division. "With this initiative, Valor contributes the first step and sets the pace for the revolution in manufacturing for PCB assembly."
I found this YouTube clip which nicely encapsulates our discussion:
You can read Michael's blog for more information about OML HERE. The OML community website is HERE.
The challenge of course is legacy manufacturing equipment which is why Mentor came out with a secure plug-and-play IoT device you can read about HERE.
"The Valor IoT Manufacturing solution with the Open Manufacturing Language (OML) should revolutionize today's automated electronics assembly industry. OML will bring much needed interoperability to the PCB manufacturing industry," stated Dick Slansky, senior analyst, PLM & Industry, ARC Advisory Group. "Mentor's plug-and-play, comprehensive, secure networking and connectivity solution is a significant milestone for the mass customization of manufactured electronics."
Bottom line: The ultimate goal of course is singularity, where machine intelligence surpasses human intelligence and on the manufacturing floor Industry 4.0 is a step in the right direction, absolutely.
Share this post via: