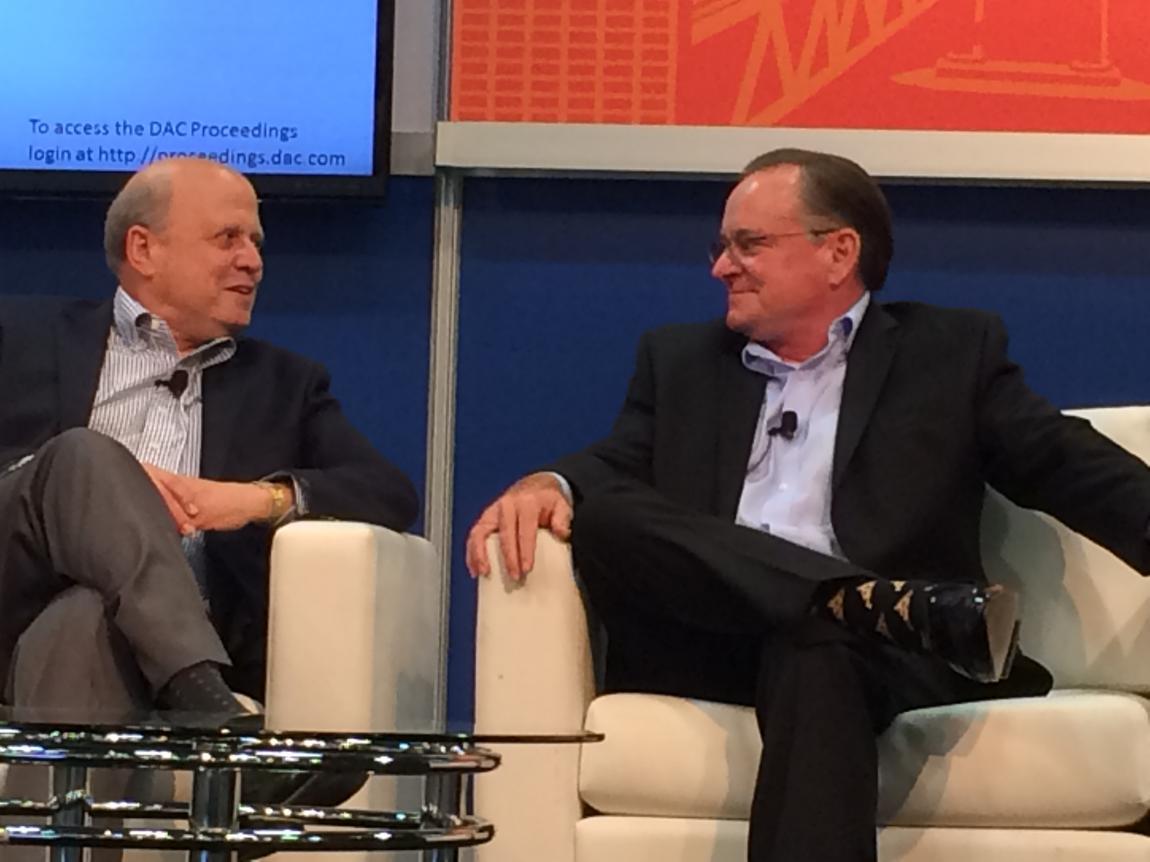 A funny thing happened at the Design Automation Conference last June in San Francisco. I was browsing the Kaufman award winner mug shots in the EDAC booth and noticed that Wally Rhines was NOT a winner. You can see them HERE. Immediately in disbelief I said to myself: Self, how can this be? Joe Costello, Aart de Geus, and some other guys I have never heard of are there but no Wally? I then said the same thing to Bob Smith, the new EDAC Executive Director. In fact everyone I mentioned it to was either shocked and/or in disbelief. How could EDAC overlook a man with this pedigree:
WALDEN C. RHINES is Chairman and Chief Executive Officer of Mentor Graphics, a leader in worldwide electronic design automation with revenue of $1.24 billion in 2014. During his tenure at Mentor Graphics, revenue has nearly quadrupled and Mentor has grown the industry's number one market share solutions in three of the ten largest product segments of the EDA industry.

Prior to joining Mentor Graphics, Rhines was Executive Vice President of Texas Instruments' Semiconductor Group, sharing responsibility for TI's Components Sector, and having direct responsibility for the entire semiconductor business with more than $5 billion of revenue and over 30,000 people.

During his 21 years at TI, Rhines managed TI's thrust into digital signal processing and supervised that business from inception with the TMS 320 family of DSP's through growth to become the cornerstone of TI's semiconductor technology. He also supervised the development of the first TI speech synthesis devices (used in "Speak & Spell") and is co-inventor of the GaN blue-violet light emitting diode (now important for DVD players and low energy lighting). He was President of TI's Data Systems Group and held numerous other semiconductor executive management positions.
Rhines has served five terms as Chairman of the Electronic Design Automation Consortium and is currently serving as a director. He is also a board member of the Semiconductor Research Corporation and First Growth Family & Children Charities. He has previously served as chairman of the Semiconductor Technical Advisory Committee of the Department of Commerce and as a board member of the Computer and Business Equipment Manufacturers' Association (CBEMA), SEMI-Sematech/SISA, Electronic Design Automation Consortium (EDAC), University of Michigan National Advisory Council, Lewis and Clark College and SEMATECH.

Dr. Rhines holds a Bachelor of Science degree in metallurgical engineering from the University of Michigan, a Master of Science and Ph.D. in materials science and engineering from Stanford University, a master of business administration from Southern Methodist University and an Honorary Doctor of Technology degree from Nottingham Trent University.
When I asked Wally about it he mentioned that he had been nominated before so there was a nomination form on file but maybe he was considered more of a semiconductor versus an EDA veteran. Suffice to say he is definitely an EDA veteran now, absolutely!
The other thing you will notice is that there are no female Kaufman winners. My bet is that next year that will no longer be the case.
About the Phil Kaufman Award
Presented by the Electronic Design Automation Consortium and the IEEE Council on Electronic Design Automation, this award honors an individual who has had demonstrableIMPACTon electronic design through contributions in the field of Electronic Design Automation (EDA).
Business Impact

Industry Direction and Promotion Impact

Technology and Engineering Impact

Educational and Mentoring Impact
The 2015 Phil Kaufman Award will be presented on Thursday, Novmeber 12 [SUP]th[/SUP], 2015 in conjunction at the 4 [SUP]th[/SUP]Street Summit Center in San Jose. [ Additional Information]

Also Read: Wally's Fireside Chat at #52DAC!
Share this post via: